Boston Red Sox Are Making Strides in the Right Direction
April 28, 2012

David Banks/Getty Images
Everyone, myself included, appears to have been consumed with the idea of adding a player or changing things up for this Red Sox team.
However, I realized something last night watching the game against the White Sox. Fans have to look around and realize that this team is quietly winning games and have managed a five-game winning streak.
Granted, these are games they are supposed to be winning. The Minnesota Twins are certainly no Texas Rangers. The White Sox are not the Detroit Tigers.
Last night Daniel Bard went seven strong innings giving up seven hits and three runs. Not bad for your fifth starter.
Thursday night saw Felix Doubront go six innings and giving up five hits and three runs.
The fact that the bottom of your rotation only gave up six runs in 13 innings over two games is pretty good in my opinion. The offense did its job as well, scoring 20 runs over those two games.
It is worth noting that the offense has put up 44 runs in the past five games. That equates to eight more runs than they scored against the Tampa Bay Rays, Texas Rangers and New York Yankees combined.
There are of course some areas of concern. All of which, in my opinion, hinge on the pitching staff.
Clay Buchholz does not look comfortable. The fact that he is yet to be able to get his curveball over is alarming. He had all of spring training to work it out and now he's just getting beaten up on.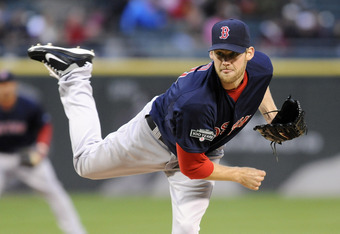 David Banks/Getty Images
Alfredo Aceves is not your closer. Period. His ERA has slimmed down to a hefty 14.40 over the past few days, but watching him reminds me of 2007 and watching Eric Gagne come in to "save" opportunities. I have no confidence in him this season. He is far better off being your long reliever and spot-starter.
Mark Melancon. This guy who was supposed to be the setup man and now the team and fans alike are forced to hope he has some type of pitching epiphany in AAA and figures out how to deal with the pressures of pitching in Boston.
On the flip side, help is on the way.
I never thought I would say this, but I am looking forward to the return of Daisuke Matsuzaka. While watching him pitch is unnerving, we know what he brings to the table. All early indicators show that he should be back a bit earlier than anticipated.
Aaron Cook should be brought up this weekend. If not, they'll lose him. By bringing Cook up he can either take a start here and there (especially is Buchholz needs to feign an injury to get his mind right) and can help shoulder some of the load. Is he the second coming of Sandy Koufax? Nope. Will he give the team another quality arm, you bet.
Andrew Miller is recouping right now as well. Miller had an impressive spring training and can add some depth the the bullpen down the stretch, assuming he can return to form.
Other positives include the resurgence of Big Papi. David Ortiz has been the all-out MVP of this team in 2012. I can eat crow on this one and say this: I was wrong. He is not done, he is not in decline. Quite the contrary. His .425 batting average is best in the American League, as is his 1.174 OPS.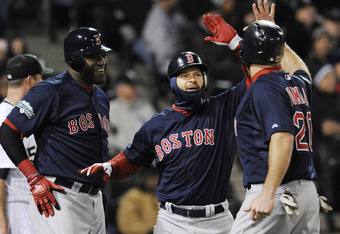 David Banks/Getty Images
There also is the play of Cody Ross and Ryan Sweeney that needs to be considered. Both are performing above what most expected of them. Ross leads the Red Sox with five home runs and is currently batting .277. Sweeney is batting .383 and is leading the AL in doubles with 10.
Marlon Byrd is a totally different player in Boston than he was in Chicago for the Cubs. In 13 games for the Cubs he went 3-for-43 with a .070 batting average. In Boston, 7-for-22 with a .318 batting average.
Kevin Youkilis is finally hitting, adding a nice grand slam (second of his career) last night. While I do still believe Youk will be traded and Will Middlebrooks will be called up, it is nice to see him finally getting his game together.
Again, the team is winning the games they are supposed to be winning. For what it is worth, I'm grateful that they are at least winning.