2012 NFL Draft Results: Vikings Get Smaller but Quicker with Robinson and Wright
April 28, 2012

The Minnesota Vikings must have Al Davis in their ear because they are drafting the fastest players in the draft. However, unlike a Davis pick, Spielman got both speedy talents at a reasonable time in the draft and not in the first round.
In the third round, the Vikings were expected by most people to select a wide receiver. Instead, they selected a cornerback—and a very good one. 
Josh Robinson is a second-round talent who dropped to the third round. With their 66th overall pick, the Vikings selected him to help their 26th-ranked pass defense against the likes of Aaron Rodgers, Matthew Stafford and Jay Cutler six times per year. 
Robinson is a very fast player who had the best 40-yard-dash time in the draft. He ran a 4.33. In his three years at UCF, Robinson had 10 interceptions and returned two for touchdowns. His pass-defending skills are clear in his performance in his college, but his 5'10" 192 pound frame will not be ideal against every wide receiver in the NFL.
Expect Robinson to cover a guy like Greg Jennings on the Green Bay Packers or Titus Young on the Detroit Lions. His speed and size are ideal to cover guys like that and make sure they don't catch the deep ball. 
Robinson and Harrison Smith are two incredible additions to the Vikings secondary, and both guys will make sure that opposing quarterbacks don't have career games against their team again. 
With their first fourth-round pick (118th overall), the Vikings selected a wide receiver that many fans were not calling for, Jarius Wright. 
At 5'10", 185 pounds, Wright has a similar body frame to Percy Harvin. At the combine, he ran a 4.42 in the 40-yard-dash. He is also great in the return game and is a classic burner. He has the ability to get behind a secondary and break away for the big catch.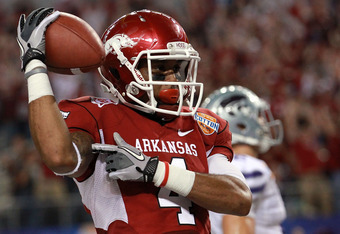 Ronald Martinez/Getty Images
Like Harvin, Wright is very strong after the catch. He does not like to go down once he has the ball in his hands. 
With injuries being a big concern for Harvin throughout the year, the selection of Wright makes perfect sense. If Harvin is not around, they could use Wright the same exact way they use Harvin when he is around. The scariest situation is going to be when both of them are in both slot positions and are burning corner backs down the field.
Although the Vikings need one more larger receiver, Christian Ponder now has options, and it is up to him to use them properly. 
Wright and Robinson were both great picks. Expect for both of them to get a decent amount of playing time in the beginning of the year, likely becoming starters by the end of it. 
Sammy Sucu is a featured columnist for the WWE. Sammy also writes for the NFL, the Minnesota Vikings and the Los Angeles Lakers. You can follow him on Twitter.