San Francisco 49ers: Complete 2012 Draft Summary and Grades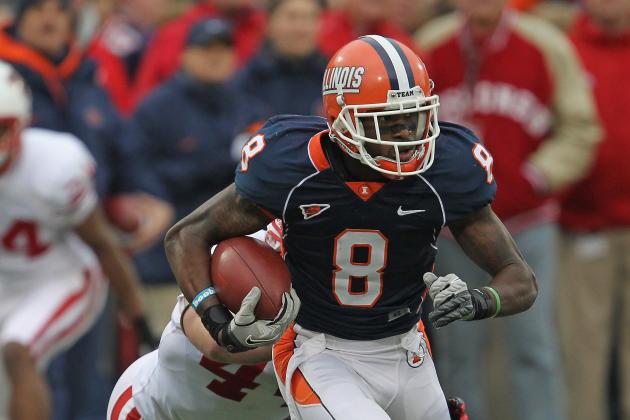 Jonathan Daniel/Getty Images
A.J. Jenkins is the player the 49ers wanted all along
The San Francisco 49ers GM Trent Baalke and head coach Jim Harbaugh have consistently stated that they would select the "best player available" as they migrated through the 2012 NFL draft. They obviously believe they have no glaring needs, which is a good place to be in.
Harbaugh also believes strongly in his coaching staff and their ability to develop players, even those selected in the lower rounds, into productive NFL contributors. This belief has enabled the 49ers to make deals to stockpile picks in the mid to later rounds of the draft.
The 49ers came into the draft with one selection towards the end of each round. Let's take a look at who they have selected, as well as the trades they have made. I will provide an analysis and a grade for each move.
Begin Slideshow

»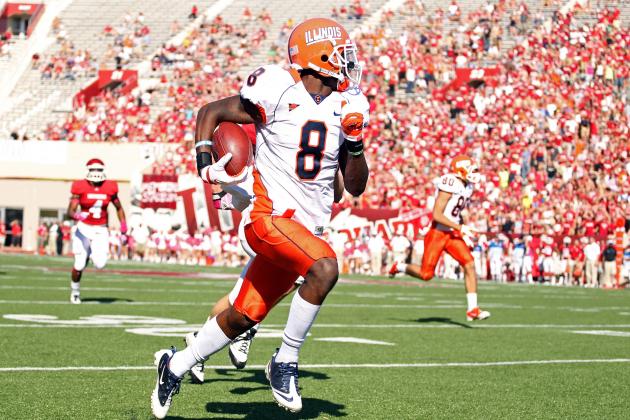 Andy Lyons/Getty Images
A.J. Jenkins was a surprise to many as a first round pick
You can say one thing about 49ers GM Trent Baalke and head coach Jim Harbaugh. They do not listen to the draft pundits, instead evaluating each player and making their own independent decisions.
The 49ers did this in 2011 as they selected of Aldon Smith with the seventh overall pick. Many, including myself, thought they could have traded down four or five spots and still gotten Smith. However, Smith was their man and they took him.
Obviously, that move worked out tremendously well and if we were to run the 2011 draft all over again, Smith might be the second overall pick, after Cam Newton.
The selection of A.J. Jenkins, with the 30th pick, reminds me a lot of the pick for Aldon Smith. He was a bit under the radar, but the more you look at this selection, the more it makes sense.
At Illinois this past season, one of the weakest passing teams in the country, Jenkins had 90 receptions for 1,276 yards and eight touchdowns. Over his four-year collegiate career, Jenkins had 167 catches for 2,432 yards and 19 touchdowns. His productivity cannot be discounted.
Jenkins also showed very well at the combine, as he ran a 4.39 for his 40 time. Jenkins also has massive hands and can catch the ball away from his body. His 9.5'' hand span is freakishly large.
Although there were those that felt Jenkins would have been available had the 49ers traded down five to 10 spots, they would be wrong. The Rams stated that had Jenkins been available, they would have picked him with the first selection in Round 2.
Jenkins has speed, good hands and is also very intelligent. He will get his degree this May and was an All Big-10 Academic honoree. That intelligence and aptitude is something the 49ers and Harbaugh value greatly.
Jenkins is a hair over 6'0" and weighs 188 pounds. He can catch the ball in traffic, as well as stretch the field with his speed. I believe Jenkins has the potential be the 49ers' top receiver by his second or third season.
One very interesting thing to note is that prior to the draft, Baalke and Harbaugh put a name in an envelope and told the media, this is who we're going to pick. After their selection of Jenkins, they opened the envelope for all to see. The name they had written down was A.J. Jenkins.
Jenkins was obviously the man the 49ers coveted and they got him. They did not want to risk losing him by trading down.
Grade: A-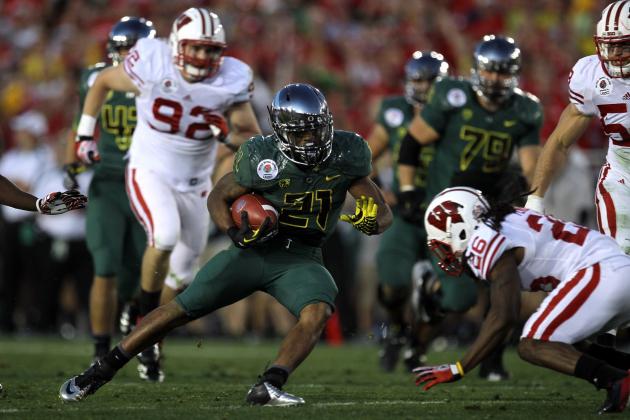 Stephen Dunn/Getty Images
LaMichael James is extremely explosive
The 49ers selected LaMichael James with their second-round pick, No. 61 overall. James is extremely explosive and is a threat to score anytime he touches the football.
In 2011, James ran for 1,805 yards on 247 carries, a 7.3 yards per carry average and 18 touchdowns. In his three-year career at Oregon, James totaled 5,082 yards rushing on 771 attempts. There are very few players with James' elusiveness and big-play ability.
James also can contribute as a receiver, out of the backfield. He caught 51 passes for 586 yards and four touchdowns, over his three seasons at Oregon.
However, I was very surprised with this pick, given the fact that the 49ers already have a good change of pace back in Kendall Hunter. James is only 5'9" and 195 pounds. He is not expected to be an every-down back in the NFL. Even in college, James split time with Kenjon Barner, while at Oregon.
With Frank Gore entering his eighth season and getting closer to the end of his career, it may have made more sense to draft a back that can be an every-down player.
The 49ers now have a glut of running backs with Gore, James, Hunter, Brandon Jacobs, Anthony Dixon, Rock Cartwright and Bruce Miller. Barring injury, it appears as though Dixon may be the odd man out.
The 49ers wanted to upgrade their speed and playmaking ability. With the selections of Jenkins and James with their first two picks, they have accomplished that goal.
Grade: B-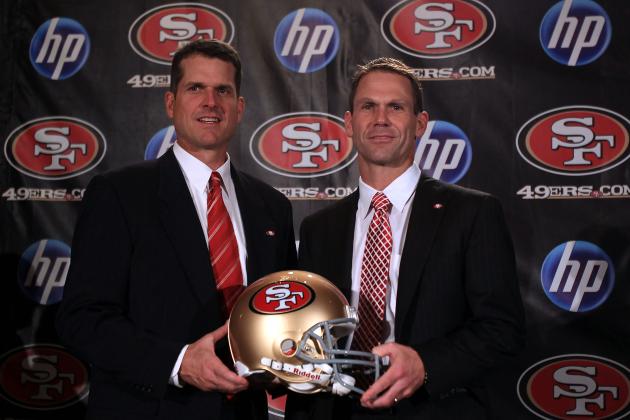 Ezra Shaw/Getty Images
Jim Harbaugh and Trent Baalke have made several trades
The San Francisco 49ers have made a dizzying array of trades, beginning with their Round 3 pick, No. 92 overall.
First, the 49ers sent that pick to Indianapolis for pick No. 97, the second pick in Round 4. The 49ers also picked up the Colts' fifth-rounder in 2013, which is likely to be a very good pick in that round.
Then, the 49ers moved out of the 97th pick, dropping down again, this time to number 103, in a deal with the Miami Dolphins. In addition, the 49ers acquired the Dolphins' sixth-round pick, No. 196 overall, and another sixth-round selection in 2013.
The 49ers then traded the recently acquired pick No. 103 to Carolina for a sixth-rounder, No. 180 overall and the Panthers' third-round selection in 2013.
The 49ers were not done yet. After trading down three times, they traded up. They made a deal with Detroit to acquire pick No. 117 overall. In exchange, the 49ers sent pick No. 125 and No. 196 to the Lions.
In addition to the extra sixth-rounder this year, the 49ers have parlayed their original third-rounder into several additional picks in 2013. They also were used one of their recently acquired sixth-rounders, along with their own pick, to move up eight spots in Round 4.
At this point, the 49ers will have 11 overall picks in 2013. This is a tremendous position to be in.
Baalke has added to the 49ers' 2013 bank account, with additional picks in rounds three, five and six. They also have an additional Round 7 pick, acquired from the Bengals in the Taylor Mays deal.
Grade: A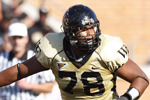 The 49ers grabbed Joe Looney in round 4
The San Francisco 49ers traded pick No.125 and recently acquired pick No. 196 to the Detroit Lions and selected offensive guard Joe Looney, out of Wake Forest.
Looney is a big, powerful player and will compete for the starting right guard job. Looney is 6'3" tall and weighs 318 pounds. He was named second-team All-ACC this past season.
With the departure of starting guard Adam Snyder to Arizona, via the free-agent market, the 49ers did have a question mark at the right guard position.
The 49ers believe Daniel Kilgore, who they selected in the fifth round last year, is ready to step in and start. However, the selection of Looney gives them another option and provides for much greater competition at this position.
The fact that the 49ers traded up to select Looney means that they accomplished two things. They picked the player they felt was the best available at that time and they simultaneously bolstered a position of need.
Looney was a four-year starter at Wake Forest and is both athletic and powerful. If he ultimately wins the starting job, teaming with Mike Iupati, it would give the 49ers two very tough and strong offensive guards.
Grade = A-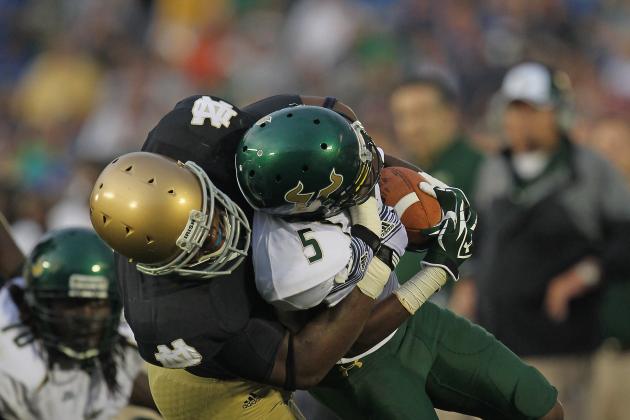 Jonathan Daniel/Getty Images
Darius Fleming moved up draft boards recently
Darius Fleming was not on my radar screen as a player the 49ers were looking at. Selected with the 165th pick, Fleming adds depth to the 49ers linebacker corps.
Fleming is an outside linebacker with experience playing in both a two-point and three-point stance. At Notre Dame, he played against top-notch competition and is a solid, reliable performer. He has not shown that he can be a dynamic difference-maker, however.
Fleming greatly improved his draft stock with good performances at the combine and Notre Dame's pro day. At 6'2" and 255 pounds, Fleming showed more speed and athleticism than was expected.
The 49ers are already well-stocked at the outside linebacker position. With Aldon Smith, Ahmad Brooks and Parys Haralson on the roster, I do not look for Fleming to make an impact on the 49ers defense anytime soon.
At this point, Fleming looks like a special teams player for the 49ers in the foreseeable future.
Grade: C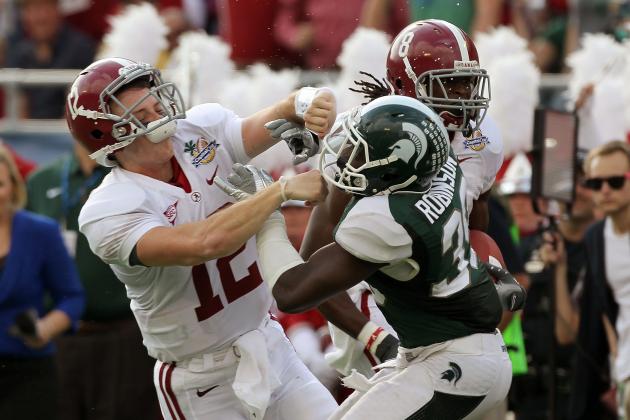 Mike Ehrmann/Getty Images
Trenton Robinson likes to hit
Michigan State safety Trenton Robinson is the first of two sixth-round picks for the 49ers. Taken with the 180th overall selection, Robinson is a big hitter, who also has decent coverage skills.
Robinson, I believe, is a very good value pick at this late stage in the draft. At Michigan State, he was a team leader and an intense, physical player. He also ran a 4.46 40-yard dash at the combine, showing decent speed.
Robinson showed no major weaknesses and could be a starter down the road, in the 49ers' defensive backfield. He was projected by many as a fourth-rounder, so for the 49ers to get him in the sixth round is an excellent move.
Robinson stands only 5'10" and weighs 195 pounds. His lack of height is likely a big reason he fell into the sixth round. He does, however, make plays on the field. Robinson had 76 tackles and four interceptions in 2012.
The 49ers have a lot of competition in their defensive secondary. Carlos Rogers, Tarell Brown, Dashon Goldson, Donte Whitner, Chris Culliver, Tremaine Brock, Colin Jones, C.J. Spillman and Perrish Cox are all on the current roster.
It's unlikely that Robinson will see much action outside of special teams in 2012, but he is the type of player that can be groomed to take over for Whitner or Goldson, when they move on.
Grade: A

Jason Slowey played at D-2 Western Oregon
The 49ers have selected offensive lineman Jason Slowey, with their second pick in the sixth round, No. 199 overall. Slowey played left tackle at Western Oregon, but could also be moved to center with the 49ers.
Slowey is listed at 6'3" and 303 pounds. His relative lack of height makes him a better center prospect than tackle. With starting center Jonathan Goodwin in the final year of his contract, Slowey could be in the mix in a year or two.
Playing at Western Oregon, Slowey did not face top caliber competition in college. He will also most likely be moving positions, so Slowey will be a developmental project in 2012. Look for him to be a practice squad player next season.
Slowey is smart and a good athlete. He also excels in track and field in the throwing events.
Grade: B-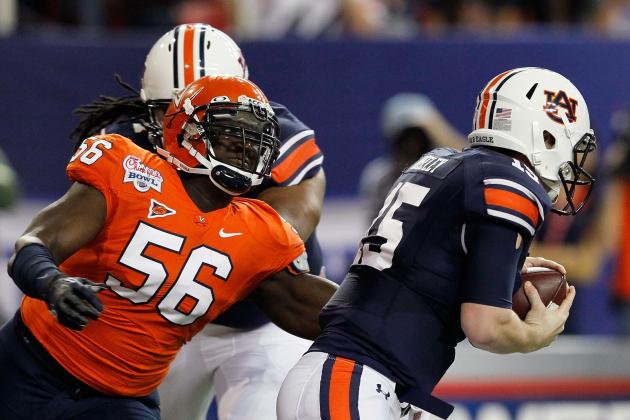 Kevin C. Cox/Getty Images
Cam Johnson adds depth to the 49ers' defensive line
The San Francisco 49ers have selected defensive end Cam Johnson with their seventh round, and final pick, No. 237 overall. Johnson stands 6'3" and weighs in at 268 pounds.
Johnson was a 4-3 defensive end at Virginia, who projects to be a pass-rushing specialist from the outside. He possesses a good burst off the line and combines decent speed with athleticism and balance to get by would-be blockers.
It would not surprise me to see Johnson playing on obvious passing downs, opposite Aldon Smith. Whether that happens in 2012 is questionable, but Johnson does have good upside for a seventh-round selection.
Johnson is a third- or fourth-round talent, who fell all the way to the seventh round due to questions about his motor and his actual production on the field. If the 49ers can light a fire under him, they may have found a gem.
Grade: A-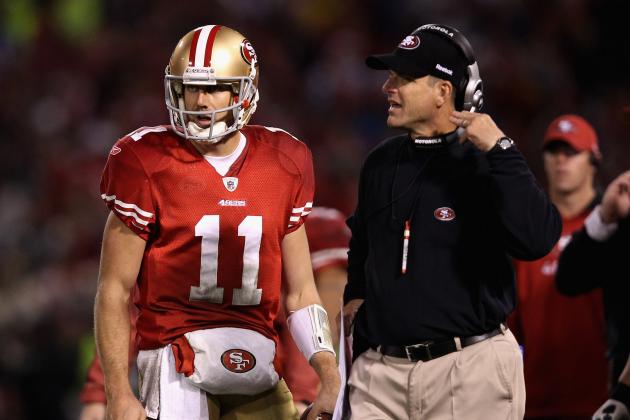 Ezra Shaw/Getty Images
The 49ers are well positioned for another deep playoff run
The San Francisco 49ers believe they have acquired some outstanding talent in the 2012 NFL draft. First off, they got the player they targeted in wide receiver A.J. Jenkins. If he turns out to be the player they envision, this draft will have been a success.
A top priority for the 49ers was to add speed and explosiveness. With the selections of Jenkins and LaMichael James, they have achieved that goal.
The 49ers were a couple of special teams blunders away from playing in the Super Bowl last year. They have top quality talent and a winning system now in place. The 49ers did not have a lot of major holes they needed to fill, so they were able to draft the best available player when their turn came up.
I really like what the 49ers have done in setting themselves up for 2013. With 11 overall picks slated for next year, the 49ers are very well positioned to keep adding to their already strong roster.
The 2012 schedule is very tough, as the 49ers will play the likes of New England, Detroit, Green Bay, New Orleans, Chicago and the New York Giants in their non-conference games. The 49ers may be a better team, but still not achieve the 13-3 mark they had in 2011.
The 49ers are the team to beat in the NFC West. They are well positioned to challenge again for the Super Bowl, in the upcoming season.
Based on the recent track record of GM Trent Baalke and head coach Jim Harbaugh, you must trust their judgement with this draft and their personnel moves. Time will tell if the moves they have made are the right ones.
The 49ers also get a slightly higher grade from me because of how well they have fortified their 2013 draft.
Overall Grade: B+