Duncan & Parker lead Spurs to 15th straight NBA playoff appearance
Harry How/Getty Images
April 28, 2012
The first round of the 2012 NBA playoffs tip-off with four games today and four tomorrow. The San Antonio Spurs will be playing in their 15th consecutive NBA playoffs, the longest active streak in the league. Mark Cuban's Dallas Mavericks hold the second spot in that category; they are playing in their 12th straight playoffs.
Starting with the 2003 playoffs, the NBA went to a seven-game series in the first round instead of the previous five-game first-round series. As you might expect, the Spurs have won the most first-round games since 2003 with 31. They are followed by the Los Angeles Lakers with 28 and the Mavs with 26.
Since 2003, the Spurs have won seven of the nine first-round series they have played. The Lakers have won six of the eight first-round series they have played. One of the surprises is that the Detroit Pistons have won six of the seven first-round series they have played in since 2003.
Two teams, the New York Knicks and Charlotte Bobcats, have not won a first-round game since 2003. In fact, the Bobcats have never won a playoff game since they came into the league in 2004-05.
The Knicks have not won a playoff game since 2001; they lost 3-2 in the first round of the 2001 playoffs to the Toronto Raptors. (Note the Cleveland Cavaliers have the best first-round winning percentage since 2003 with a 20-5 record, a .800 winning percentage.)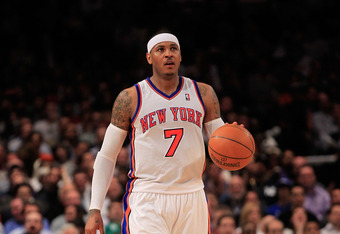 Can 'Melo get Knicks first playoff win since 2001?
Chris Trotman/Getty Images
Here's a look at how well each team has done in the first round of the NBA playoffs since 2003.
Team, First-Round Games W/L Record (2003-11), Winning Pct.
San Antonio, 31-17, .646
Los Angeles Lakers, 28-16, .636
Dallas, 26-25, .510
Detroit, 24-12, .667
Boston, 23-17, .575
Cleveland, 20-5, .800
Miami, 20-18, .526
Phoenix, 19-14, .576
Orlando, 17-15, .531
New Jersey, 16-10, .615
Chicago, 16-17, .485
Atlanta, 15-12, .556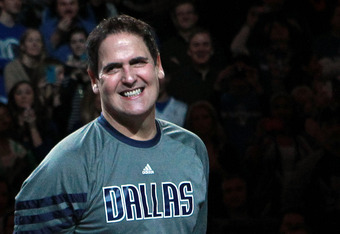 How far will Cuban's Mavs go this year in the playoffs?
Ronald Martinez/Getty Images
Utah, 14-15, .483
Indiana, 13-15, .464
Houston, 13-18, .419
New Orleans Hornets, 12-17, .414
Sacramento, 11-10, .524
Denver, 11-29, .275
Oklahoma City, 10-6, .625
Philadelphia, 10-18, .357
Portland, 9-16, .360
Washington, 8-14, .364
Milwaukee, 7-16, .304
Minnesota, 6-5, .545
Los Angeles Clippers, 4-1, .800
Golden State, 4-2, .667
Memphis, 4-14, .222
Toronto, 3-8, .273
New York, 0-8, .000
Charlotte, 0-4, .000
Did you know?
The Boston Celtics and the Lakers are the only teams to have won a first-round series in each of the past four seasons. The Atlanta Hawks have won a first-round series in each of the last three playoffs.
Like the new article format? Send us feedback!