2012 NFL Draft Results: Live Pick-by-Pick Grades and Analysis for Day 3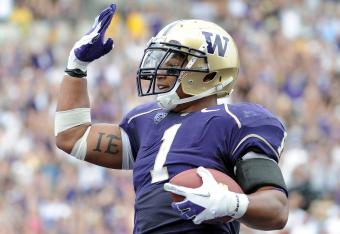 Harry How/Getty Images
Follow all the action here as teams try to uncover late-round gems on Day 3 of the 2012 NFL draft.
This is when clubs have the opportunity to find prospects they love at great value.
Remember, guys like Marques Colston, Stevie Johnson, Robert Mathis, Cortland Finnegan and Tom Brady were all mid- to- late-round selections.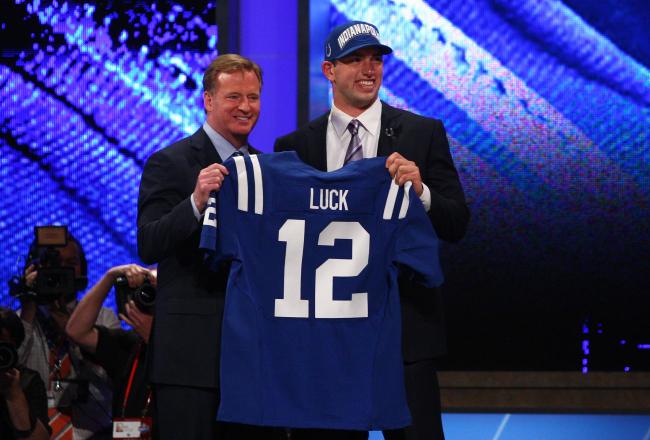 After three days and 253 picks, the 2012 NFL Draft has concluded.
It's been a long ride, but definitely a lot of fun.
Hope you enjoyed everything.
Follow me on Twitter @ChrisTrapasso—I'll be tweeting my thoughts on the draft for the next few days.
Amazing experience to cover this event for you.
PEACE!!!
What an awesome speech by this guy regarding Mr. Irrelevant.
MR. IRRELEVANT No. 253: Indianapolis Colts - Chandler Harnish, QB, Northern Illinois
Grade: B-
A nice quarterback prospect to learn under Andrew Luck.
No. 252: St. Louis Rams - Daryl Richardson, RB, Abilene Christian
Grade: B-
Good depth for Steven Jackson. Developmental.
No. 251: Buffalo Bills - John Potter, K, Western Michigan
Grade: C-
Seventh-round pick on a kicker? Ok. Fine.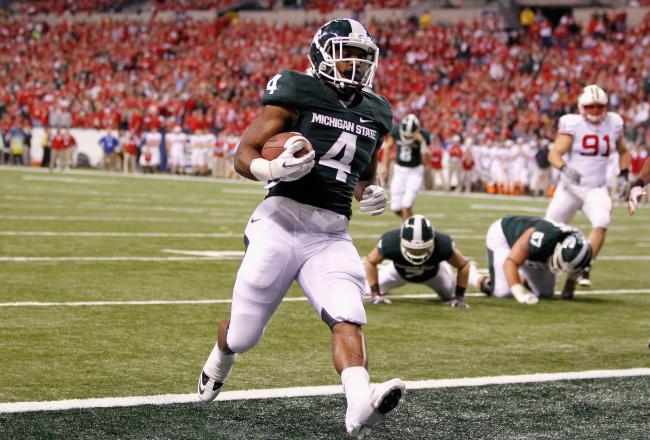 No. 250: San Diego Chargers - Edwin Baker, Michigan State
Grade: B+
With Ryan Mathews' injury history, Baker is a great pick here. He doesn't have great lateral movement, but he'll pick up as much yardage as possible on every down.
No. 249: Atlanta Falcons - Travian Robertson, DT, South Carolina
Grade: C+
At 6'4'' and 305 pounds, Robertson projects as a double-team eating defensive tackle. He's not much more than that.
No. 248: Pittsburgh Steelers, Kelvin Beachum, OT, SMU
Grade: B-
At 6'2'' and 303, he's the definition of a developmental offensive lineman.
No. 247: Cleveland Browns - Brad Smelley, TE, Alabama
Grade: C-
Smelley had 34 grabs and four touchdowns last year for the Crimson Tide. At 6'3'' and 230 pounds, he's a bit undersized and isn't a great athlete. Developmental guy.
No. 246: Pittsburgh Steelers - Terrance Frederick, CB, Texas A&M
Grade: C
He's not a necessarily fast corner, but he'll work well in zone.
No. 245: Cleveland Browns - Trevin Wade, CB, Arizona
Grade: B+
Wade was somewhat inconsistent during his career for the Wildcats, but he's got a lot of what you look for in a solid cornerback.
A nice addition to the secondary with great value in Round 7.
Cleveland Browns and Pittsburgh Steelers to alternate for the next four picks.
No. 244: New York Jets - Jordan White, WR, Western Michigan
Grade: B+
White isn't a tremendous athlete, but he was tremendously productive for the Broncos during his collegiate career.
He's only 6'0'', but he plays bigger, runs crisp routes and goes up and gets the football at its highest point.
No. 243: Green Bay Packers - B.J. Coleman, QB, Chattanooga
Grade: B-
Coleman has decent size at 6'3'' and possesses a good arm. He needs to greatly improve the way he reads defenses, something he can learn under Rodgers.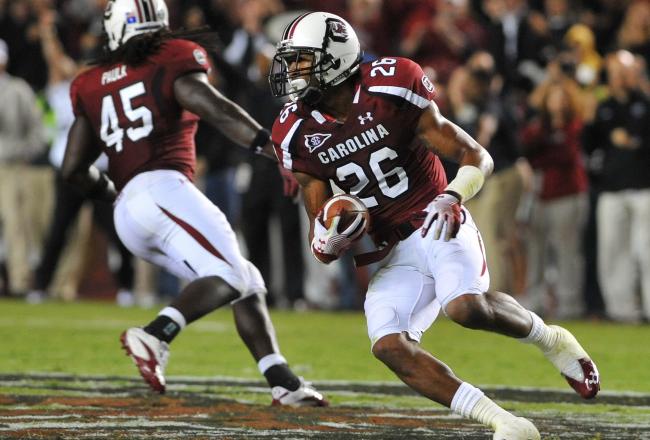 No. 242: New York Jets - Antonio Allen, S, South Carolina
Grade: A-
Allen was my third ranked safety after a steady career with the Gamecocks. He's an experienced guy at and is reasonably athletic as the last line of defense.
No. 241: Green Bay Packers - Andrew Datko, OT, Florida State
Grade: B-
Datko has the tools to be a starting offensive tackle, but he dealt with injuries during his career.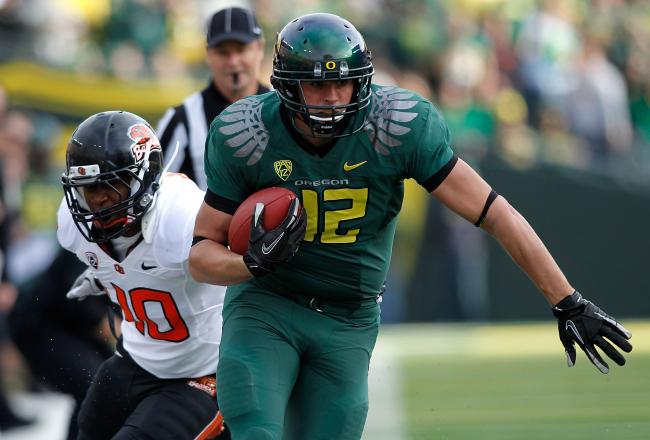 No. 240: Pittsburgh Steelers - David Paulson, TE, Oregon
Grade: B-
Paulson lacks speed, but was a reliable target for the Ducks over the years. Eerily similar to Heath Miller. Probably a little more athletic and not as big. But they have similar games.
No. 239: New York Giants - Markus Kuhn, DT, N.C. State
Grade: C+
Kuhn's a bit undersized but he's a penetrating, pass-rushing defensive tackle. Nice depth for the G-Men.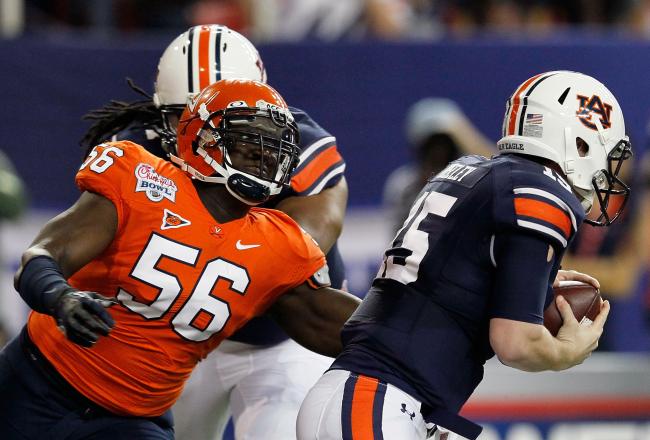 No. 237: San Francisco 49ers - Cam Johnson, OLB/DE, Virginia
Grade: A
Johnson has a sickle cell trait, so that led to his significant fall. He's an athletic 3-4 outside linebacker with good strength. Perfect for the 49ers defense.
No. 238: Kansas City Chiefs - Junior Hemingway, WR, Michigan
Grade: C+
Hemingway had his moments at Michigan, but he was somewhat inconsistent. He has good size and leaping ability but not fantastic speed.
Not a horrible time to take a flier.
No. 236: Baltimore Ravens - Deangelo Tyson, DT, Georgia
Grade: B
Tyson is a interior force than can play a lot of different positions across the defensive line. He thrives as a run stuffer but isn't much of a pass-rusher. Great late-round add for the Ravens.
No. 235: New England Patriots - Jeremy Ebert, WR, Northwestern
Grade: A-
Sleeper pick here for the Pats. Ebert had 77 catches for over 1,000 yards and 11 touchdowns last season. Has decent size at 5'11'' and 200 pounds.
New England Patriots on the clock.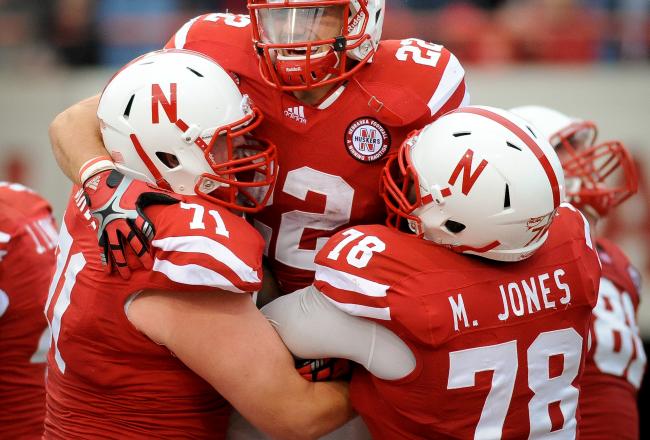 No. 234: New Orleans Saints - Marcel Jones, T, Nebraska
Grade: A
Jones is 6'6'' and 320 pounds—fantastic size for an offensive tackle. I'm stunned he lasted this long and will be a valued commodity down the road for the pass-heavy Saints.
No. 233: Tampa Bay Buccaneers - Drake Dunsmore, TE, Northwestern
Grade: B-
Dunsmore is a pass-catcher first, but he isn't a liability when blocking. He has decent speed and could be a H-back at 6'2'' and 241 pounds.
This article is
What is the duplicate article?
Why is this article offensive?
Where is this article plagiarized from?
Why is this article poorly edited?