NBA Playoffs 2012 Predictions: Bench Players Who Will Lead Teams into 2nd Round
April 28, 2012

Kevork Djansezian/Getty Images
As important as each teams' superstars will be in the first round of the NBA playoffs, you can't discount how vital of a role guys can play coming off the bench. Some bench players in this year's playoffs are starting caliber and play as many minutes as a starter would off the bench, while others are role players who specialize in certain aspects.
Whatever the case, it cannot be understated how huge it is to get production from bench players in the NBA. Guys like LeBron James, Kobe Bryant, Derrick Rose, Kevin Durant and others are probably going to be the main reasons why their teams do or don't win it all, but bench players can have an immeasurable impact in short spurts.
Here are three bench players who will come up big and lead their respective teams to the second round of the postseason.
James Harden, G, OKC
He only started two games for the Oklahoma City Thunder this season, but there is no doubt that guard James Harden is a key piece to a potential championship puzzle. Kevin Durant and Russell Westbrook get most of the attention as they form a dynamite backcourt duo, but Harden is that third scoring option who makes the Thunder a great team rather than a good one. Harden averaged nearly 17 points per game off the bench during the regular season and will be integral to OKC's success in the first round.
The Thunder won't have an easy go by any means as they will have to take on the defending NBA Champion Dallas Mavericks. The Mavs knocked off the Thunder last season, and while Dallas has taken a clear step back last year, it is a veteran-laden team that knows how to win in the playoffs.
The Mavericks may have the personnel to slow down Durant and Westbrook to some degree, but when you add in Harden, OKC's firepower becomes overwhelming. Provided Harden is efficient offensively in the playoffs like he was during the season, the Thunder will roll into the next round.
Shane Battier, F, MIA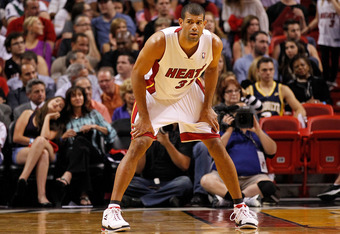 Mike Ehrmann/Getty Images
It's pretty easy to be anonymous on a team with LeBron James, Dwyane Wade and Chris Bosh, and that is the case for Miami Heat forward Shane Battier. Over the course of his NBA career, Battier has always been a solid role player who rarely has many accolades bestowed upon him. That continues to be true of Battier as he plays over 20 minutes per game off the bench as a glue guy for the Heat. He pitches in a little bit on the offensive end as he is still a capable three-point shooter, but his true value lies in his defense.
It is absolutely paramount to increase defensive intensity in the postseason and that fact makes Battier a very important player. When the Heat play the New York Knicks in the first round, James will likely be charged with the task of covering Carmelo Anthony much of the time, but when Battier is in the game then he will assume that role.
Anthony has been red hot for the Knicks over the past several weeks, but Battier is Miami's defensive stopper. He has played in a ton of big games and defending Anthony won't be too tall of a task for him.
Manu Ginobili, G, SA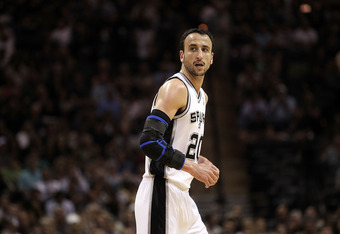 Ronald Martinez/Getty Images
He may be getting up there in age and he certainly has a propensity for getting injured, but there is no doubt that veteran guard Manu Ginobili will be a huge factor for the San Antonio Spurs in the playoffs. Ginobili was limited to just 34 games this season, starting seven, but he is apparently healthy and ready to play big minutes.
The Spurs have preferred to bring Ginobili off the bench for most of his NBA tenure as he provides a great deal of energy and he will have to do precisely that in the first round against the Utah Jazz.
Ginobili averaged 13 points per game and shot 41 percent from long range during the regular season, but he has always been a player who has turned up his intensity come playoff time. The Spurs may very well have the deepest team in the postseason, so they will be able to survive if some of their players don't perform up to their potential, but Ginobili is a player who absolutely must be great and he will be vs. Utah.