NFL Draft Order 2012: Late-Round Steals for Contending Teams
April 28, 2012

Mike Ehrmann/Getty Images
On the final day of the 2012 NFL draft, there are plenty of potential steals still left on the board. What separates great franchises from good franchises is the ability to find serviceable and even Pro Bowl-caliber players late in the draft.
There will be plenty of opportunities to snag possible gems on Saturday. Here are four late-round steals for possible contending teams.
Click here for the complete list of the 2012 NFL draft order.
Marvin McNutt, WR, Iowa
Marvin McNutt would be a solid late-round addition for any team in need of a wide receiver. The 6'3", 216-pound Iowa product continued to improve throughout his first three seasons with the Hawkeyes.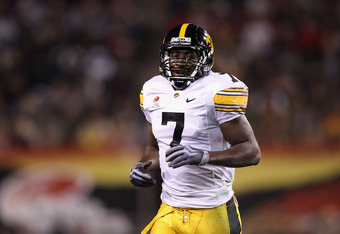 Christian Petersen/Getty Images
McNutt never took a step back, progressing from 34 receptions to 53 receptions to 82 receptions in 2011. He recorded 1,315 yards and 12 touchdowns in his junior season.
He has prototypical size for the wide receiver position to go along with strong hands. McNutt would make for a valuable Day 3 pick.
Lamar Miller, RB, Miami

Miami product Lamar Miller is still on the board on Day 3 of the NFL Draft.
Scott Cunningham/Getty Images
That won't last long.
Miller has solid size at 5'11" and 212 pounds. He has great speed, running a 4.40 at the combine. Any time he touches the ball, he could be off to the races.
In today's NFL, teams prefer to have two running backs to share the load. Expect Miller to be taken early in the fourth round. He could help a team right away.
Kirk Cousins, QB, Michigan State
Michigan State quarterback Kirk Cousins was a three-year starter for the Spartans. His work ethic, decision making and ability to be a leader to a football team translate well to the next level.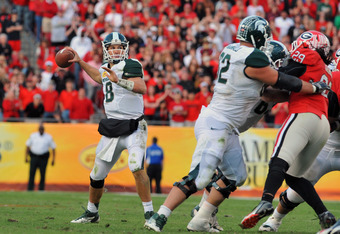 Al Messerschmidt/Getty Images
His size at 6'3", 214 pounds is a strength, not a liability like some of the other quarterbacks in the draft. 
Cousins may be more of a game manager in the NFL, but there have been plenty of examples of quarterbacks who succeed in that type of situation.
He would be a solid addition to a contending team because of his experience and knowledge of the game. If a starter went down with injury, Cousins could step in and be serviceable until he returns.