Bobby Abreu Release, Mike Trout Call-Up Will Pay Off for LA Angels
April 28, 2012

Steve Ruark/Getty Images
The Los Angeles Angels (6-14) released slumping veteran outfielder Bobby Abreu, opening up a spot in the lineup for 20-year-old prospect Mike Trout.
Regardless of how the highly-touted Trout turns out in only his second stint under the bright lights of the big leagues, cutting Abreu will still be the right move.
Los Angeles had made attempts to move the 38-year-old before the season began, and after the team's brutal start to the year (the Angels' worst since 2002), Abreu's .208 batting average became a liability.
Angels manager Mike Scioscia addressed the club's move Friday night. Via Zack Meisel of MLB.com:
Right now, there are some parts of our club that we need to get moving forward. I don't think this is going to be a cure-all, because I think there are things that we definitely need to come into play.

[Trout] is a young, exciting player that's going to come up and hopefully start to contribute to things that we need to move forward with in our team. He's going to play. He's got versatility.
Abreu's release means that the Angels can attempt to improve their 17th-ranked team batting average of .245 and make their way out of the basement in the AL West standings.
Where Abreu is proven and experienced, Trout is young and motivated. The speedster played in 40 games for LA in 2011, batting .220 with five home runs and 16 RBI.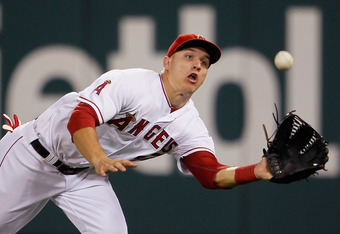 Jeff Gross/Getty Images
Trout also brings an athletic dimension to the diamond, something that Abreu did not. Trout can steal bases and get to balls anywhere in center field; he had four stolen bases with the Angels last season and stole 108 bases in 286 career minor league games.
There is also the element of familiarity that both the Angels and Trout share. This obviously won't be Trout's first trip to The Show, and perhaps fans should expect even better from him this time around.
With so many of the expectations in Los Angeles already having been thrown out the window, there is little pressure to fail left on players, outside Albert Pujols at least.
The Angels have lost five straight and are already nine games back of the reigning AL champion Texas Rangers. Los Angeles is tied with the Kansas City Royals for the second-worst record in the majors.
Trout brings the Angels exactly what they need—a young slugger to provide a spark, and hopefully consistency, to their offense. LA's 74 runs in 20 games rank it second to last in the AL, while it is tied for fifth in the AL in fewest runs allowed with 86.
Abreu was costing the Halos at the plate, and this move will pay off in the long run.