2013 NFL Mock Draft: Highlighting Future Stars in Next Year's Draft
April 29, 2012

Jeff Gross/Getty Images
Now that the 2012 NFL draft is complete, it's never too early to see what the next NFL draft has in store for us.
So, here's a 2013 mock to get you prepared for the upcoming college football season. The autumn wind can't come soon enough.
Highlighted players are in italics.
1. Oakland Raiders: Matt Barkley, QB (USC)
The Oakland Raiders need a long-term solution under center because Carson Palmer is vehemently overpaid and, considering Oakland's schedule on top of just five draft picks, the Raiders will have a rough 2012 campaign.
Fortunately for Oakland, USC's Matt Barkley is the next quarterback in line to begin the rebuilding process. Now, Oakland does present a fast receiving corps that can stretch defenses to open up the running game and Barkley will only make that better.
2011 was an outstanding performance with 39 touchdowns to just seven picks and a 69.1 completion percentage. The Trojans offense revolves around Barkley to set up in the pocket, make quick reads and put the rock spot on target downfield.
Palmer was a great add, but he still present durability concerns, and time is of the essence. Barkley has that Andrew Luck potential to really make a strong impact as a rookie and the Silver and Black will resurface quickly with him under center.
2. Minnesota Vikings: David Amerson, CB (North Carolina State)
Now that the Vikings have added a safety in Harrison Smith, a playmaking corner like David Amerson fits the mold well to keep improving the pass defense. With 12 picks returned for 206 yards and 59 tackles in 2011, keep a close eye on Amerson in 2012.
3. Miami Dolphins: Robert Woods, WR (USC)
Miami needs a standout target and Robert Woods provides that reliability all over. As a receiver in 2011, Woods compiled almost 1,300 yards on 111 receptions. He's also a great return specialist with 1,482 total yards between 2009 and 2010.
4. Tennessee Titans: Kawann Short, DT (Purdue)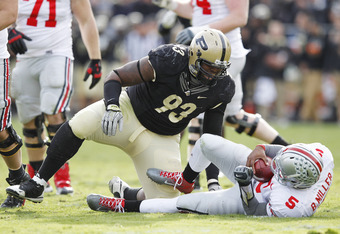 Joe Robbins/Getty Images
If Tennessee pairs Kawann Short with Mike Martin in its front four, the Titans would have one dominant wall in the trenches. Short has collected 29.5 tackles for loss and 12 sacks the past two seasons, so defending the run and getting a pass rush won't be an issue for Tennessee.
5. Indianapolis Colts: Jarvis Jones, LB (Georgia)
Getting Andrew Luck some helps was crucial. Now, the Colts must address the defense and Jarvis Jones provides a pass rush and the ability to stop the run in Indy's front seven. With 13.5 sacks, 70 tackles last season, Jones can really increase his draft value with a strong performance in 2012.
6. St. Louis Rams: Barrett Jones, OT/OG (Alabama)
The Rams allowed 55 sacks in 2011. Although the offense is upgraded with Brian Quick and Isaiah Pead, getting a consistently reliable lineman like Barrett Jones is key to fielding a balanced attack. Jones' versatility will benefit more than anything.
7. New York Jets: Ricky Wagner, OT (Wisconsin)
With receiver Stephen Hill taking on outside linebackers and defensive backs in the running game, the Jets need a pro-style run-blocker on the line. Ricky Wagner comes from that type of system at Wisconsin and Gang Green needs a player that will transition quickly to keep Shonn Green rolling.
8. Seattle Seahawks: Sam Montgomery, DE (LSU)
Despite the addition of Bruce Irvin, Seattle needs a true defensive end that is also sound against the run. Sam Montgomery recorded 49 tackles and nine sacks for LSU in 2011, so anticipate that production increasing in 2012 to land him in Seattle, opposite of Chris Clemons.
9. St. Louis Rams (via WAS): Eric Reid, Safety (LSU)
As a freshman in 2010, Eric Reid contributed well for LSU and improved his production in 2011. With four picks, eight defended passes, two forced fumbles and 108 tackles, Reid proved consistency and the Rams need a safety like that to make plays behind Cortland Finnegan.
10. Cleveland Browns: Johnny Adams, CB (Michigan State
It's easy to overlook a corner like Johnny Adams from the Big Ten since the SEC rules above all else. However, Adams has been an impressive defender for the Spartans through three seasons. Having collected eight picks on 24 defended passes, Adams is the perfect complement to Joe Haden in Cleveland.
11. Carolina Panthers: Tyrann Mathieu, CB (LSU)
Although the Carolina Panthers took a cornerback in Coastal Carolina's Josh Norman during day three of the 2012 draft, the pass defense won't be an immediate fix.
Norman's addition undoubtedly adds talented depth to the Cats secondary, but LSU's Tyrann Mathieu immediately makes the Panthers elite. Mathieu was a Heisman finalist in 2011 after forcing six fumbles (recovering four), making 76 tackles and defending 11 passes.
In 2010, Mathieu forced five fumbles, defended eight passes and made 57 tackles as a freshman. He's a versatile athlete that is as good of a playmaker as you'll ever see. Additionally, Mathieu has recorded four interceptions, 16 tackles for loss and in 2011 he compiled 429 punt return yards and scored four total touchdowns (two defense, two returns).
For the Panthers, Mathieu presents as a dominant zone defender and a contributor at safety to make plays over the top in Cover 1, 2 and 3. He'll definitely serve well on special teams, and Mathieu's rare ability to consistently cause fumbles will pay extreme dividends to Carolina's defense.
12. Tampa Bay Buccaneers: Brandon Jenkins, LB/DE (Florida State)
Tampa Bay did well in the 2012 draft at improving the defense. Only one more piece really needs to get added for the front seven, and Brandon Jenkins is that prospect. A solid rusher off the edge with 21.5 sacks, Jenkins is solid against the run with 104 tackles the past two seasons.
13. New Orleans Saints: Johnthan Banks, CB (Mississippi State)
In 2011 the Saints ranked No. 30 against the pass. Well, that could happen again playing in a pass-oriented division, so taking Johnthan Banks easily addresses this need. With 30 defended passes, 11 picks, four forced fumbles, 158 tackles and three touchdowns, Banks has potential to be 2013's top corner after a strong 2012 campaign.
14. Chicago Bears: Robert Lester, Safety (Alabama)
Yes, Chicago took a safety in Oregon State's Brandon Hardin; however, the Bears still must consider Robert Lester as he brings the instincts to make plays sitting in a Cover 2 with Chris Conte. Lester has 10 picks and 17 defended passes the past two seasons, which bodes well against the pass-heavy NFC North.
15. Arizona Cardinals: Sean Porter, LB (Texas A&M)
To complement Darnell Dockett and Calais Campbell in the front seven, Arizona needs a stud pass-rusher and run-defender at outside 'backer. Sean Porter possesses the speed and reliability to contribute, as evidence by 153 tackles and 10 sacks between 2010 and 2011.
16. San Diego Chargers: Manti Te'o, LB (Notre Dame)
At No. 18 overall the San Diego Chargers got a steal with South Carolina's Melvin Ingram. Even better news, Notre Dame's Manti Te'o will be available in Round 1 of the 2013 draft and the Bolts need a young inside linebacker.
Takeo Spikes is a dominant seasoned vet, but the man will also be 36 years old at the end of the 2012 season. With Ingram and Shaun Phillips on the outside, Te'o in the middle of San Diego's front seven will shut down any ground game between the tackles.
In three seasons for the Irish, Te'o has amassed 320 tackles, defended six passes and made 27.5 tackles for loss.
He's an aware defender against the intermediate passing game, has the lateral quickness to make plays on the outside and the size to take on/get off blocks in the middle. If anything, Te'o's cognitive approach helps San Diego the most because he dissects plays fast and reacts ever faster.
17. Jacksonville Jaguars: Aaron Murray, QB (Georgia)
Already having two quarterbacks, a lot of what Jacksonville does in Round 1 in 2013 will be predicated off of Blaine Gabbert's 2012 season. Well, with not many holes elsewhere to begin with, the addition of Aaron Murray helps increase the competition. In two seasons at Georgia, Murray has hit over 3,000 yards each year and has 59 touchdowns to just 22 picks.
18. Pittsburgh Steelers: Marcus Lattimore, RB (South Carolina)
Now that Pittsburgh has an upgraded line, the Steelers need a potential long-term No. 1 ball-carrier to slam the trenches. South Carolina's Marcus Lattimore will be the best back in the 2013 draft and despite only playing in roughly seven games in 2011, Lattimore still gained 1,000 total yards and scored 11 touchdowns.
19. New York Giants: Kevin Reddick, LB (North Carolina)
Despite winning another Super Bowl over New England, the Giants need to address the linebacker position. Kevin Reddick has solid awareness with 12 defended passes and is reliable against the run (145 tackles the past two seasons).
20. Kansas City Chiefs: Tyler Eifert, TE (Notre Dame)
Since Tony Gonzalez left, the Chiefs have missed that reliable tight end making plays downfield. Kyle Eifert has that ability though, as he gained 803 yards on 63 catches in 2011. Expect another strong season from him in 2012 and Kansas City snags him to fit another piece to its offense's puzzle.
21. Buffalo Bills: T.J. McDonald, Safety (USC)
Fielding an impressive front seven and now corner Stephon Gilmore on the outside, Buffalo needs a playmaking safety to sit over the top and make plays. T.J. McDonald has six picks the past two years along with 156 tackles at USC; so, his knack for finding the rock and being a sure tackler will pay extreme dividends in the Bills' defense.
22. Atlanta Falcons: Alex Okafor, DE (Texas)
John Abraham turns 34 years old before the 2012 season kicks off, so time is of the essence. The Falcons need to spruce the pass rush and run defense, and Alex Okafar's potential suits well. Combined between 2010 and 2011, Okafor has compiled 79 tackles, 9.5 sacks and forced three fumbles.
23. Cincinnati Bengals: Keenan Allen, WR (California)
The Cincinnati Bengals may have added two receivers in the 2012 draft to complement A.J. Green, but neither have No. 2 potential like Cal's Keenan Allen.
Cincy is loaded on both sides of the ball with impressive talent, so getting another downfield playmaker only keeps defenses off balance early on. While at Cal, Allen has been responsible for 144 receptions and 1,833 yards in two seasons.
His size creates an advantage against press coverage and jump balls inside the red zone, which is where he'll see single coverage with Green being double-teamed.
Provided that the Bengals' ground game improves in 2012, Allen's presence out wide will simply prevent defenses from blitzing, loading the box and remaining in press coverage. With other playmakers like Mohamed Sanu and Jermaine Gresham, Cincy's offense will be high-powered for quite some time.
24. Detroit Lions: Desmond Trufant, CB (Washington)
The Lions got a solid corner in Dwight Bentley during Round 3 of the 2012 draft, but talented-depth in the secondary is how Detroit will slow down pass-happy offenses. Desmond Trufant is a sound defender and has defended 29 passes with five picks in three seasons for the Washington Huskies.
25. Dallas Cowboys: Travis Frederick, OG (Wisconsin)
In order to maintain a safe pocket for Tony Romo and polished running lanes, the Cowboys need Travis Frederick from Wisconsin. The Badgers run a pro-style offense and Frederick's size as an interior lineman provides quickness and athleticism field a balanced offense in Dallas.
26. Baltimore Ravens: C.J. Mosley, LB (Alabama)
At some point the Ravens will have to replace Ray Lewis. And getting Alabama's C.J. Mosley will make for a great selection. Mosley's impressive in coverage with 15 defended passes and three of which are picks. Provided he continues to develop against the run, Baltimore will welcome him in Round 1 of 2013.
27. Denver Broncos: Tavon Austin, WR (West Virginia)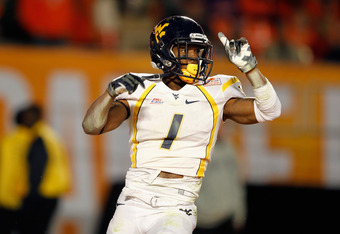 Streeter Lecka/Getty Images
On the outside the Broncos have Eric Decker and Demaryius Thomas, but a versatile slot receiver like Tavon Austin will complete the receiving corps. As a wideout, Austin has almost 2,000 yards the past two years along with 341 rushing yards. He's also a dangerous return man with 1,862 total yards and three scores on special teams.
28. Philadelphia Eagles: Jelani Jenkins, LB (Florida)
The Eagles field an impressive front four led by Trent Cole and have an improved linebacking corps. Still, Philadelphia must address the outside 'backer spot and Jelani Jenkins is that ideal prospect. He's a complete defender with 151 tackles and nine defended passes the past two years, so presenting Jenkins on the edge of the box creates playmaking opportunities in a strong front seven.
29. Green Bay Packers: Rod Sweeting, CB (Georgia Tech)
Green Bay needs younger playmakers in the secondary and getting Casey Hayward solves one-half of the field. With a significantly boosted front seven, taking Rod Sweeting in 2013 only enhances the Packers defense. Sweeting has 20 defended passes and 94 tackles since 2010, so he'll bode well in zone and against the run as well.
30. New England Patriots: Michael Dyer, RB (Auburn)
With potential to be college football's best back in 2012, Michael Dyer is coming off two 1,000-yard seasons with 15 touchdowns. The Patriots need a true bruiser between the tackles that can get yards after contact and Dyer's size, speed and balance brings everything to the table.
31. Houston Texans: Shayne Skov, LB (Stanford)
Although he has durability issues, Shayne Skov has a knack for being around the ball and making plays in the front seven. Combined between 2009 and 2010, Skov recorded 145 tackles and defended six passes. Paired with Brian Cushing inside Houston's front seven, Skov will produce wonderfully for the Texans.
32. San Francisco 49ers: Lane Taylor, OG (Oklahoma State)
If there's one weakness on San Francisco it's the lack of pass protection and polished running lanes. Alex Smith was sacked 51 times including the postseason and it wouldn't hurt for Frank Gore to see smoother lanes. Well, Lane Taylor is a pass-blocking specialist at Oklahoma State and Brandon Weeden was sacked only 20 times between 2010 and 2011.
John Rozum on Twitter.