2012 NFL Draft Results: 10 College Stars Who Could Go Undrafted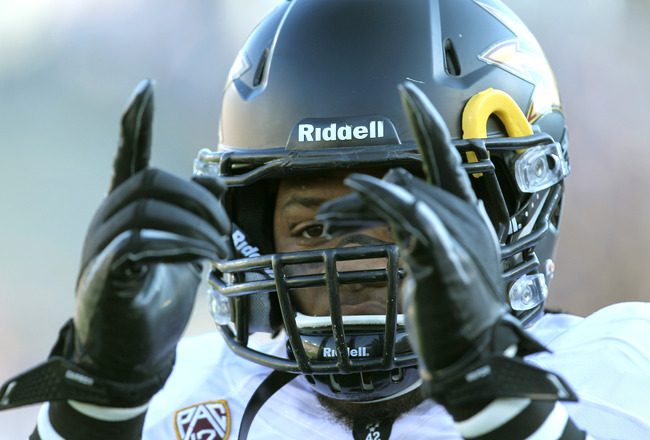 Stephen Dunn/Getty Images
College football stardom guarantees little when it comes to the NFL draft. Some of the most prolific runners, receivers, pass-rushers and passers could find themselves still waiting to learn their NFL fate when the draft winds up.
No amount of production or notoriety can turn the tide when a player has a lack of NFL-quality physical attributes or otherwise turns off the decision makers in the pro ranks. Who are some of the biggest college stars who could go undrafted?
Vontaze Burfict, LB, Arizona State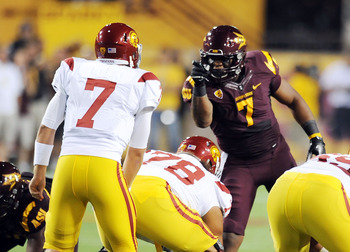 Norm Hall/Getty Images
Just a few months ago, Vontaze Burfict was in the first round of some mock drafts. Then he put on a clinic in how to destroy your draft stock. He had a nightmarish combine, running above 5.0 in the 40 and turning off teams in his interviews. He also failed a drug test at the combine. Then, he had a terrible pro day in one of his last chances to redeem himself.
It doesn't help that Burfict's instincts look very suspect on tape. He might get drafted in the seventh round, but he seems like a player that wants to go undrafted at this point. At least he'll get to pick his team.
Kellen Moore, QB, Boise State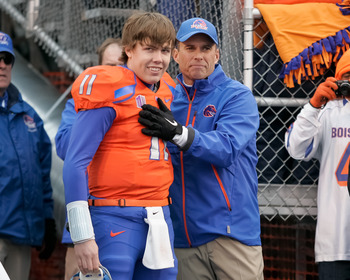 Otto Kitsinger III/Getty Images
The all-time winningest QB in Division I college football might not get drafted, showing us that winning isn't everything—at least not to the NFL talent evaluators.
Moore played in a highly structured system and he lacks the arm strength and size the NFL looks for in a QB. He's a poor athlete in a slight frame. Moore may become a very good NFL coach one day, but he'll be lucky to ever make an NFL roster.
Case Keenum, QB, Houston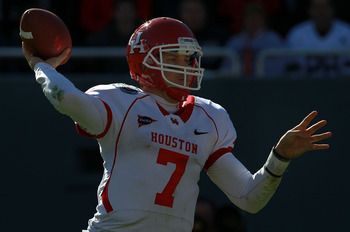 Ronald Martinez/Getty Images
Andre Ware and David Klingler went in the first round. Kevin Kolb went in the second round. Maybe the NFL is finally figuring out that University of Houston QBs aren't good gambles in the draft.
Case Keenum set records with astronomical numbers, including three 5,000-yard passing seasons, but that won't get him drafted. His arm strength, small frame and system-generated production are all things the NFL will hold against him, making Keenum a likely undrafted free agent this year.
Gerell Robinson, WR, Arizona State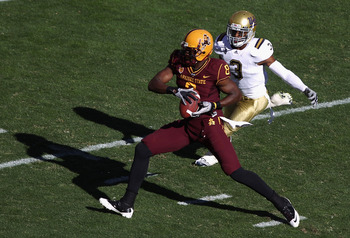 Christian Petersen/Getty Images
Brock Osweiler went in the second round, but his No. 1 target might not get drafted at all. Gerell Robinson was sixth in the BCS level of college football in receiving yards with 1,397 on 77 receptions, which put him over 100 receiving yards a game.
He's 6'3", 225, giving him the size the NFL loves to see in wide receiver prospects. He also has suspect hands with a lack of great speed or quickness, indicating that he will have a lot of trouble carrying this production over to the next level. He might have to fight just to get past the first round of camp cuts.
Jordan White, WR, Western Michigan
courtesy of Jonathon Gruenke | Kalamazoo Gazette
Jordan White was first in the BCS subdivision in catches with 140. First in yardage with 1,911. Third in receiving touchdowns with 17. Yet, he might be having to earn his way onto a roster as an undrafted free agent.
The problem is that White has average size at about 6'0", 210 lbs, he has 4.6 speed at best and he's not especially quick or sudden in his routes or the open field. He's also torn both ACLs in the past, and he'll be 24 when the season starts, which is old for a rookie.
Patrick Edwards, WR, Houston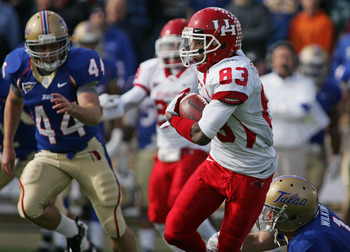 Brett Deering/Getty Images
Patrick Edwards led the BCS subdivision with 20 touchdowns, and he was second overall with 1,752 receiving yards. He has come all the way back from a compound fracture of his leg suffered during a game in 2008, showing determination.
The problem is that Edwards is 5'9" with a somewhat frail 175-pound frame, inconsistent hands and zero ability to gain yards after contact. He's also in a very strong class of slot receivers, meaning he'll likely have to sign with a team after the draft.
Terrance Ganaway, RB, Baylor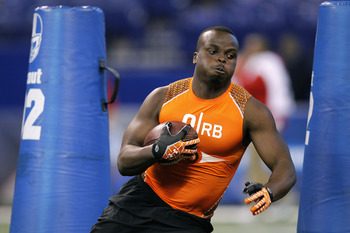 Joe Robbins/Getty Images
Twenty-one rushing touchdowns with over 1,500 yards rushing and a yards per carry average over six in a BCS conference should get a running back drafted, but Baylor's Terrance Ganaway could still not hear his named called in Radio City Music Hall.
He's a big back at 5'11", 240, and he ran in the 4.5s at his pro day, but Ganaway's production was created mostly by Robert Griffin III and the passing game. With the NFL valuing speed from running backs more than size these days, Ganaway could be left out this weekend.
Frank Alexander, DE, Oklahoma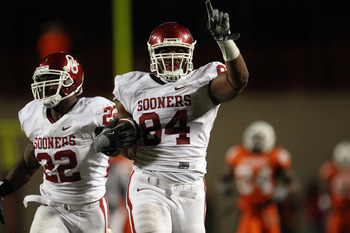 Ronald Martinez/Getty Images
Surely the Big 12 defensive player of the year would get drafted, right? Frank Alexander, a defensive end from Oklahoma, won that award, but he could still slip out of the draft. The combine exam found a heart condition that prevented him from participating at the event.
Later it was discovered that he didn't have a hole in his heart after all, but his draft stock seemed to be tarnished nonetheless. Alexander did work out at his pro day and posted a solid 4.76 40 and 34.5" vertical in a 6'4", 271-pound frame, so if Alexander does go undrafted, someone is going to get a steal.
Darron Thomas, QB, Oregon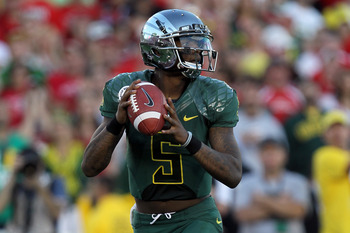 Stephen Dunn/Getty Images
Darron Thomas is going to be another lesson for college football players about leaving school a year too early. Even though he threw for 33 touchdowns against only seven interceptions, with over 62 percent accuracy, Thomas will probably have to catch on as an undrafted free agent.
He's very athletic and has decent size at 6'3", 215, but Thomas played in Oregon's spread offense, giving him little chance to develop or show off NFL pocket passer abilities. Another season in Eugene could have helped him polish the few pro style things that offense does ask him to, but Thomas decided to jump to the pros and he'll probably become a cautionary example for future collegiate players because of it.
Bobby Rainey, RB, Western Kentucky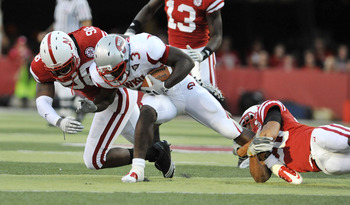 Eric Francis/Getty Images
Quick, who led the BCS subdivision in carries last year? Bobby Rainey had an astounding 369 carries for Western Kentucky. He also put up 1,695 yards and 13 touchdowns, earning his second straight Sun Belt offensive player of the year award. Rainey did this even though he only stands 5'7".
Perhaps the success of guys like Darren Sproles and Maurice Jones-Drew will help Rainey get a foothold in the draft, but it's more likely that his lower level of competition and short stature will put him on the outside looking in.
Keep Reading