Kansas City Chiefs 2012 NFL Draft: Day 2 Recap, Grades and Analysis
April 27, 2012

Although the Kansas City Chiefs needed immediate help across the offensive line, Scott Pioli and Co. might have overdone it, neglecting other areas where the roster could have used an instant impact player.
Taking two offensive tackles with each of their selections in the second and third round definitely provides the Chiefs with some serious depth in the trenches; but is Pioli setting this team up for the potential loss of left tackle Branden Albert to free agency after the 2012 season?
The Chiefs should try to do everything they can to re-sign Albert, but having quality reserves that might be flexible enough to play guard in the interim should help soften the blow in case they can't retain him.
The Chiefs took Jeff Allen out of Illinois with their second-round pick. Although it is believed he will need to put in a little work in reshaping his frame, Allen was a very reliable cornerstone for the Illini offensive, having made 46 consecutive starts at both tackle positions.
Since he will need time to develop himself into a solid contributor at the next level, the selection of Allen makes sense so that he can come in and learn from veterans at each of the bookend spots.
Pick Grade B-
With their third-round pick, the Chiefs took Donald Stephenson out of the Oklahoma. Some consider this a steal in that Stephenson comes in as an undeveloped prospect with great potential.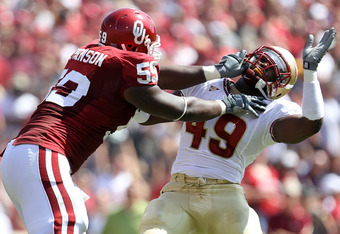 Ronald Martinez/Getty Images
A stellar showing at the combine indicates that Stephenson simply needs time to develop his raw talent into where it needs to be in order to be successful at the NFL level.
Pick Grade C-
The Chiefs went out this offseason and signed former Houston Texans right tackle Eric Winston, leaving the only holes along the interior. The Allen pick possibly filled that hole because some see him as more of a guard at the next level.
However, regardless of how good Stephenson may become, the Chiefs could have filled more pressing needs at inside linebacker or possibly added depth at other positions in the third round.
There definitely won't be as much reaction to the Day 2 selections as there was with Poe in round one, but Pioli certainly has fans scratching their heads as to he direction he is taking this draft class.
Contact Jeremy at jeremy@popflyboys.com, on Twitter @KCPopFlyBoy and read more at popflyboys.com.