2012 NFL Draft: Can Brandon Hardin Solve the Chicago Bears Safety Issues?
April 28, 2012

Ezra Shaw/Getty Images
For the third straight season the Chicago Bears selected a safety in the third round. It also keeps the streak alive of them drafting a safety every year since Lovie Smith became the head coach.
The newest addition is Brandon Hardin from Oregon State University and he comes with a bit of a red flag.
Hardin missed the entire 2011 season after having surgery on his shoulder. Also in 2008 he broke his left hand and right wrist but played through the injuries.
The Bears did bring him in last month so their team doctors could check him out. Judging by the fact they drafted him, it would appear they were happy with the results of the check up.
Looking past the injuries, he is everything you would want in a safety. He measured in at just under 6'3" and tipped the scales at 222 lbs. He is basically the same size as second-round pick Alshon Jeffery.
While he wasn't invited to the NFL combine, he did run a 4.46 40-yard dash at the Oregon State pro day. He also benched 225 lbs. 24 times, which makes him the strongest player the Bears drafted so far.
Hardin is versatile and could line up at either safety spot as well as play a little cornerback as well. He is also experienced on special teams, which is always important for the Bears.
I would expect him to compete with Conte for the free safety spot but if the coaching staff likes Conte there he could slide over to strong safety. If that happened he would be competing against Wright and Steltz for playing time.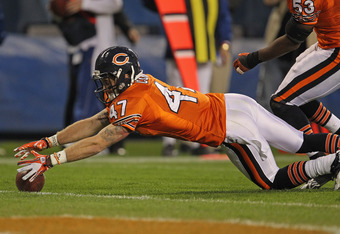 Jonathan Daniel/Getty Images
A combination of Conte and Hardin would give the Bears a very fast safety duo. Conte ran a 4.53 40-yard dash last year at the NFL combine. 
If he can beat out Conte for the starting FS spot then ideally he would be paired with Wright, who was a third-round pick in 2010.
As a Bears fan I very much hope this trio can bring an end to this endless cycle of drafting safeties. I really don't want to be writing an article this time next year saying for the fourth straight season the Bears selected a safety in the third round.
The Bears have three draft picks left, with one each in the fourth, sixth and seventh rounds. Look for them to add depth to the offensive and defensive lines but wouldn't be surprised to see Phil Emery surprise us by picking another position.
What do you think Bears fans? Do you like what Emery has done so far in his first draft? Sound off below.
Make sure to follow me on Twitter @dachicagofan, and check out my weekly Bears podcast every Monday on my site The MG Experience.