2012 NFL Draft: Friday's Biggest Mistakes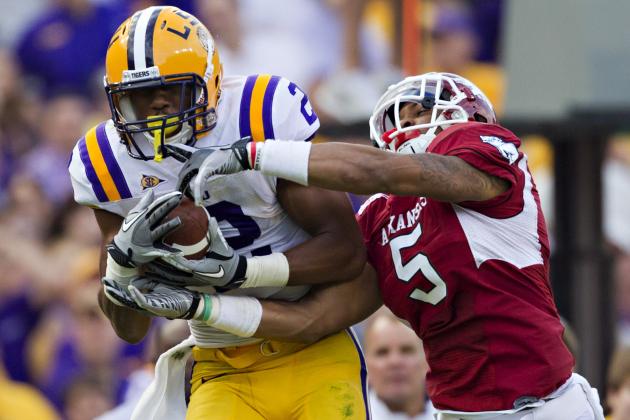 Wesley Hitt/Getty Images
The Giants landed a steal with Rueben Randle at the bottom of the second round. Other teams didn't do so well.
Two days into the NFL draft and there's plenty of great deals to discuss: The Indianapolis Colts give Andrew Luck his favorite college target in the second round; the New York Giants steal a top receiver at the bottom of the second round; and multiple teams upgrade their offensive lines early into Day 2.
But what about the teams that dropped the ball? What about those teams that reached for players, or passed on players for a more questionable prospect?
Teams that make the jump from playoff hopeful to Super Bowl contender don't just find success in the first round of the draft. It's the whole body of work that builds a championship team.
Here are the key picks that will hold teams back rather than propel them to the next level.
Begin Slideshow

»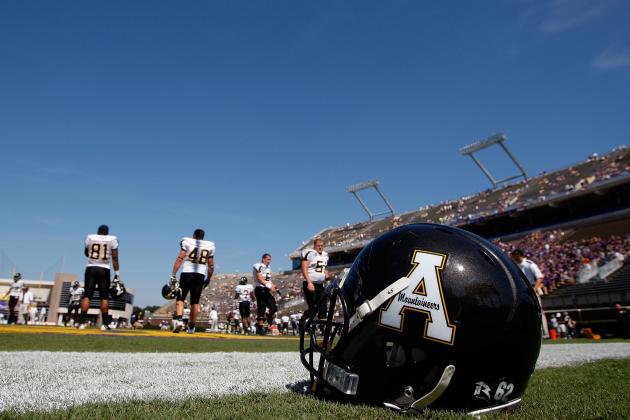 Streeter Lecka/Getty Images

Two years ago, the St. Louis Rams spent the top draft pick and serious money on quarterback Sam Bradford.
Since then, the Rams spent a third- and two fourth-round picks on receivers. Other than Donnie Avery's selection at 33rd overall in 2008, the Rams haven't drafted a receiver higher than 74th since 2000.
Considering Bradford's immense talent, forcing him to work with middling wideout talent is similar to buying a Bentley but lubricating it with cooking oil.
The Rams finally addressed the receiver position at the top of the second round, but don't expect Bradford to feel good about it. Despite higher-rated talent like Alshon Jeffrey and Stephen Hill on the board, the Rams went with Brian Quick.
Quick possesses good size at 6'4", but doesn't turn heads with his speed or jumping ability. Barely rated in the top 10 among receiver prospects, Quick should have been available when St. Louis picked in the third round, let alone when the Rams had two later selections in the second round.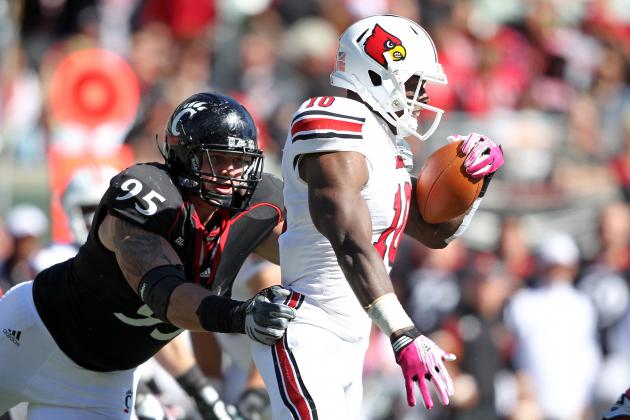 Andy Lyons/Getty Images

Don't get me wrong on this; I'm a huge Derek Wolfe fan. He has a motor that does not quick and plays with real intensity. He's always at the point of attack and should do well in the NFL.
But he's a square peg in a round hole at defensive tackle, and should have lasted until later in the draft.

Wolfe would be more at home as a five-technique defensive end in a 3-4 scheme. Denver skipped over Jerel Worthy, Devon Still and Kendall Reyes, all of whom are a more natural fit in John Fox's 4-3 defense.
Denver could have taken any of those three with the 36th overall pick, then easily come back for Wolfe at pick No. 57.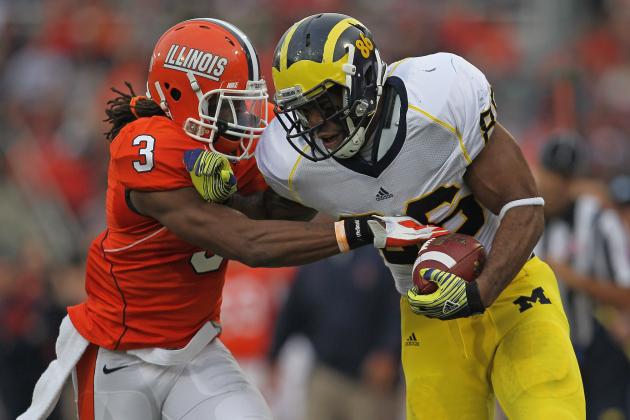 Jonathan Daniel/Getty Images

The New England Patriots made their first mistake trading up for Dont'a Hightower. Hightower looked like a poor man's Rolando McClain for the Crimson Tide, and McClain has yet to make a notable impact for the Oakland Raiders.
But after moving up to the 25th overall pick, New England elected to not select Harrison Smith, who looked very fluid at the NFL combine and steadily worked his way up draft boards the last few weeks.
Instead, Bill Belichick picks up Tavon Wilson 48th overall. The Illinois defensive back is a leader on and off the field, can play both corner and safety and is the consummate team player.
But how did Belichick figure Wilson wouldn't be available later in the draft?
Wilson didn't even rate in Matt Miller's top 300. Most projections put Wilson as a reserve/project player who would be drafted late on Day 3. Sports Illustrated expected Wilson to enter the NFL as an undrafted free agent.
The Patriots continue to break their own model this year, trading up twice in the first round. More importantly, they haven't traded down once so far. New England seems intent on bringing in fresh, young talent.
Belichick gets the benefit of the doubt, considering his past success. But right now, New England looks more like it has tossed aside the shrewdness that continually put the Patriots in full control of their draft destiny.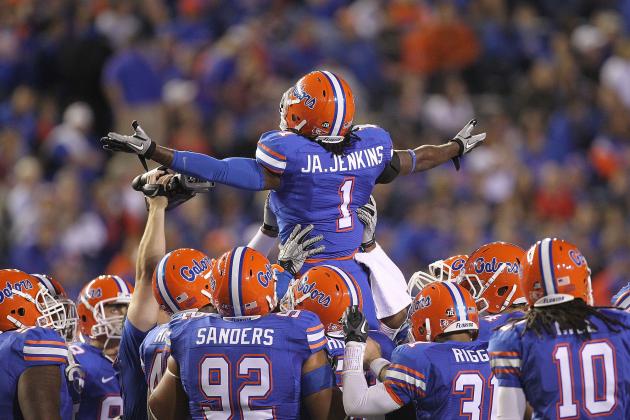 Mike Ehrmann/Getty Images

Janoris Jenkins brings as much emotional baggage to the St. Louis Rams as he does talent.
To call Jenkins recent history "colorful" would be an understatement. Kicked off the Florida Gators' after two drug-related arrests in three months in 2011, Jenkins finished his college career at North Alabama.
This wasn't his first encounter with law enforcement, either. Police tasered and arrested Jenkins for fighting and resisting arrest in 2009.
Jenkins could use a calm, steadying influence to help him understand what is required on and off the field in the NFL.
He needs a true professional. Instead, he gets Cortland Finnegan.
Finnegan paid out $40,000 in 2010 for fighting and unsportsmanlike conduct. Sporting News voted Finnegan the NFL's dirtiest player that year.
Granted, Finnegan's indiscretions are generally limited to his actions on the field. He might be able to convince Jenkins to leave everything out on the field rather than get into more legal trouble off it.
With Jenkins' track record, that could be a tall order.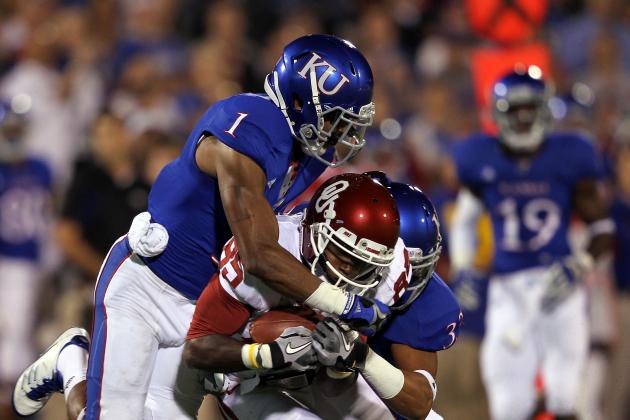 Jamie Squire/Getty Images

With Rueben Randle waiting in the Green Room for a phone call, the Lions instead bypass him and a number of other higher-rated receivers to take Ryan Broyles.
Broyles brings plenty of talent and ability, and should pair well as a slot receiver alongside Calvin Johnson.
That is, if he fully recovers from his ACL tear last November.
Broyles' 2011 season ended with an injury against Texas A&M. He has been a man on a mission to recover since. He put in a solid 40 time at Oklahoma's pro day and looks well on his way back to prime playing form.
But was this the latest the Lions could take a player with a bum wheel, or could the Lions have traded down and still landed Broyles?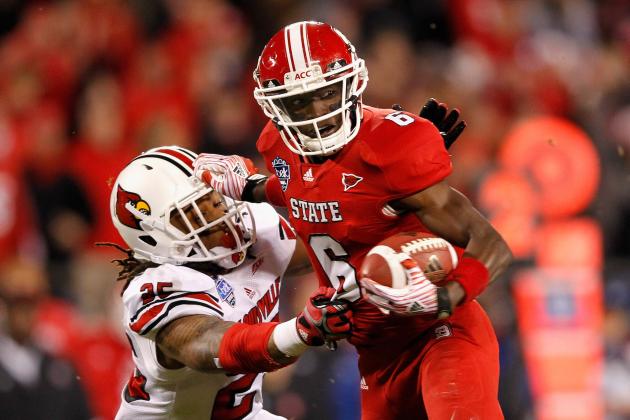 Streeter Lecka/Getty Images

For Ryan Fitzpatrick to earn the contract extension he signed last year, the Buffalo Bills need to provide him a solid receiver other than Steve Johnson.
But with taller, more accomplished players like Nick Toon and Marvin McNutt available, the Bills pulled the trigger on North Carolina State's T.J. Graham. Graham didn't even crack the top-25 receiver prospect list and could have possibly gone undrafted.
Instead, the Bills spend two picks on Graham. They used a high third-round pick for the actual selection and paid the Washington Redskins their seventh-round pick to move up two slots.
The Bills might have been able to draft him with that seventh-round pick. But with Brad Smith already on the roster as a slot receiver and kick/punt returner, selecting Graham seems redundant.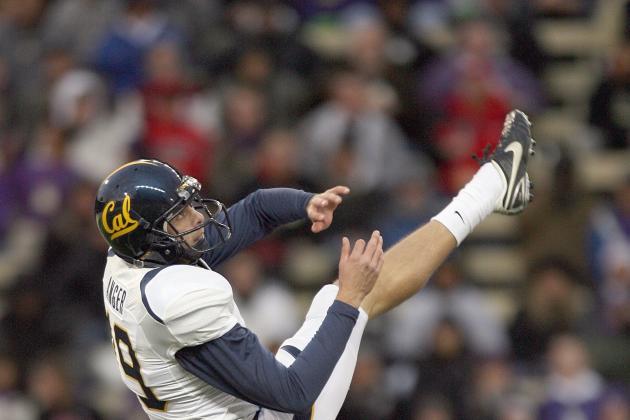 Otto Greule Jr/Getty Images

Yes, 17 years.
Without a pick in the fourth round and a rare drought of trades in the third round, the Jaguars go for what must have been a staff favorite pick and select Bryan Anger 70th overall.
Anger packs some serious power in his leg with 18 punts of more than 50 yards last season. What's more, he's accurate as well. Nineteen times Anger pinned his opponents inside the 20.
But did Anger really rate a high third-round pick for a team with serious issues in its passing game?
The Jaguars ranked last in the NFL moving the ball in the air. Their 136.2 passing yards per game was embarrassingly bad; their 5.35 yards per pass play more so.
Jacksonville could have added a Mohamed Sanu or Nick Toon to further upgrade Blaine Gabbert's receiver corps, or increased their offensive line depth with Donald Stephenson or Bobbie Massie.
Those guys won't be around when Jacksonville drafts again in the fifth round; Anger almost certainly would be.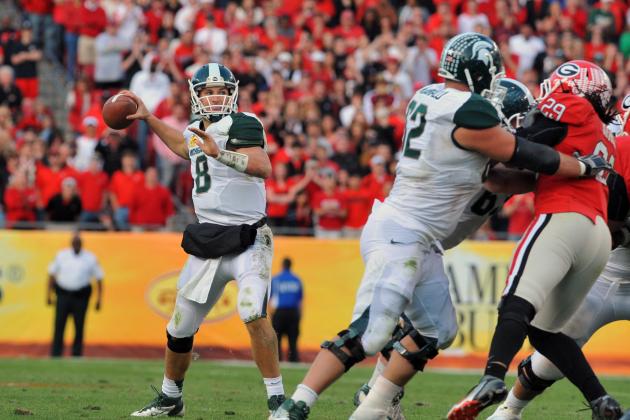 Al Messerschmidt/Getty Images

Calling a quarterback a "game manager" seems to be the kiss of death for a prospect coming out of the draft today.
Yes, the current pass-happy NFL puts a high value on quarterbacks who can make things happen and change the course of a game.
But numerous teams still exist who focus on the running game and a stout defense. Teams like Baltimore, Philadelphia or even Houston could use a dependable quarterback waiting in the wings who can develop into a steady performer.
Instead, the Ravens and Texans forgo the services of another quarterback, while the Eagles elect to go for Nick Foles over Cousins.
Foles isn't a bad quarterback by any stretch, but Cousins is the less risky choice. For a team hoping to get another couple years out of Mike Vick, Cousins should have been the pick. The Eagles can pick a true quarterback of the future two years from now.