2012 NBA Playoffs: 5 Bold Predictions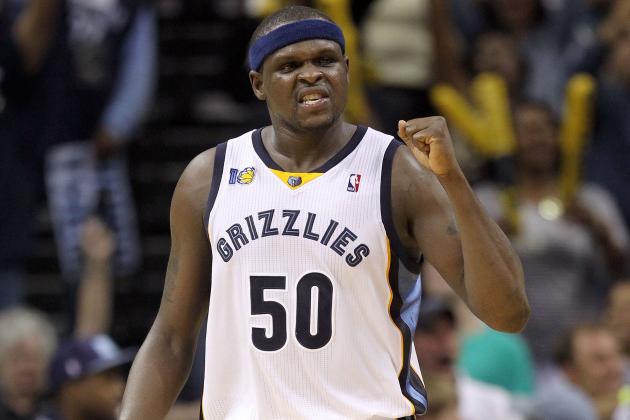 Andy Lyons/Getty Images

I'm just going to come out and say it: None of us have any clue what's going to happen in these playoffs. Records, seeds, expectations, none of that means anything this year. We have no idea just how much the shortened season affected each team, and we have no idea how much they changed their playing styles because of it.
Tomorrow the real season begins. Since predicting things to go as expected is boring, here are five surprise predictions for these playoffs.
Begin Slideshow

»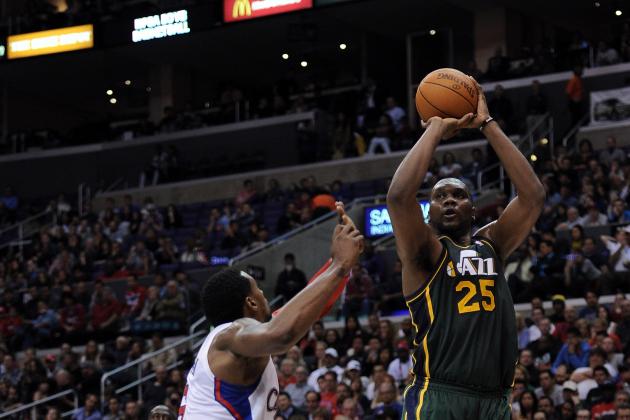 Harry How/Getty Images

The Jazz aren't like normal No. 8 seeds. They resemble last year's Memphis Grizzlies pretty closely. What did the the Grizzlies do last year? They beat the No. 1-seeded Spurs.
In case you haven't watched them recently, Al Jefferson is playing out of his mind, but has still flown under the radar. Last spring Zach Randolph did as well, but five games against the Spurs changed all of that. This series can do the same for Jefferson.
The Jazz are built specifically to beat the Spurs. The Jefferson-Paul Millsap-Derrick Favors front line is a nightmare for any team because there are two good big men on the floor at all times. The Spurs aren't exactly equipped to defend that with an ancient Tim Duncan, Tiago Splitter and Boris Diaw being their primary big men.
Something else to consider: Utah's home court advantage is one of the best in the league. Their fans are going to show up and make noise. I think Utah takes Game 3 and 4 at home.
All that being said, I can't reasonably say the Jazz are going to beat the Spurs. But I think the series goes at least six and starts to give the Jazz some confidence for the future. This is a team on the rise.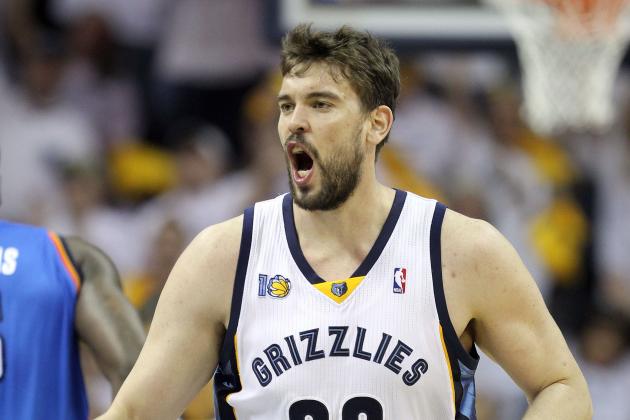 Andy Lyons/Getty Images

The Jazz might not have enough to beat the Spurs, but the Grizzlies certainly do. This is the matchup the Spurs really needed to avoid. Being the second seed would have been far better for them, as Oklahoma City would have drawn Memphis in round two and they match up far more favorably against the Grizzlies.
Zach Randolph and Marc Gasol make up the best big-man duo in these playoffs. Last spring they were unstoppable, and this spring I think they'll be even better. Gasol's low-post game has really been refined this year, I think he benefited from being the featured big man when Randolph was hurt.
San Antonio's biggest advantage is its depth on the wings and their crunch-time scorers. Unfortunately, Memphis negates those strengths. Tony Allen is, at least in my opinion, the best pure man-to-man wing defender.
Lionel Hollins is going to throw Allen at Manu Ginobli, limiting San Antonio's best scorer. Mike Conley has evolved into another really good defender and he's going to guard Tony Parker. OJ Mayo and Rudy Gay will also play big parts and I think the Grizzlies completely stifle the Spurs offense.
That's a deal breaker for the Spurs. They're no longer the defensive wall they used to be, now they're an offensive team. If they can't score they can't win, and I think that's going to be the key to Memphis taking them down again.
Harry How/Getty Images

Every spring we see a few guys grow up before our eyes and become the players we always knew they could be.
This spring, I think Andrew Bynum is going to be one of those guys. I think this is when the torch gets passed from Kobe to Bynum as king of Lakerland.
That's the key to my potential Lakers over Thunder upset. If you haven't watched Kendrick Perkins recently let me save you some time, he looks like he's aging in dog years. He isn't the vicious rim guardian he was in Boston. Bynum is more than capable of abusing him.
Serge Ibaka presents some real problems, but I don't think Ibaka defends Bynum. The Thunder can't trust Perkins to dance around the high post with Pau Gasol. They need him close to the basket, and therefore he's guarding Bynum.
The key to this series is going to be how Kobe Bryant juggles being a teammate and being a hero. Bynum is shooting an absurd 82 percent in clutch situations. Kobe has to give him the ball. But he's going to have a favorable match up of his own with James Harden likely guarding him. If Kobe mixes feeding Bynum with being a hero then I think the Lakers win this series.
I think Kobe knows this, and he's dedicated enough to winning to do what he needs to do. Lakers over Thunder in six.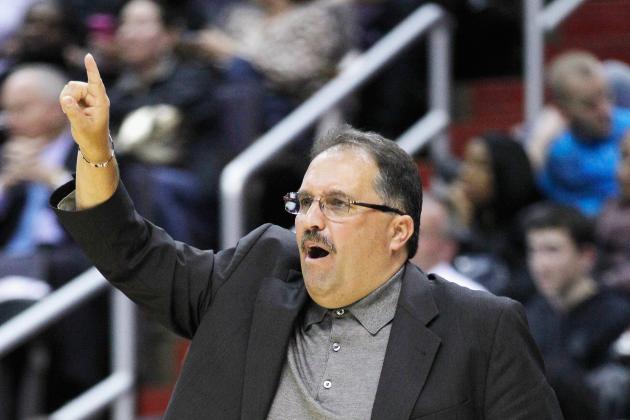 Rob Carr/Getty Images

Only an illiterate spider monkey would actually pick Orlando over Indiana without Dwight Howard. However, I think Orlando is going to steal a game or two.
The biggest problem losing Dwight Howard presents is that opposing big men suddenly should have a field day. I just don't think Indiana can really take advantage of that. I'm not a big fan of Roy Hibbert (at least as an All-Star) and David West likes to hang around the perimeter.
Indiana lives and dies with Danny Granger. When he plays well, the Pacers play well. When he doesn't play well, they lose. While I trust that he'll take them to a series win, I think the Magic can at least limit him in a game or two.
And really, that's all it takes to give Stan Van Gundy some credibility. If he competes without Howard then he'll have proven his worth as a coach.
I think we're going to see at least one, potentially two classic Magic games where they shoot something like 21 of 48 from three. Without Howard I'd have to imagine their game plan is to just shoot threes, and as we've seen both in the NBA and in march madness, a few hot minutes from behind the arc can swing a game and cause an upset.
Personally I think Orlando would be stupid to dump Van Gundy. He's one of the better coaches in the game, and they'd be doing it to appease a player who's leaving anyway. If they do fire, him someone will scoop up a really solid coach.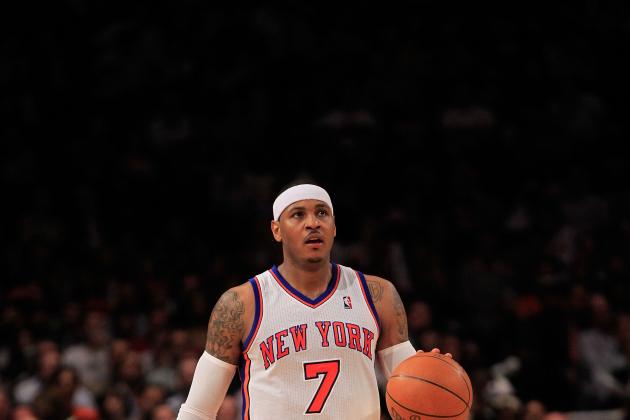 Chris Trotman/Getty Images

Before you freak out, I'm not predicting that the Knicks win the championship. Here's what I am saying: Carmelo Anthony will play so well this spring that all doubts about him as a franchise player and one of the top guys in the league will be erased.
I've said that the Knicks match up well with Miami, and earlier today I actually predicted that the Knicks would beat them in round one. For that to happen, Anthony has to dominate the series. And I think he will.
Carmelo has played out of his mind recently. He's statistically one of the best clutch scorers in the league and when push comes to shove, he'll give the Knicks a shot late in any game.
The biggest factor to me is motivation. He's seen his 2003 draft mates get all of the press in Miami, he was criticized and call a ball hog while Linsanity took the league by storm, and overall has just been doubted far more than any player of his caliber should be. I think he's sick of it, and we're going to see Carmelo's absolute best in the playoffs.
I think Anthony goes off against Miami in my big upset pick. I think he dominates the Pacers in round two. I think he plays his heart out in a tight loss to the Bulls in the conference finals.
And I know that you all think I'm crazy.