Tampa Bay Buccaneers Draft Grades: Team Earns an A+ After Three Rounds
April 28, 2012
Al Bello/Getty Images
If anyone ever doubted Greg Schiano's commitment to building a team based around old school football, feel free never to voice an opinion again. 
There is only one word to describe the Bucs' masterful draft performance so far (and I'm pretty sure I made it up): "Belichickian."
Tampa Bay started off the first round by trading down. In return for the fifth overall pick, the Bucs received the seventh and 101st picks from Jacksonville. The Jaguars were desperate for wide receiver Justin Blackmon, and sacrificed their fourth-rounder to get him. 
Although Morris Claiborne was frequently projected to be drafted by Tampa, one can only presume that Mark Dominik and Greg Schiano did not want him.
St. Louis, right below the Bucs original No. 5 pick, had a need at cornerback, and likely would not have let him fall to the Bucs at No. 7.
Dallas ended up trading for the sixth overall pick to grab Claiborne without a complaint from the Buccaneers. 
It is probable that the front office ranked Mark Barron higher than Morris Claiborne, and rather than risk trading down too far, selected him at No. 7. This pick filled a major hole at safety, a position that was lacking in talent and depth in this year's class, and more importantly added a player the Buccaneers' staff felt they wanted. 
The Bucs wasted no time in using that fourth round pick they got from the trade—in order to draft RB Doug Martin, they packaged it with the 37th overall pick and mailed it off to Denver.
Doug Martin, the world famous Muscle Hamster, will be a phenomenal runner in Tampa, as he can challenge LeGarrette Blount for carries and make catches out of the backfield. His power, speed, and instincts only support the Ray Rice comparisons.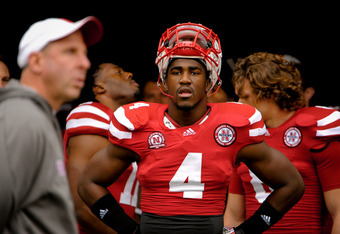 Eric Francis/Getty Images
I have not yet mentioned the fourth round pick Tampa received from the Denver trade. And yes, it's gone too, as well the Bucs' original third rounder. In return, the team got the 58th pick and a seventh round selection from the Texans. 
Mark Dominik used his third pick in the Top 60 to add OLB Lavonte David.
Though undersized, David consistently ranked as one of the top linebackers in the draft due to his fantastic football instincts and athletic ability. It was not by a small margin that Tampa Bay's 2011 linebacker corps ranked over cornerbacks as the team's biggest weakness.
Three trades and three fantastic picks. Greg Schiano's first draft has been a fantastic success, and he has even came out with a pick he didn't start with. Necessity did not overshadow value. 
Slam dunk.
Grade A+