Brock Osweiler to Denver Broncos: Teams Take on Project in Former Sun Devil
April 28, 2012

Ethan Miller/Getty Images
The Denver Broncos addressed their need for depth behind quarterback Peyton Manning at the NFL Draft, but their second-round pick in Arizona State Sun Devils QB Brock Osweiler stands to be a project for the AFC West squad.
57th pick- Denver selects Arizona State QB Brock Osweiler. Most evaluators I talked to mentioned he can make all the t… say.ly/CoJ3bj8

— Chris Mortensen (@mortreport) April 28, 2012

 
Osweiler doesn't have a ton of experience, but he does have a lot of upside given the right training. Nobody better than Manning to teach the raw Pac-12 passer.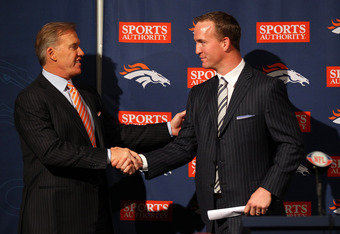 Justin Edmonds/Getty Images
Last year at ASU, Osweiler threw for 4,036 yards while completing 26 touchdowns on 326 completions. He also had 13 interceptions, but he proved from time-to-time that he can light up any defense.
Against the Boise State Broncos at the MAACO Bowl in Las Vegas, Osweiler threw for 395 yards on 30-of-47 attempts. He also had two touchdowns that game.
His success is inconsistent, something that he will have to work on as he develops into a NFL quarterback.
The one thing that Osweiler has going his way is his size. Standing at 6'8", it has been no secret that Osweiler is one of the taller quarterbacks around.
He has a skill you can't teach, but he will need to continue to develop the rest of his game around his size. 
Luckily for him, he won't be relied upon right away. The Broncos are hoping that Manning will come through, giving them plenty of time to groom Osweiler.
Learning from a four-time MVP, as well as having John Elway around, shouldn't hurt Osweiler's development in any way. It will be up to him how he takes advantage of the situation set in front of him.
Clearly taking him the second round speaks to what they believe they can get in taking him this early, but there is no doubt that he still needs a few years to improve his overall game.
This is a good situation for Osweiler, but he now needs to prove that this is a good situation for the Broncos.
Jeff Chase is a Featured Columnist for the Chicago Cubs and Arizona State football.
Follow @Real_Jeff_Chase