2012 NFL Draft Grades: Coby Fleener and Perfect Picks from Second Round
April 28, 2012

Craig Mitchelldyer/Getty Images
Football's a bit too brutal to be truly poetic most of the time, though rhyme and reason have a way of finding each other on occasion during the NFL Draft.
It can be rare, what with so many teams too often keen to waste valuable draft picks on head-scratchers (i.e. Bruce Irvin to the Seattle Seahawks at No. 15, 28-year-old Brandon Weeden in the first round).
But, believe it or not, GMs do have moments of clarity from time to time, even in the second round.
Coby Fleener to the Indianapolis Colts at No. 34
Coby Fleener was almost too perfect a pick for the Colts to pass up. They had to add a pass-catching tight end in some capacity after letting go of Dallas Clark and Jacob Tamme.
Who better to fill that void than Fleener, who not only was the top-rated tight end in the 2012 draft class, but also played with Andrew Luck at Stanford?
You know, the guy Indy took with the No. 1 overall pick to basically replace Peyton Manning.
Not a bad idea to give Luck a target for his passes with whom he's already intimately familiar, even if Fleener's pass blocking leaves something to be desired.
Courtney Upshaw to the Baltimore Ravens at No. 35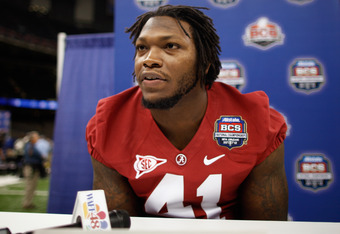 Chris Graythen/Getty Images
Sometimes serendipity strikes twice in a row, as it did when the Ravens wound up with Courtney Upshaw at No. 35.
GM Ozzie Newsome appeared to have his wanting eye on Dont'a Hightower, Upshaw's teammate at Alabama, but opted to trade out of the first round once the New England Patriots snapped him up.
A solid decision, to be sure, considering the player the Ravens wound up with. Upshaw's a bit of a tweener—a bit too small to play defensive end, a bit too slow to play linebacker—but there's no doubt that he plays with the sort of attitude that's made Baltimore's defense one of the most feared in the NFL for the last decade.
He'll slide in nicely as a pass-rusher opposite Terrell Suggs and could be a cornerstone in Charm City for years to come.
Brock Osweiler to the Denver Broncos at No. 57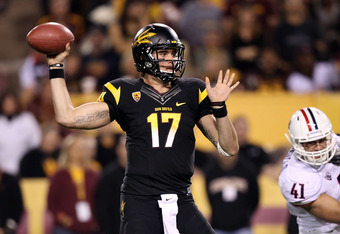 Christian Petersen/Getty Images
There's no doubt that the Broncos are geared toward winning ASAP now that Peyton Manning is on board.
But, at the age of 36 and after four neck surgeries, there's no telling how much longer Manning will be able to play at a high level, if he's able to do so at all.
As such, it was incumbent upon John Elway and Broncos brass to pick up a quarterback at some point in the draft that they could groom to be Manning's successor and, if need be, his emergency replacement.
Now, Brock Osweiler's a bit too raw to be a starting quarterback this season or even next season. That being said, the Arizona State standout has the swagger and the arm strength to be successful down the road, and is deceptively mobile despite being one of the tallest signal-callers to ever work his way into the league.
If the Broncos play their cards right, they may well be able to contend with Osweiler under center, long after Peyton's gone.