NFL Draft 2012: Worst Selections from the Second Day of Action
April 28, 2012

Christian Petersen/Getty Images
With two days of the 2012 NFL Draft in the books, most of the franchises have improved in some important areas.
That being said, a team like the Detroit Lions did well in Round 1, but missed an opportunity to help out the defense thereafter. Ryan Broyles is undoubtedly a great player, but the Lions need a secondary player to help against the pass-happy NFC North.
Along with Broyles to the Lions, let's take a look at the worst selections from Day 2.
Detroit Lions: Ryan Broyles, WR (Oklahoma)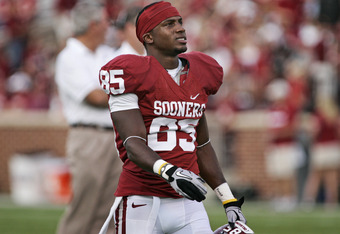 Brett Deering/Getty Images
In 2011, Detroit's passing offense saw quarterback Matthew Stafford surpass 5,000 yards, and receiver Calvin Johnson remains the best weapon in the NFL.
Unfortunately, Ryan Broyles was a bad move by Detroit because the defense allowed an average of almost 240 passing yards per game. This cost the Lions against explosive offenses like Green Bay and New Orleans.
Broyles easily makes the Lions' offense exponentially more high-powered, but Detroit won't last long in the postseason without a defense. Broyles did account for over 4,500 receiving yards and 45 touchdowns during his time with the Sooners, however.
The concern here, though, is whether Detroit can score 40-plus per game, as the defense remains vulnerable against the run and pass.
Denver Broncos: Brock Osweiler, QB (Arizona State)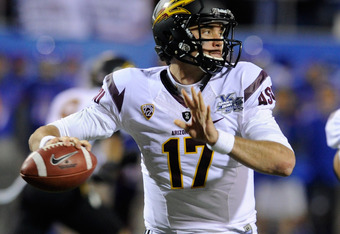 Ethan Miller/Getty Images
The Denver Broncos made a good move by selecting Ronnie Hillman in Round 3 to improve the running-back position; however, the addition of Brock Osweiler was a stretch pick in Round 2.
Now, Denver does need a backup quarterback to eventually take over for Peyton Manning, but the Broncos could have gotten Oregon's LaMichael James instead of Hillman, and Michigan State's Kirk Cousins in Round 3.
Cousins comes from a pro-style offense as a three-year starter and didn't have any top-notch receivers to target. Osweiler, on the other hand, has just one legitimate season under his belt—albeit a good one—and doesn't have the experience under center.
It'll be interesting to see how well Osweiler learns and develops under Manning, but he must significantly improve at reading defenses and making adjustments from under center.
Houston Texans: DeVier Posey, WR (Ohio State)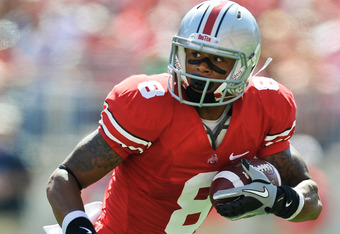 Jamie Sabau/Getty Images
Houston's passing offense is what cost the Texans in the 2011 season. Receiver Andre Johnson does need that No. 2 target, but selecting DeVier Posey in the third round was too high.
While at Ohio State, Posey was consistent when on the field, with 113 receptions for 1,686 yards between 2009 and 2010. But, after failing to make an appearance until the final three games of 2011, Posey didn't impress and wasn't a major factor.
Instead, the Texans should have considered a guy like Iowa's Marvin McNutt. McNutt, as a No. 2 receiver in 2009 and 2010, caught 87 passes for over 1,500 yards and scored 16 touchdowns. Taking on the No. 1 role in 2011, McNutt compiled over 1,300 yards on 82 catches and hit the zone 12 times.
Both Posey and McNutt have the size and route-running skill set to be a worthy No. 2 target opposite of Johnson. But McNutt displayed more consistency over the middle and is more dependable as a run-blocker.
Arizona Cardinals: Jamell Fleming, CB (Oklahoma)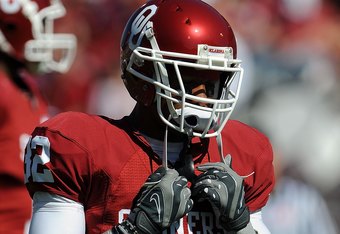 Ronald Martinez/Getty Images
Although the Cardinals addressed the defense, taking Oklahoma corner Jamell Fleming doesn't help the front seven. Fleming does complete Arizona's secondary, as he's a solid complement opposite of Patrick Peterson, but the Cards needed an outside 'backer to help against the run.
Arizona allowed an average of 124 rushing yards per game and ranked No. 21 against the run. Fleming's addition helps against the pass, but he struggles in man coverage, which will make him vulnerable to play-action and opposing runners.
Had the Cardinals gone with a linebacker like Florida State's Nigel Bradham, they would have added a pass-rusher and sound run-defender to help the secondary. Bradham compiled 276 tackles, nine sacks, three picks and 14 defended passes between 2009 and 2011.
Fleming will help with edge run support when in zone, but against teams like San Francisco, he'll be exploited against balanced offenses. On the other hand, Bradham would have walled off slants and crosses in zone and taken on tight ends in man.
The Cardinals improved, but they could have done a lot more with a linebacker to complement Darnell Dockett and Calais Campbell in the front seven.
John Rozum on Twitter.