2012 NFL Draft: Best and Worst Picks of Round 2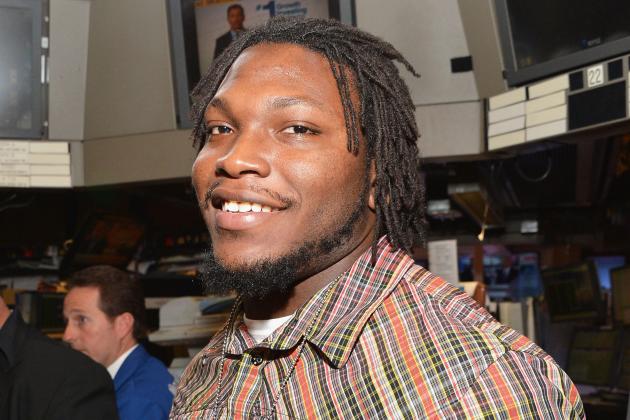 Slaven Vlasic/Getty Images

Some teams took advantage of the first-round talents who fell into the second round of the 2012 NFL draft, and came away with tremendous choice. Other teams drafted players who should not have been second-round picks much too early.

In the following slides, I break down who the best and worst selections of Round 2 were.
Begin Slideshow

»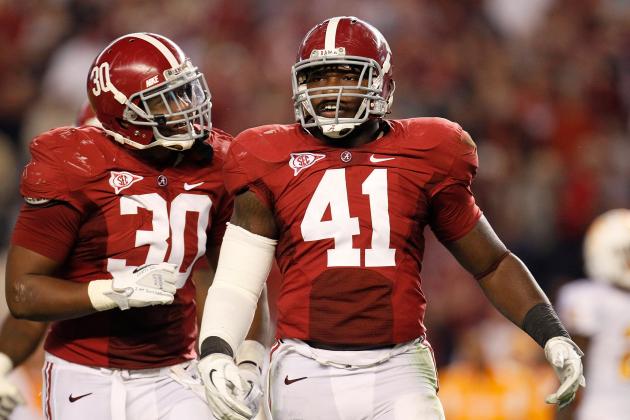 Kevin C. Cox/Getty Images

Overall Prospect Rank: No. 5

Ozzie Newsome is as good as any general manager in the National Football League, and he is tremendous at determining value in the draft. Newsome struck gold once again by trading down into the second round and still coming up with one of the top five prospects in the entire draft, Alabama outside linebacker Courtney Upshaw.

Upshaw is a tremendous steal as a second-round pick, and he is a perfect fit to play outside linebacker in the Ravens 3-4 defense. The Ravens were looking to add another pass-rusher to start across from Terrell Suggs, and Upshaw was an ideal selection.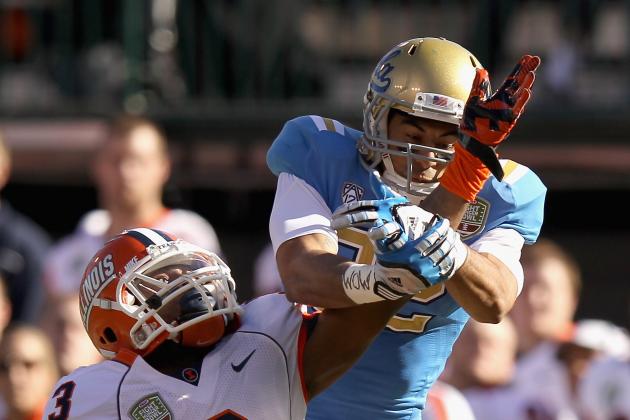 Ezra Shaw/Getty Images

Overall Prospect Rank: No. 381

It is never a good thing when a team selects a player outside of my top 300 prospects on Day 2, let alone in the middle of Round 2. That is exactly what the New England Patriots did by selecting Wilson.

The Patriots really should have been looking to trade down from this pick, with no more picks in the entire draft following their second second-round pick. Instead, they drafted a much-needed draft pick, but selected a player that should have still been available in the late rounds.

Wilson has shown flashes of ability as a big cornerback who could play safety and tackles well. That said, he was a borderline draftable talent who may be little more than a special teams player. Not a good choice at all.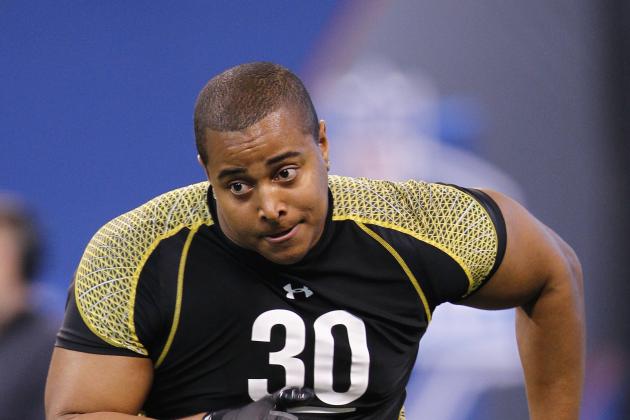 Joe Robbins/Getty Images

Overall Prospect Rank: No. 11

After reaching on a second-round talent at No. 8 overall by selecting Ryan Tannehill, the Dolphins made a much better second-round pick by getting a first-round talent to fill their need at right tackle in Stanford's Jonathan Martin.

Martin is a well-rounded offensive tackle who should not have still been available in the second round. Martin will be ready to start immediately at right tackle, and give the Dolphins a tremendous duo of offensive tackles across from Jake Long.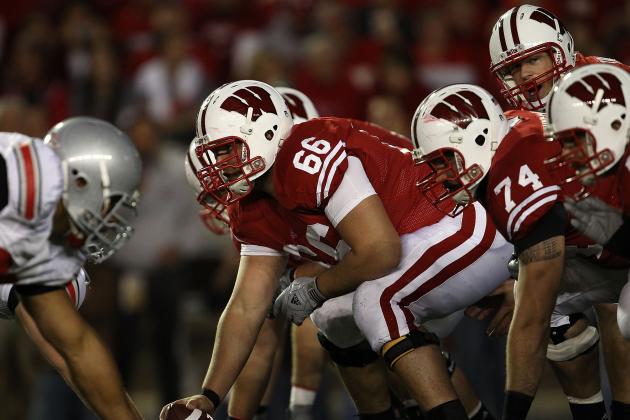 Jonathan Daniel/Getty Images

Overall Prospect Rank: No. 27
Needing to upgrade at center, I thought that the Falcons would consider taking Georgia's Ben Jones in Round 2. Instead, the Falcons had an easy choice when Wisconsin center Peter Konz, the best player at his position in the draft class and a first-round value, was still available late in the second round.
Konz is a solid all-around center who will be a big upgrade on the Falcons offensive line.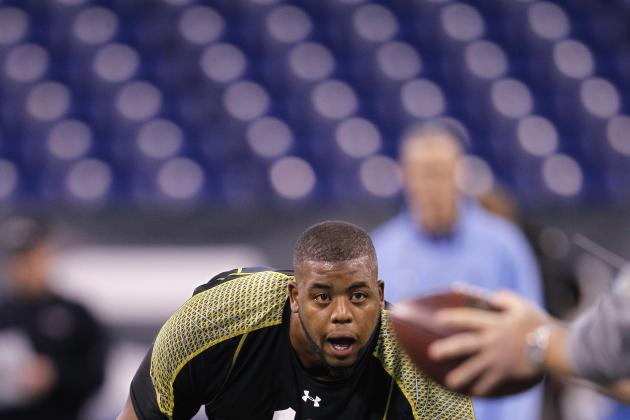 Joe Robbins/Getty Images

Overall Prospect Rank: No. 17

The Buffalo Bills like offensive tackles with long arms, and they found one in the second round with 35.75" arms with the selection of Georgia's Cordy Glenn.
Whether Glenn has the feet to be an NFL left tackle is questionable, but he is a very well-rounded offensive lineman who is great value as a second-round draft pick. He fits the Bills well and addressed their biggest need at offensive tackle, and will find a spot whether it be at left or right tackle, or inside at guard.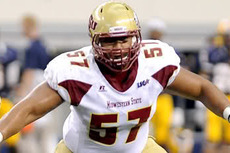 Overall Prospect Rank: No. 139
Needing to upgrade their defense, especially at defensive tackle, the Panthers could have had one of two terrific values in Michigan State's Jerel Worthy or Penn State's Devon Still. Instead, they reached for a Division II project at guard in Amini Silatolu.
Guard was a position of need, but not a significant enough need to justify drafting Silatolu this early. Add in that the Panthers could have drafted a first-round talent to play guard in Glenn, and this pick makes no sense.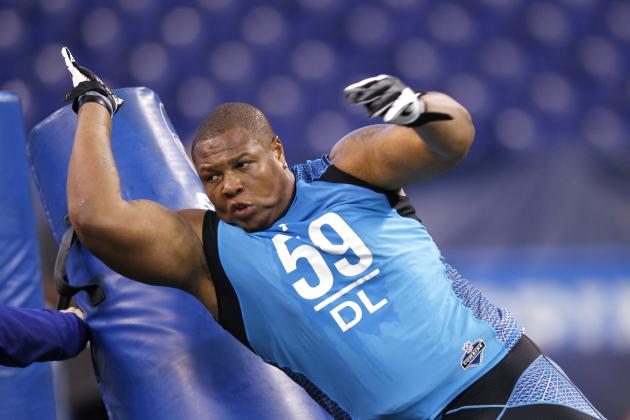 Joe Robbins/Getty Images

Overall Prospect Rank: No. 16
Jerel Worthy is better suited to play 1-technique defensive tackle in a 4-3 defense than he is to play 5-technique defensive end in a three-man front. That said, the Packers made a good move in trading up to No. 51 to select him.
Worthy was inconsistent and has a questionable work ethic, which led to his drop into the late second round. That said, he has star potential, and value alone made him a great addition to a defensive line which needed help at defensive end.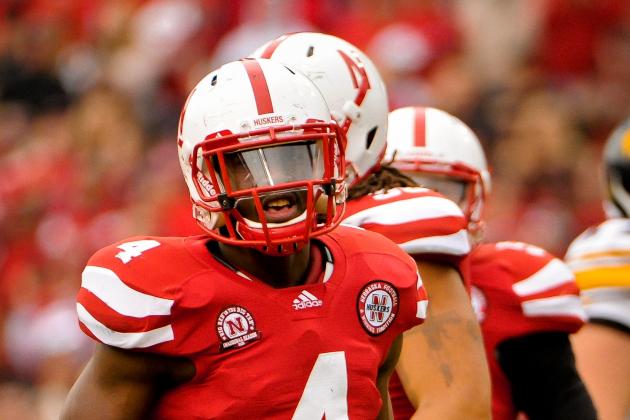 Eric Francis/Getty Images

Overall Prospect Rank: No. 37
When the Tampa Bay Buccaneers traded up into the first round to select Doug Martin, they made an unnecessary trade to reach for a player. But when they traded back into the second round for Lavonte David, they made a tremendous move to upgrade a position of major need.
The Buccaneers came into the draft with no position of greater need than linebacker. David is an athletic, instinctive tackler who can be the playmaking outside linebacker they need. He may not quite become Derrick Brooks, but the comparisons are not far off, so the Buccaneers made a tremendous move to select.