NFL Draft 2012 Results: Live Pick-by-Pick Grades and Analysis for Day 2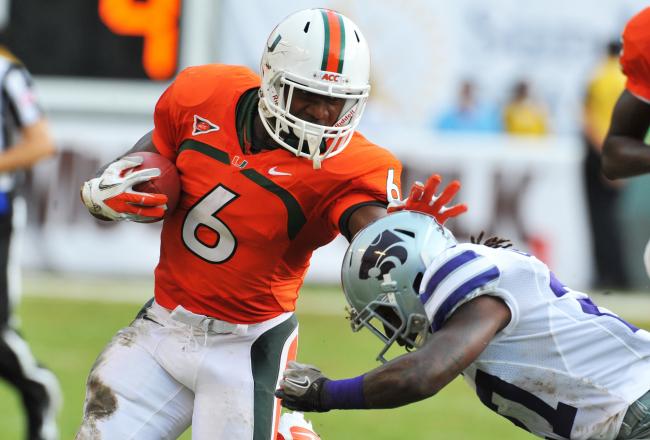 Al Messerschmidt/Getty Images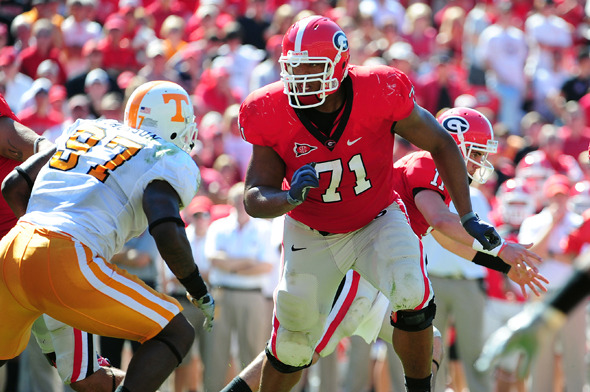 To my dedicated followers—thanks again.
Another night filled with intrigue from the 2012 NFL Draft.
I really like what the Baltimore Ravens did adding Courtney Upshaw, Kelechi Osemele and Bernard Pierce. All sound prospects that will contribute in the near future.
Though Ryan Broyles may have been a bit of a luxury pick for the Detroit Lions, he's a dangerous deep threat and a great route runner. Loved the Dwight Bentley pick in the third.
The Luck-Fleener duo could become special in Indianapolis.
Hope you enjoyed everything here at the official B/R live blog—things again moved extremely quickly.
I had an absolute blast.
Follow me on Twitter @ChrisTrapasso—I'll be tweeting out thoughts on Rounds 2 and 3 and will be looking ahead to Rounds 4-7 before I take over the Day 3 live blog.
Still got four rounds to go.
Catch you tomorrow.
No. 95: Oakland Raiders - Tony Bergstrom, OL, Utah
Grade: B-
Bergstrom projects as a mobile guard or a swing tackle for the Oakland in the future at 6'5'' and 315 pounds. He'd become a quality starter if he adds more strength, but he already possesses technically sound footwork.
Last pick of Round 3!
The Raidas' take Tony Bergstrom, OL, Utah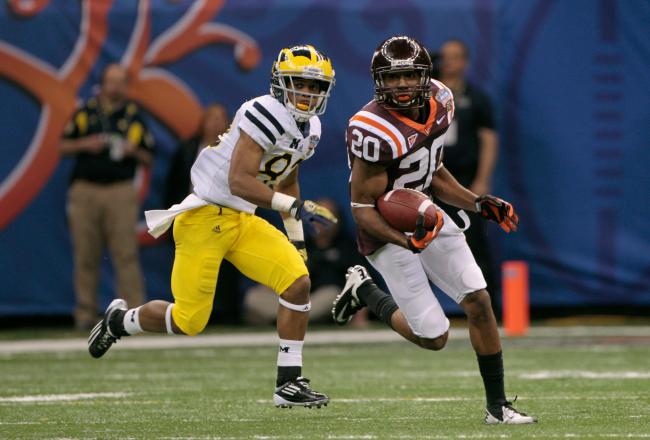 No. 94: New York Giants - Jayron Hosley, CB, Virginia Tech
Grade: B+
Although he's a small cornerback, he's wildly athletic and is a stupendous ball hawk. He had 12 interceptions over the last two season with the Hokies.
He'll be a nice nickel or dime guy for the Super Bowl champs.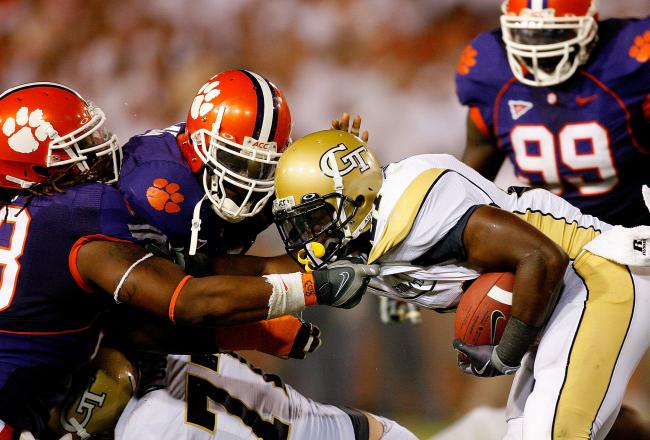 No. 93: Cincinnati Bengals - Brandon Thompson, DT, Clemson
Grade: A
The Bengals are loading up on defense. I like it.
Can't knock Cincinnati for adding two youthful anchors to go along with the best pass-rushing defensive tackle in football, Geno Atkins.
Akins, Thompson and Devon Still.
Wow.
Great value.
The Bengals reallllly love defensive line, huh?
DT Brandon Thompson just snagged by Marvin Lewis.
No. 92: Indianapolis Colts - T.Y. Hilton, WR, Florida International
Grade: B+
A tenacious slot receiver who plays with a ton of passes that has electric speed and amazing elusiveness.
Another target for Andrew Luck.
He could be the team's primary returner, too.
No. 91: Atlanta Falcons - Lamar Holmes, T, Southern Mississippi
Grade: D
The Falcons must see something in Holmes everyone else doesn't. Another developmental guy.
With guys like James Brown, Bobby Massie, and Matt McCants still on the board, they seemingly reached here.
No. 90: New England Patriots - Jake Bequette, DL, Arkansas
Grade: C-
Bequette gets it done with booming impact when he initially contacts offensive lineman. He's fast off the ball, but needs work getting off blocks. With coaching, he could become a good player, but he's got a long way to go.
No. 89: New Orleans Saints - Akiem Hicks, DT, Regina
Grade: B-
Though he played in Canada, Hicks is a promising interior defender. At 6'4'' and 320 pounds, he moves well.
With their first pick of the 2012 draft, the Saints add more beef to their defensive front, although Hicks is more of a developmental guy.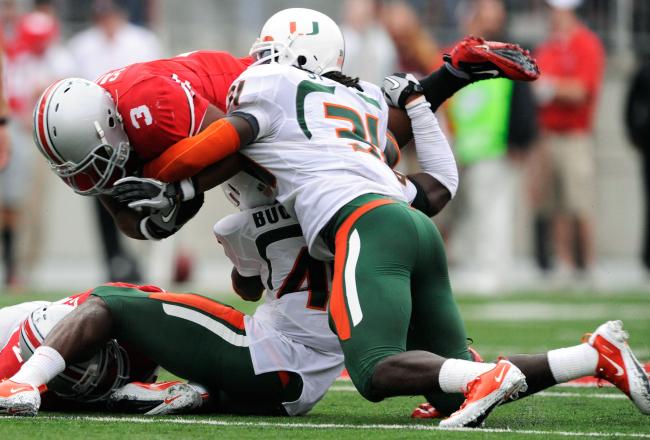 No. 86: Pittsburgh Steelers - Sean Spence, OLB, Miami
Grade: B+
Spence makes his mark on a football game with speed. Although he's only 230 pounds, he should be able to roam freely in the Steelers vaunted defense. Must work to get off blocks.
No. 87: Cleveland Browns - John Hughes, DT, Cincinnati
Grade: C
Hughes isn't a bad prospect, but this is high for him. The Browns have been better off going with Alameda Ta' Amu or Billy Winn with this selection. However, he adds more bulk to their defensive front.
No. 88: Philadelphia Eagles - Nick Foles, QB, Arizona
Grade: A-
Another pick I really like. Sure, Foles may lock onto his receivers at times, but he's a tradition quarterback with size and a great arm.
Should compete with Mike Kafka for the team's back up job.
As I publish the last post, they grab Sean Spence, OLB, Miami
The Pittsburgh Steelers on the clock. They've grabbed two offensive lineman in the previous rounds. What do they do?
No. 85: Detroit Lions - Dwight Bentley, CB, Lou-Lafayette
Grade: B+
Bentley exudes athletic ability and at 5'10'' and 185 pound has decent size to play against the slot in nickel packages.
The Lions need cornerback talent and they get that with Bentley.
An underrated but solid selection.
(Brandon Boykin from Georgia would possibly have been better pick.)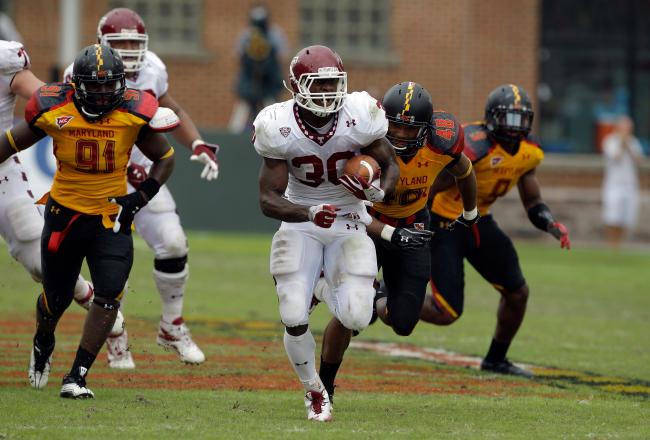 No. 84: Baltimore Ravens - Bernard Pierce, RB, Temple
Grade: B-
Actually, Pierce is a Ray Rice type runner, who doesn't necessarily pound the rock 25 times a game between the tackles, but he makes his presence felt catching passes and getting to the outside. He's a bit bigger and runs higher, but he's versatile guy that represents the future.
A shifty guy with respectable speed and elusiveness.
Baltimore Ravens on the clock...
Best Available Players
Lamar Miller – RB – Miami

Brandon Boykin – CB – Georgia

Chris Polk – RB – Washington

Jared Crick – DL – Nebraska

Marvin Jones – WR – California

Brandon Thompson – DT – Clemson

Jayron Hosley – CB – Virginia Tech

Alameda Ta'amu – NT – Washington

Cam Johnson – DE – Virginia

Trumaine Johnson – CB/S – Montana

Orson Charles – TE – Georgia

Ronnell Lewis – SLB – Oklahoma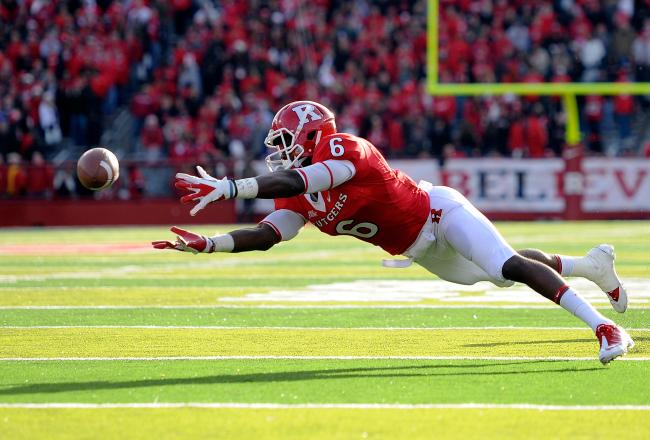 No. 83: Cincinnati Bengals - Mohamed Sanu, WR, Rutgers
Grade: A
Sanu was the do-it-all player for the Scarlet Knights last season. Although he doesn't have tremendous speed, he's physical and epitomizes what it means to be a possession wide receiver.
A.J. Green deep and Sanu to move the chains.
Perfect.
Mohamed Sanu to the Bengals. This is a great complement to A.J. Green. No joke.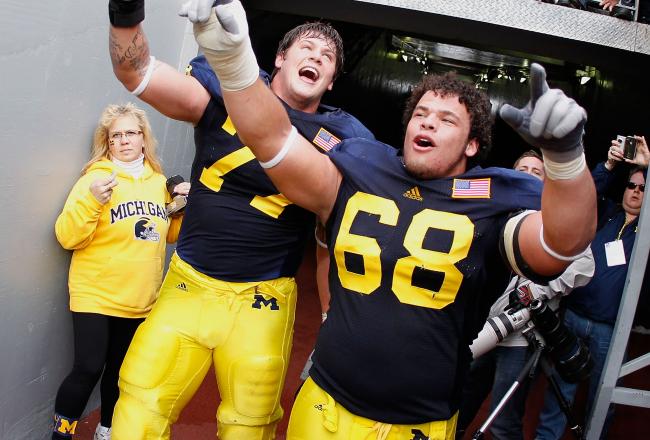 No. 82: Tennessee Titans - Mike Martin, DT, Michigan
Grade: A-
Martin's an overachiever who wins with sheer determination and great leverage. He's a Kyle Williams-type player who doesn't look overly imposing, but can really penetrate the gaps and disrupt backfields.
He possesses brute strength too.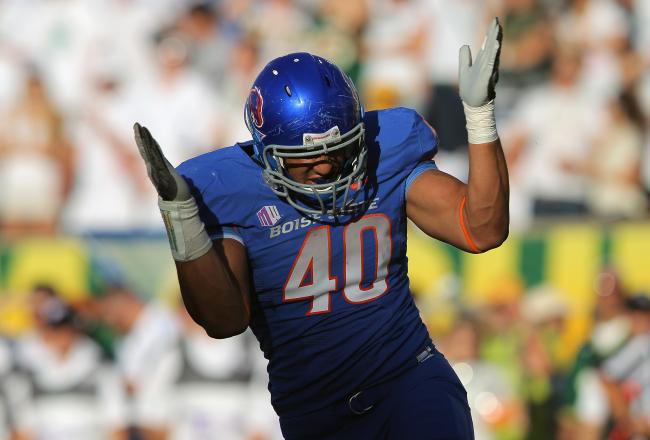 No. 81: Dallas Cowboys - Tyrone Crawford, DE, Boise State
Grade: B+
When you draft a guy from Boise State, you know he's well coached and is a hard worker. Crawford is another great addition to an already solid defensive line. He's got a great burst off the ball and is stronger than he looks.
Dallas Cowboys on the clock
Best Available Players
Lamar Miller – RB – Miami

Brandon Boykin – CB – Georgia
Chris Polk – RB – Washington

Jared Crick – DL – Nebraska

Marvin Jones – WR – California

Brandon Thompson – DT – Clemson

Jayron Hosley – CB – Virginia Tech

Alameda Ta'amu – NT – Washington

Cam Johnson – DE – Virginia

Orson Charles – TE – Georgia

Mohamed Sanu – WR – Rutgers

Ronnell Lewis – SLB – Oklahoma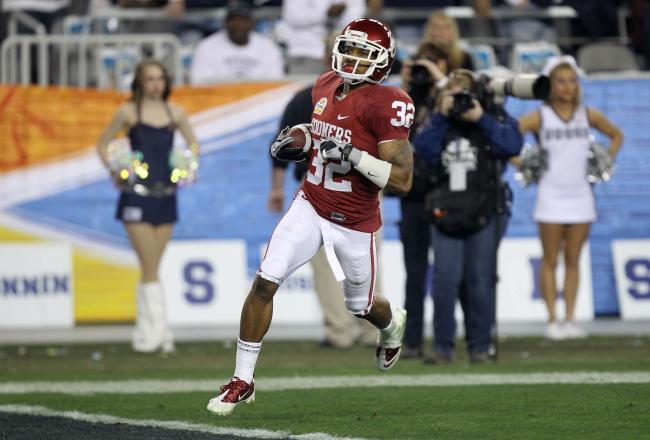 No. 80: Arizona Cardinals - Jamell Fleming, CB, Oklahoma
Grade: A
Fleming is underrated, but one of the best pure man-to-man cover corners in this draft class. The Cardinals get great value here and add another talented player to their secondary.
He and Patrick Peterson will hold down those corner spots in the desert for a long time.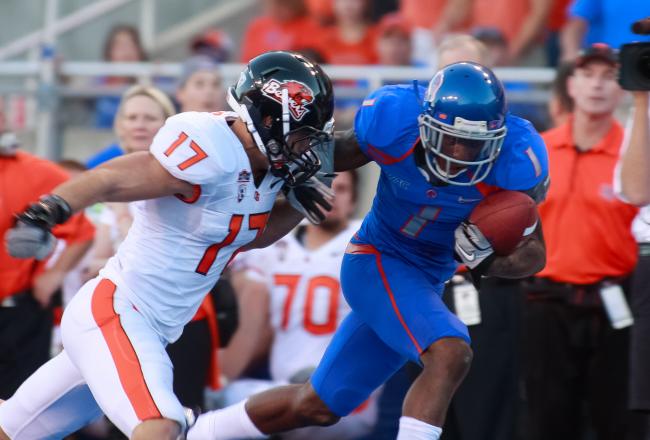 No. 79: Chicago Bears - Brandon Hardin, S, Oregon State
Grade: C-
Honestly, I don't know much about this kid besides that he's huge at 6'2'' and 215 pounds.
I would have much rather seen Antonio Allen or Markelle Martin be selected here if the Bears really wanted a safety.
Where in the heck has Todd McShay been?
This article is
What is the duplicate article?
Why is this article offensive?
Where is this article plagiarized from?
Why is this article poorly edited?