NFL Draft 2012: Teams That Need to Trade Up in Round 2
April 27, 2012

Ezra Shaw/Getty Images
There are some excellent players left on the board worth trading up for in the second round of the 2012 NFL draft. 
This year's draft class wasn't necessarily stacked with "elite" talent at the top. That being said, the draft is deep with players who have the potential to dramatically upgrade the rosters of teams lucky enough to land their services.
There are at least 10 players left on the board right now who could easily have gone in the first round. If you don't believe me, take a look at Matt Miller's big board.
Here are the teams that need to trade up into the top half of the second round to land one of the players who slid out of the first round.
San Francisco 49ers Should Trade Up for Cordy Glenn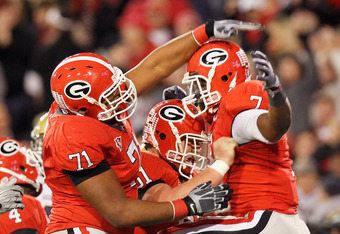 Kevin C. Cox/Getty Images
After landing one of the lesser-known gems at the wide receiver position in A.J. Jenkins, Trent Baalke must focus his attention on improving the offensive line.
I'm stunned that Glenn fell into the second round. I have had him as high as No. 13 to the Arizona Cardinals in my mocks.
Glenn is a big man who can play both the guard and tackle position. His ability to pass-protect makes him a desired prospect for any team—let alone one like the 49ers, who need a right guard.
Glenn is even better in the running game. He uses his big body well to punish linebackers in the hole, and his athleticism will come in handy in the 49ers' power running game that asks their guards to pull on a regular basis.
The chances of the 49ers actually making this move are slim, but they need to move up into the top half of the second round to land this talented player. 
New York Jets Should Trade Up for Alshon Jeffery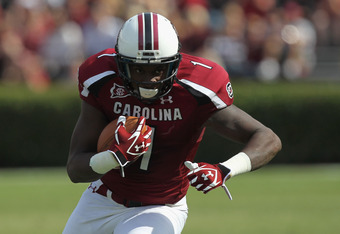 Streeter Lecka/Getty Images
Mark Sanchez needs another receiver. After Santonio Holmes, the roster is full of names nobody would recognize—most of them with little if any pro experience.
Jeffery is one of this year's most underrated prospects at any position. He was unfairly criticized for playing overweight and people questioned his speed, but he dispelled those concerns by showing up to his pro day at a sleek 213 pounds and running a 4.50-second 40-yard dash (CBSSports.com).
Matt Miller did an excellent job of debunking the "character concern" issue in a recent post.
When this draft class is re-evaluated in five years, Jeffery will emerge as the top dog at his position. The Jets should move up into the late-30s to secure him, lest they lose out to another team.
Atlanta Falcons Should Trade up for Coby Fleener
Tony Gonzalez has one good year left in his bones. The Falcons would be wise to move up in this year's draft much like they did last year (at a far cheaper price) to land this year's premier tight end.
Matt Ryan has weapons on the perimeter in Julio Jones and Roddy White, but once Gonzalez is gone, they will be devoid of talent in the middle. 
The best thing is that for at least one year the Falcons would be able to line up with two dynamic playmakers at tight end to go along with their game-breakers on the outside to put together one of the scariest offenses in the NFL.
Michael Turner's life will be much easier with defenses having to put so much of an emphasis on stopping the pass, as an added bonus.
This deal would make the Falcons one of the favorites in the NFC to get to the Super Bowl.