NFL Draft: Bold Predictions for the Biggest Reaches in Round 1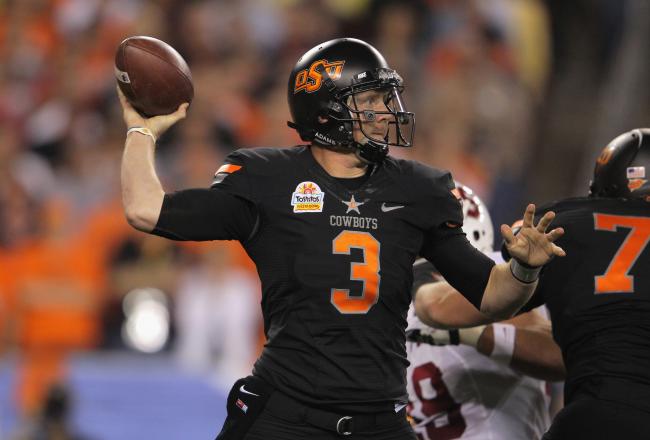 Doug Pensinger/Getty Images
It's said that one man's trash is another man's treasure, and with differing schemes, personnel and coaching philosophies, it comes as no huge surprise each year when a few picks happen that leave fans and draftniks alike scratching their collective heads.
The dominant storyline during the first round of the 2012 NFL draft was no doubt the frenzied trading action that engulfed the round. However, there was still at least one pick made on each side of the ball that carries with it enough bravado (or foolishness, depending on your perspective) to inspire a bold prediction regarding that player's professional future.
BOLD PREDICTION No. 1: Bruce Irvin will be out of Seattle in three years
The biggest shock of the draft's first round likely occurred with the 15th pick, as the Seattle Seahawks selected West Virginia defensive end Bruce Irvin with a pick that ESPN draft expert Mel Kiper Jr. called "mind boggling" and Steve Kelley of the Seattle Times reported carries with it a huge amount of risk.
They could have taken the prototypical guy, North Carolina's Julius Pepper-like Quinton Coples. Or they could have taken the guy Carroll gushed about Monday at the predraft news conference, South Carolina's versatile. Melvin Ingram.

But they took the road not traveled. They chose a player Carroll scouted in college, a guy he wanted at USC, but couldn't get into school.

They had their pick of pass rushers, and they chose the most obscure and the most controversial. Bruce Irvin better be good.
Granted, the 6'3", 245-pound Irvin displayed blazing speed at the combine and a propensity for getting after the quarterback while in Morgantown, racking up 22 sacks over the past two seasons. However, even if you set all of Irvin's off-field troubles aside, there are still plenty of reasons to question this pick.
The biggest of those reasons is Irvin's lack of bulk, as at under 250 pounds he would likely get swallowed up in the run game playing with his hand down, which would seem to portend a move to linebacker, a role as situational pass rusher, or some combination of the two.
It wasn't that long ago that the Seahawks made another defensive selection that turned heads in an effort to bolster their pass rush, drafting linebacker Aaron Curry fourth overall in 2009. The team then miscast Curry terribly as a strong side linebacker, and after two-plus seasons of next to no production Curry was shipped to the Oakland Raiders for two late picks last year.
There's a new regime in Seattle now, and the Seahawks brain trust reportedly wasn't alone in their esteem for Irvin, as a handful of teams apparently had top-15 grades on the Mountaineers star.
However, whether it's his troubles with the law or "tweener" size, there are far too many questions with Bruce Irvin to warrant a top-15 pick. After Seattle once again tries to justify a pick in hindsight by pounding a square peg into a round hole, Irvin will end up plying his trade elsewhere, while Seahawks fans are left wondering why the club burned two first-round picks in five years on defensive busts.
BOLD PREDICTION No. 2: Brandon Weeden won't win five games in a season with the Browns
When a team possesses one of the most anemic offenses in the National Football League and no true franchise quarterback, it's not surprising that that team would consider adding a signal-caller early in the NFL draft, especially in a league that becomes more quarterback-driven by the year.
However, it was surprising to see such a rebuilding team use a first-round selection on a player who is already considerably older than the team's present starter at quarterback, as was the case when the Cleveland Browns made 28-year-old Brandon Weeden of Oklahoma State the 22nd player taken in the 2012 NFL draft.
This isn't meant as a knock on Weeden, who appears to be a talented player capable of making all the throws after posting over 4,700 yards for the Cowboys in 2011. However, as talented as Weeden may be, his birth certificate says what it says, and as D.J. Gallo of ESPN pointed out, the first time Weeden takes the field for Cleveland he will instantly become one of the elder statesmen of the AFC North under center.
So by the time the Browns meet the Steelers in Week 12, their rookie quarterback will be one year younger than Pittsburgh's nine-year veteran with two Super Bowl rings. (By the way, congratulations to the Steelers on apparently having a young quarterback again!) Weeden will also be the same age or older than every failed Browns starter since 2007, and at least two years older than every other starter in the AFC North.
Unless Weeden is capable of throwing the ball to himself and playing defense, then it's highly unlikely that the 6'4", 221-pounder will have much more success under center by the shores of Lake Erie than Colt McCoy would have had in 2012, as the team just has too many holes to fill.
Add to that team president Mike Holmgren and general manager Tom Heckert's mantra to build the team through the draft and by the time the Browns are set to make any sort of run in the division Weeden will be old enough to make a run at being elected President, which begs the question...
What exactly was the point of that pick?
This article is
What is the duplicate article?
Why is this article offensive?
Where is this article plagiarized from?
Why is this article poorly edited?