NBA Playoffs 2012: Will Bulls' Season Be a Failure If They Don't Win It All?
April 27, 2012

Jonathan Daniel/Getty Images
For the second consecutive season the Chicago Bulls find themselves atop the league's playoff seeding thanks to the tie-breaker they own over the San Antonio Spurs; the difference this season, however, was the expectation.
Chicago's run to the league's best record and No. 1 overall playoff seed last season was an unexpected one.
Many expected the Bulls to be a better than .500 team but hardly instant contenders.
Their 2011-2012 campaign saw them up spending more time under the microscope than they were used to.
Instead of talking about whether or not Chicago could win the Central Division or make it out of the first round of the playoffs, analysts started this season debating if Chicago had enough to get past the Miami Heat in their inevitable Eastern Conference finals rematch.
Now that this chaotic, suicide-drill of a season has commenced, the Bulls find themselves in what is starting to be a familiar position as the playoffs are set to begin.
Their sustained regular season supremacy has been a bit of a surprise considering the injury and chemistry hardships they have faced over the course of the year.
Despite it all, the Bulls have demonstrated that resilience, above all other things, has been their best resource.
So with the postseason set to kickoff soon, one may wonder if failing to win the NBA championship would mean the Bulls' entire season was also a failure.
Even though last season surprised a lot of people, no one would consider it a fluke, and this season's performance not only validates last year's run, it further cements the Bulls as a top-tier NBA team.
If incremental logic was being used here, it would not be too far-fetched to say that Chicago gets out of the Eastern Conference but loses in the finals; however, they would not necessarily be skipping a step should they win it all.
This year's playoff field is very open, especially since the defending champion Dallas Mavericks are not expected to repeat and the Heat winning the East is no longer a forgone conclusion.
The Bulls have just as good a chance as any of the other top seeds of hoisting the Larry O'Brien trophy in June.
The championship fate of the Chicago Bulls rests completely in their hands, but do not consider anything short of an NBA title a failed campaign.
This team is still very young and could probably still stand to learn a few more lessons before ascending to the pinnacle of the basketball world.
Sure, the players, coaching staff and front office would be disappointed if the Bulls were to fall short of a title, but even they would hardly consider it a failure.
Thibodeau and company would gather up the lessons learned and refocus for another impressive run for next season with the bar set even higher.
John Paxson and Gar Forman have built this team to be competitive for many seasons down the line, so there should be no concern about the window of opportunity closing anytime soon.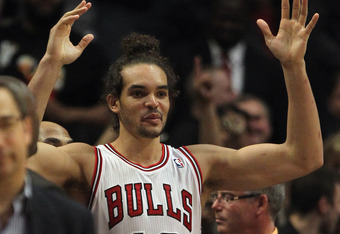 Jonathan Daniel/Getty Images
Instead of watching every playoff game with rabid furor and banner raising expectations, cheer on this Bulls team and see if both the coaching staff and the players have improved from last year's postseason performance.
Yes, the Bulls have a great chance to seize championship glory, but it's still a chance. It's the same chance that 15 other teams have this season.
It takes 16 wins over the course of four playoff series to win an NBA title; let's take it one game at a time.