NBA Playoffs 2012 for Officials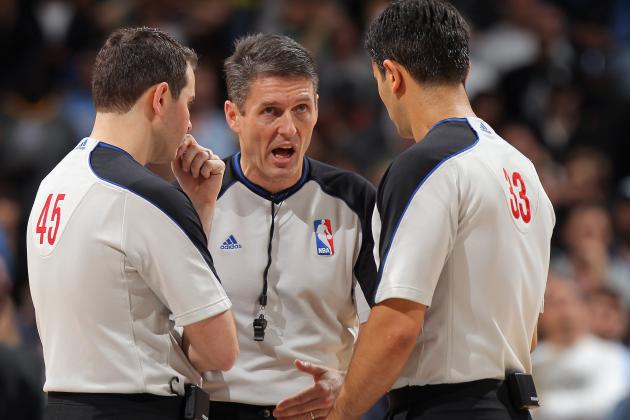 Doug Pensinger/Getty Images

Much like the NCAA officials in March Madness, NBA officials have to earn their way into postseason assignments.
A little over a third of the regular-season staff will earn the right to officiate in the playoffs. Officials earn their way into the playoffs by being highly rated. What goes into those ratings is the season's body of work for them. Many qualifiers are considered, chiefly accuracy in calls and game management.
The number of officials available dwindles as the rounds advance. By the Finals, only 12 of the best officials remain (with two others serving as alternates).
In each round the very best are selected to be the crew chiefs. For instance, in the first round, every crew chief during the regular season makes it into the playoffs. There are 24 crew chiefs, thus they can't all be crew chiefs in the playoffs. Those selected as crew chiefs will remain as crew chiefs until they are also dwindled in numbers during the Conference Finals and Finals.
No matter the fans' opinions on officials in the NBA and no matter how those opinions are formed, there have to be better performing officials that get into the playoffs.
To those who criticize the officials, justified and not, they certainly would have to acknowledge the NBA has begun to address the issue if they were paying attention. No longer are playoff assignments given based on seniority for their time in the NBA.
The most prominent example of this is most everyone's favorite "bad" official, Dick Bavetta. Bavetta hasn't been a playoff crew chief in many years and hasn't made it to the Conference Finals in some years either.
More younger officials are also making it into the playoffs sooner than they would have as recently as five years ago. This is the NBA recognizing the better-performing officials and appropriately assigning them playoff games.
This article will illustrate all the 36 officials this author would choose and the four additional officials that will be alternates.
Each playoff game has an alternate official in case of injury. Some officials assigned to playoff games will eventually be alternate officials in the same round and in the upcoming rounds. Alternate officials are chosen, basically, by a process of having 40 qualified officials and only 36 positions available. The alternates, if called upon to officiate a game, will be at the same level as those chosen to officiate originally.
These slides will also go through each of the crew chiefs that should be assigned.
Also similar to the NCAA is how officials advance. Those officials who perform the best in the first round will advance into the second round. The second round will consist of around 28 officials, seven being crew chiefs. The Conference Finals will have near 21 officials, 6 being crew chiefs.
The Finals are a set 12 officials, four of them crew chiefs and then two additional alternates. The Finals, just like for the teams, are the best of the best and are at the top of their careers. The Finals are what every NBA official strives to attain.
Begin Slideshow

»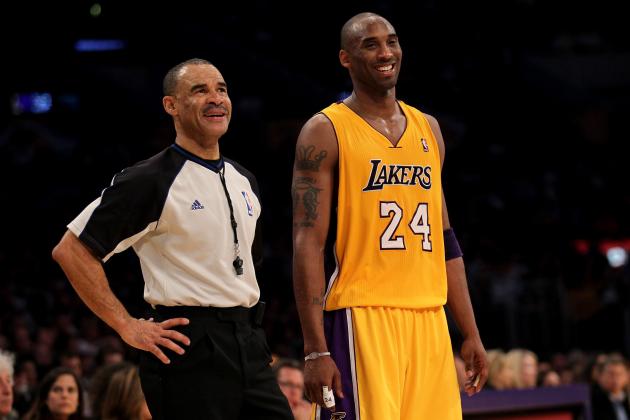 Stephen Dunn/Getty Images
Perhaps the best NBA official in Dan Crawford with Kobe Bryant (the best player?)
In the first round, there will be seven main crew chiefs and one alternate crew chief. The alternate crew chief may be crew chief for one or two games and officiate other games under one of the other seven crew chiefs.
All eight are veteran officials and have Finals experience. At this point in their careers, all are considered very good to excellent officials for varying reasons.
All officials of course know the rule book, though some apply the rules in a much more consistent manner than others may.
Others are excellent game managers, meaning they don't allow for non-basketball-related activities to develop and let the game have a consistent flow to it.
Some officials may have an approachable on-court demeanor and interaction with players and coaches. Many officials also have excellent mechanics, meaning foul reporting and such along with positioning.
Each official and each three-man crew also play to their strengths and help out in their weaknesses.
The eight crew chiefs:
No. 17 Joey Crawford- Joey Crawford has his anger-management issues, which are well-documented and self-realized. He has addressed these issues and continues to work on them. What Joey does bring is excellent game management and a wealth of playoff experience.
No. 43 Dan Crawford- Dan Crawford is regarded as perhaps the best active NBA official. He has a great demeanor and mechanics. Dan is consistently a crew chief in the Finals for very good reasons.
No. 13 Monty McCutchen- McCutchen has very good control of the game and game management. He keep his crew in very good order and has excellent communication with them.
No. 48 Scott Foster- Foster allows for an excellent flow in the game and lets it be determined by the teams. He doesn't tend to bog down the game with calls, meaning he allows for more contact than perhaps other crew chiefs will. He is also very strong in rules application.
No. 9 Derrick Stafford- Stafford has a good demeanor and allows teams to play at their own paces.
No. 24 Mike "Duke" Callahan- Callahan has great game management and on-court demeanor. Often, when an official has great demeanor, he allows for players to express their frustration within the parameters of sportsmanship and show emotion without quickly going to the technical foul. Callahan leads his crew by allowing the players to show a little more emotion than others but keeps the game under control.
No. 57 Greg Willard- Willard is a recent addition to the ranks of Finals-eligible officials. As a crew chief, he has excellent mechanics and a firm understanding of rules application. He tends to be more strict on game management issues.
No. 55 Bill Kennedy- Kennedy has been in the Finals in recent years. He allows the teams to play at a good pace and has great positioning. He may not have more than two games as crew chief, but he'll use them as experience for future playoff assignments.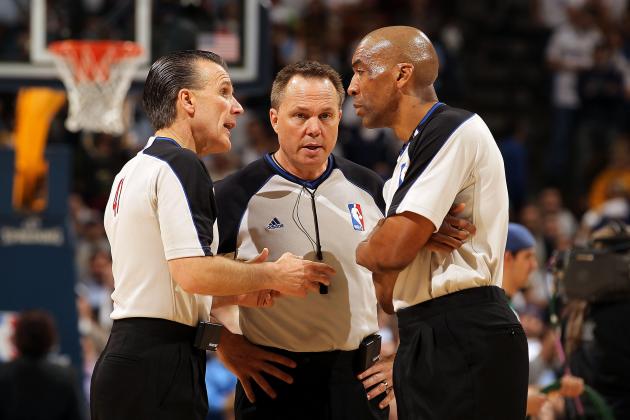 Doug Pensinger/Getty Images
Ken Mauer, Bill Spooner and Leon Wood
Officials rated highly in the first round will advance to the second round. Some that are perhaps not ready entirely may advance as alternates.
Generally speaking, those officials who advance into the second round will work numerous games in the first round. Higher-rated officials generally work more games than those considered average. Those officials, based on their body of work in the regular season, should be the following:
No. 41 Ken Mauer, Finals experience
No. 14 Ed Malloy, excellent young crew chief and Finals experience with last year's entry
No. 8 Marc Davis, Finals experience with last year's entry
No. 22 Bill Spooner, Finals alternate (sometimes lacks in game management, though)
No. 23 Jason Phillips, Finals alternate
No. 10 Ron Garretson, Finals experience
No. 49 Tom Washington, Finals experience
No. 33 Zach Zarba, excellent young official who rose quickly in the ranks to become a crew chief
No. 19 James Capers
No. 59 Gary Zielinski, fairly new crew chief
No. 30 John Goble, excellent young official who will obtain crew chief status within two years
No. 42 Eric Lewis
No. 25 Tony Brothers
No. 38 Michael Smith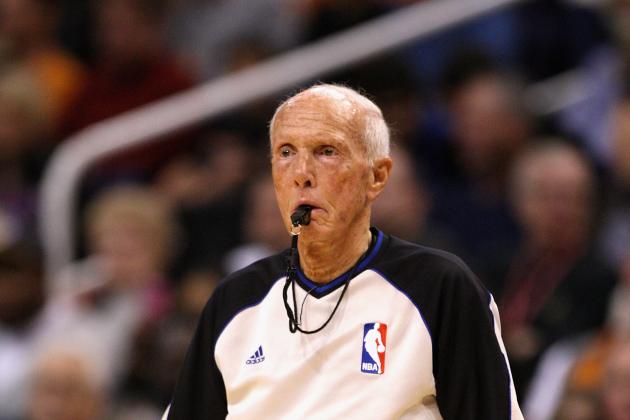 Christian Petersen/Getty Images
Dick Bavetta
Some officials working in the first round will only officiate one or two games and may even serve as an alternate. These assignments tend to show the officials who were graded out well enough to earn postseason assignments but at the bottom of that list.
These officials can either be veteran officials (usually at or towards the end of their careers) or new officials just making it into the playoffs for the first time. This doesn't necessarily mean they won't or can't advance into the second round, though.
This list is made up of the following officials:
No. 27 Dick Bavetta- Bavetta is the oldest and longest-serving official, never having missed a single assignment. Most every NBA fan has an opinion of Bavetta, whether good or bad. Based on his assignments this year, it appears he was on his farewell tour.
Generally speaking, the higher-rated crew chiefs do not tend to work the same games in the regular season. Bavetta did. Bavetta also has not been in the Finals for the last couple of years, another indication the NBA is moving towards rewarding the more deserving officials rather than scheduling based on seniority.
I wouldn't be surprised if this is Bavetta's last year. And as to whether he advances to the second round, I would also doubt that.
(As a note, when Bob Delaney retired, he wasn't assigned to a Finals game, even though he had officiated Finals in the past and didn't have any appearance of slowing down in his aptitude. This means Bavetta most likely won't be assigned games as a retirement package.)
No. 36 David Jones
No. 71 Rodney Mott, fairly new crew chief
No. 26 Pat Fraher
No. 11 Derrick Collins
No. 65 Sean Wright
No. 40 Leon Wood
No. 12 Violet Palmer
No. 18 Matt Boland
No. 61 Courtney Kirkland
No. 56 Mark Ayotte
No. 35 Kane Fitzgerald
No. 6 Tony Brown
No. 20 Leroy Richardson
Some of these officials are veterans, even crew chiefs, who appear to have hit a plateau in their careers, meaning they don't seem to advance nor necessarily decline. They would be appropriately described as average, but with experience.
Others, such as Kane Fitzgerald, are newer officials and are excellent. An argument can be made that they should rate higher since they have less experience and are rated at the same level or higher than those that have 10 to 15 years more experience than them.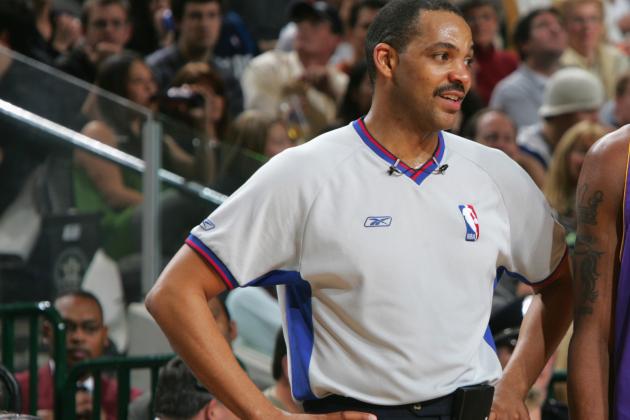 Ronald Martinez/Getty Images
Bennie Adams
Alternate officials who are not assigned playoff games are rated high enough to have been assigned but fall victim to not enough games to allow them to be scheduled. There has to be a backup official in case of injury.
The alternates are just as capable of officiating the game. The experience of being part of the crew and observing helps in confidence and performance. The next season could be the year they will be scheduled for a playoff game. The alternates should be:
No. 47 Bennie Adams
No. 29 Mark Lindsay
No. 45 Brian Forte
No. 68 Marat Kogut
Those also have officiated first-round games and then will serve as alternates as well:
No. 27 Dick Bavetta
No. 56 Mark Ayotte
No. 20 Leroy Richardson
No. 61 Courtney Kirkland
No. 6 Tony Brown
No. 35 Kane Fitzgerald
No. 18 Matt Boland
No. 12 Violet Palmer
In the following rounds, some of these officials may advance and officiate or serve solely as alternates.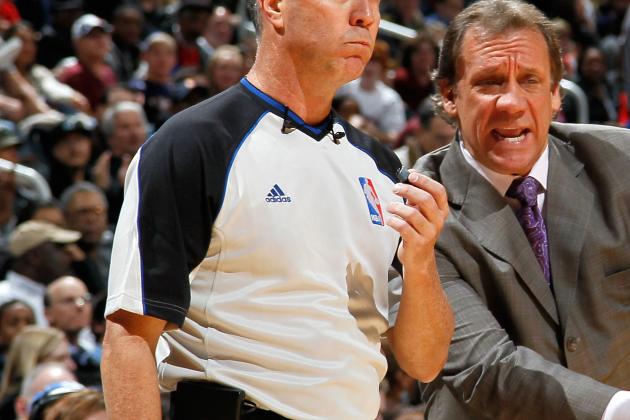 Kevin C. Cox/Getty Images
Jason Phillips
The purpose of this article was to, in simplistic form, try to illustrate how the playoff assignments for officials should be done and most similarly, are done. It is not meant to solicit individual opinions on the NBA officials as a whole or individually. No matter the opinion of the officials, there have to be some that officiate the playoff games.
Fans should expect the best ones to officiate. The NBA does what it can to make sure the fans get that. Playoff assignments have been altered and changed so as to try to get the better officials in the games, rather than assigning officials because of the time they have been employed.
Criticism is expected, and scrutiny is given to all NBA officials by themselves, teams, fans and the NBA itself. When a controversial call is deemed incorrect, it plays heavily into whether or not the official making (or not making) the call advances.
Just because an official is a crew chief in the first round doesn't automatically mean he will advance into the second round. It is based on performance and evaluation of those performances.
Just as the teams want to make it into the Finals, every single official assigned to a playoff game wants to attain the honor and privilege to officiate a Finals game. They want to have their best games called.
So while it's a little premature to announce the 12, a pure guess at the Finals officials may look similar to the following: Joey Crawford, Dan Crawford, Monty McCutchen, Scott Foster, Derrick Stafford, Mike Callahan, Bill Kennedy, Greg Willard, Ken Mauer, Ed Malloy, Marc Davis and Jason Phillips. Alternates may be Ron Garretson and Zach Zarba.
Look for another article for the second round, Conference Finals and Finals in the future.