NFL Draft 2012: 6 Veteran Fantasy Players Affected by 1st-Round Picks
April 27, 2012

Marc Serota/Getty Images
After an eventful and exciting 1st Round of the 2012 NFL Draft, there's no shortage of evaluation on the picks themselves—But the rookies selected will affect the fantasy value and future production of some of their new teammates as well. Here are six veterans that have been affected so far. 
Christian Ponder, QB
The Vikings picked up franchise-caliber OT Matt Kalil to protect Ponder's blindside, potentially giving him a split second longer in the pocket. It should be a great help to Ponder, who endured an up-and-down season as a rookie. Ponder could be set to make great strides this season as discussed in a previous article, "Which Sophomore QB is Most Likely To Break Out in 2012."
Laurent Robinson, WR
The Jaguars selected Justin Blackmon after trading up for the 5th pick in the draft. So, basically, Robinson's reign as the No. 1 WR-option in Jacksonville is over before it started. Even as a No. 1 WR, Robinson's chances of replicating his 11-TD 2011 seemed slim. Now it seems he'll play a more complementary (but still important) role for QB Blaine Gabbert and the Jags.
Larry Fitzgerald, WR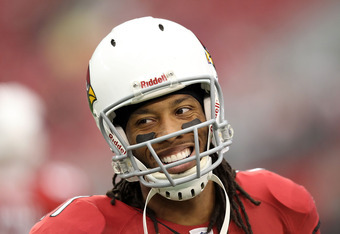 Christian Petersen/Getty Images
Fitzgerald should have a bit of a boost in fantasy production with the addition of Michael Floyd to the Arizona WR corps. Since Fitzgerald is the no-doubt-about-it No. 1 WR in Arizona, he'll still get the majority of the targets from Kevin Kolb. He should benefit from the addition of Floyd as an outside threat.
Kenny Britt, WR
The Titans No. 1 WR Britt should also get a boost with the addition of Kendall Wright of Baylor drawing some attention from the slot or other side of the field.
Colt McCoy, QB
It could be the end of McCoy as an NFL starter, as the Browns selected Brandon Weeden. Weeden, the oldest player ever taken in the first round of the NFL draft, is now considered a strong competitor to start for Cleveland. In addition, McCoy may not even remain a Brown, as rumors have been circulating about a potential trade.
LeGarrette Blount, RB
The Tampa Bay Buccaneers added Boise State RB Doug Martin late in the first round and he will project as the starter for the Bucs, leaving Blount as a significant backup in fantasy, but with limited potential, as Martin can do everything pretty well out of the backfield.