2012 NFL Mock Draft: Second-Round Superstars That'll Exceed Rookie Expectations
April 27, 2012

Joe Robbins/Getty Images
There is a ton of first-rate talent to consider in the second round of the NFL draft. 
It will take a miracle for Night 2 to live up to the fast-paced energy of the first round, but there is hope.
The second chapter may have an uphill battle in regards to entertainment, but there is plenty of marquee names to consider. 
For this second-round mock draft, we have highlighted in italics those athletes that will exceed their expectations. Whether it's plummeting out of the first or never getting hype at all, these athletes will prove us all wrong. 
Here is the second round.
33. St. Louis Rams: Cordy Glenn, OT, Georgia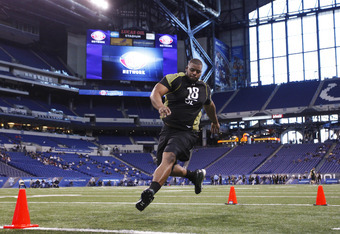 Joe Robbins/Getty Images
So much for the first round. Cody Glenn will now have a pleasant chip on his shoulders for the rest of his career, because I have confidence in his ability. 
Glenn has great footwork and the strength to push up the field. The Rams settle a need with this pick and begin what should be a solid round for them. 
34. Indianapolis Colts: Coby Fleener, TE, Stanford
This is the obvious choice when you consider Fleener can mature alongside Andrew Luck. The Colts would be wise to surround their franchise player with a good dose of comfort. 
35. Baltimore Ravens (via Minnesota): Courtney Upshaw, DE, Alabama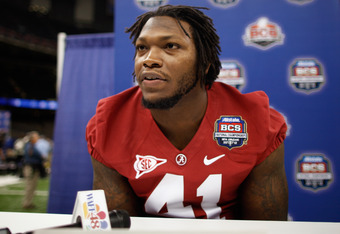 Chris Graythen/Getty Images
I see him sliding no further.
This versatile linebacker has a nose for tackles and is adept at getting around the edges. This is a testament to how stacked this draft is that a remarkable talent like Upshaw remains. 
The Ravens are a perfect fit to get the most out of Upshaw and turn him into the steal of this draft. 
36. Denver Broncos (via Tampa Bay): Jerel Worthy, DT, Michigan State
It's all about motor with this kid. He can go from also-ran to brilliant on various weekends, and that just will not fly in the NFL.
This is the kind of surging defense that will knock any inconsistency off his game, and that's why I am confident there will be far more great days ahead.  
37. Cleveland Browns: Rueben Randle, WR, LSU
He will need time to develop, which is fine because this team isn't going anywhere anytime soon. 
38. Jacksonville Jaguars: Vinny Curry, DE, Marshall 
The Jaguars settle a need with a player that is an extremely hard worker and as tenacious as they come. 
39. St. Louis Rams (via Washington): Devon Still, DT, Penn State
I love this pick for a Rams team that is trying to get bigger, badder and tougher on the defensive side of the ball. 
40. Carolina Panthers: Josh Robinson, CB, UCF
The Panthers need to address a defense that was far too porous last season. The secondary gets some help with the best all-around available on the board. 
41. Buffalo Bills: Stephen Hill, WR, Georgia Tech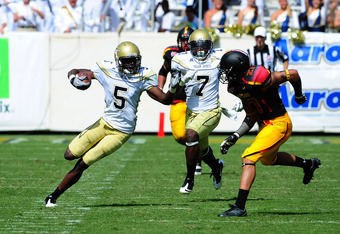 Scott Cunningham/Getty Images
I love Hill at this point in the draft, who gives the Bills more than a vertical weapon, but a great value in the pick as well.
He has the tangibles to the breakout receiver of this class. His size, height and speed are all elite, leaving time and maturation as the last pieces of the puzzle.  
42. Miami Dolphins: Alshon Jeffery, WR, South Carolina
The Dolphins will slowly piece together an offense that will be scary in a few years time. Jeffery is the perfect player to bide his time and learn the intricacies of the next level. 
43. Seattle Seahawks: Kendall Reyes, DT, Connecticut
I like the Seahawks to address a need here and get a player with first-round upside. If he can get a better pass-rushing form and some polish to his all-around game, watch out. 
44. Kansas City Chiefs: Jonathan Martin, OT, Stanford
I am as shocked as any of you that Martin is sitting here in the middle of Round 2, but he will slide no farther. 
Martin has the footwork to be a mainstay on the line for years. I also like him working in the Stanford system, making his transition to the NFL seamless. 
45. St. Louis Rams (via Dallas): Mohamed Sanu, WR, Rutgers
The Rams finally get the wide receiver that they absolutely needed to come away with this weekend. The main thing Sanu gives you is a player that is ready now.
He has the size and physicality to make an immediate impact and play a good chunk of the time in his rookie season.  
46. Philadelphia Eagles: Mike Adams, OT, Ohio State
He is a solid pass-blocker and all-around good talent, but durability and motor are issues.
47. New York Jets: Amini Silatolu, OG, Midwestern State
He may have developed bad habits dominating lesser players in a smaller conference, but that is hardly a worry. With time, his talent will shine through. 
48. New England Patriots (via Oakland): Zach Brown, OLB, North Carolina
He has issues with instincts and reading plays, but he has a knack for collecting tackles and is as fast as they come. He is a sideline-to-sideline defender. 
49. San Diego Chargers: Bobby Massie, OT, Mississippi
The Chargers get a great character guy that also has tremendous size and balance. Footwork will come with experience. 
50. Chicago Bears: Peter Konz, C, Wisconsin
I love this pick for the Bears, who need to address the offensive line and will have a potential leader in Konz. 
51. Philadelphia Eagles (via Arizona): Lavonte David, OLB, Nebraska
The Eagles suffered up the middle and in the run last season. The offense is a beast, but it's time to address the other side of the ball. 
52. Tennessee Titans: Brandon Brooks, OG, Miami (Ohio)
Brooks is a stocky boulder that will be tough to get around. He has great size and a low center of gravity that will make him a chore to get through for defenders. 
53. Cincinnati Bengals: Lamar Miller, RB, Miami (Fla.)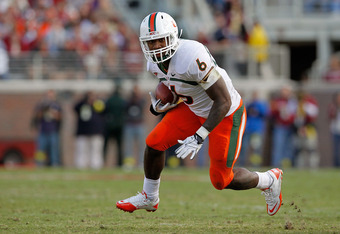 Mike Ehrmann/Getty Images
The Bengals fill an obvious need as they take on a young running back that is one of the most explosive athletes in the draft. 
54. Detroit Lions: Alfonzo Dennard, CB, Nebraska
The Lions shore up the corner with an enigma in Dennard. I once had him pegged for first-round potential until he slipped a bit on draft boards. 
After the recent weekend arrest, this pick may very well be a huge reach. Based on pure skill and talent, he is a complete defender that most franchises would take the gamble on. We shall see shortly. 
55. Atlanta Falcons: Jeff Allen, OT, Illinois
The Falcons could use the depth on the line, and I like Allen's versatility. 
56. Pittsburgh Steelers: Mike Martin, DT, Michigan
He has the passion and drive to be a mainstay for a team that adores such things. 
57. Denver Broncos: Brock Osweiler, QB, Arizona State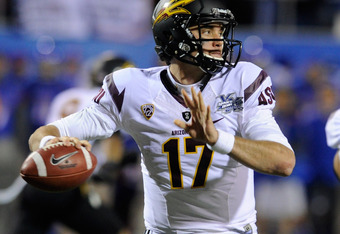 Ethan Miller/Getty Images
Sure, why not? Osweiler is a pure project that has upside with his arm strength and field vision. He will have plenty of time to mature and learn from one of the best in the game. 
58. Houston Texans: Alameda Ta'amu, DT, Washington
He has the size and power that will give linemen headaches. The best part about the Washington standout is his agility. 
59. Green Bay Packers: Casey Hayward, CB, Vanderbilt
He has the speed to stay with any receiver and isn't afraid to mix it up at the point of contact. This could be a real find for a secondary that is in dire need of new blood. 
60. Baltimore Ravens: Chris Givens, WR, Wake Forest
I like the gamble on Givens, who doesn't have to do too much to start with the Ravens. He can come along slowly giving Joe Flacco yet another weapon. 
61. San Francisco 49ers: Kelechi Osemele, OT, Iowa State
Things are looking nice and tidy heading into the 2012 season. The defense is all but set, and the only real need is depth on the line. 
62. New England Patriots: Brandon Taylor, SS, LSU
Things can get pretty nasty in the secondary for the Patriots. Taylor is an underrated gem that would be a steal at this point. 
63. New York Giants: Jayron Hosley, CB, Virginia Tech
I have Hosley taking a major slide to the back of the second round, but the Giants wouldn't mind. He has the instincts and wits to be a great defender.