NFL Draft 2012: Why Philadelphia Eagles' Trade Up Was Unnecessary
April 27, 2012

Al Bello/Getty Images
The Philadelphia Eagles moved up to the Seattle Seahawks' 12-spot yesterday to take defensive tackle Fletcher Cox, but it was an unnecessary move that cost Philly a fourth- and sixth-round pick.
Cox, formerly of Mississippi State, may be a great pick because he fits well into the Eagles' wide-nine scheme, but he may have still been available at the Eagles' original pick, 15.
The Arizona Cardinals took a wide receiver in Michael Floyd at 13 and were never a risk to steal Cox off the board. The St. Louis Rams, however, ended up taking LSU defensive tackle Michael Brockers at 14.
The Rams may have selected Cox if he was still available, but there were too many good defensive tackles in this draft for it to matter. Between Cox, Brockers and Memphis DT Dontari Poe, it just came down to fit and personal taste in terms of rankings. The Rams obviously felt that Brockers was a good fit for their system, and that's why they took him. If the draft was replayed and the Eagles had not traded up, the same may have happened.
The Eagles would have ended up with Cox anyways and would still have their fourth- and sixth-round picks.
But even if Cox did get taken my the Rams or even by the Seahawks at 12, there were plenty of good players left on the board that could have filled needs for Philly. Brockers would still be there to jump in at defensive tackle, and had the front office decided that he wasn't worth the pick, Devon Still, Jerel Worthy and Kendall Reyes were still available for the taking in Round 2.
That being said, taking a defensive tackle may have been a bad decision in the first place. Following the loss of Jason Peters, the Eagles had a sudden need at left tackle, and Riley Reiff was on the board until the Detroit Lions took him at 23. Reiff was expected to be gone well before the Eagles had a chance to draft, and they could have taken advantage of his fall by grabbing him at 15.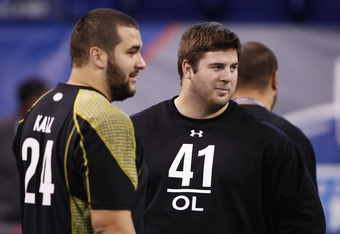 Joe Robbins/Getty Images
Philly's linebacking corps needs help too, even after the acquisition of DeMeco Ryans. Courtney Upshaw is a stud who has still not been taken despite being projected as a top-10 pick at one point in the draft process. Another top-10 OLB/DE talent in Melvin Ingram was available as well, and he ended up falling to the San Diego Chargers at 18.
Cox may have been a great pick, but the Eagles had too many options to make their move up worth the price. They may have been able to get him at 15 for free, and if he was gone by then, there were still plenty of great players available that could have helped at least as much as Cox.
The good news is, there are still plenty of those players left on the board and Philly should have a chance to draft at least one of them in the second round. Upshaw will likely be taken by the time the Eagles are on the clock, but linebackers Lavonte David and Zach Brown could still be available.
Offensive tackles Jonathan Martin and Bobby Massie are unclaimed at this point, but will also likely be taken early. After them, the tackle position thins out a bit, but the Eagles appear to be satisfied with new acquisition Demetrius Bell in that spot.
Whatever happens, Cox was a good pick and will help the Eagles immensely with what was an abysmal run defense last year. That being said, the front office still made a mistake by giving up two picks to take him three spots earlier.