2013 NFL Mock Draft: Matt Barkley Leads Impressive Class of QBs
April 27, 2012

Stephen Dunn/Getty Images
Even though the 2012 NFL draft has yet to come to a close, it's never too early to look ahead to the 2013 NFL draft.
Sure, it's a year away and a lot can change between now and then. Heck, nobody really knows what the order will look like. However, that's the fun in it all.
Speculating what teams will do in the future is just an excuse for fans to get pumped up about their team. 
That being said, here's my super early 2013 NFL mock draft with info on each pick and a more in-depth look at the talented class of quarterbacks. 
2013 NFL Mock Draft 
*Denotes underclassman 
1. Cleveland Browns: Matt Barkley, QB, USC
Even though the Browns drafted Brandon Weeden in the first round of the 2012 draft, should they end up with the top overall pick they would be insane to pass on Barkley. 
The Heisman front-runner for the 2012 season, Barkley is very likely to be the top pick in the draft unless a team with a good QB ends up with the No. 1 pick. 
Cleveland is going to struggle to win once again, and if the Browns have the first overall pick in 2013, they shouldn't wast much time in drafting Barkley. 
2. Indianapolis Colts: D.J. Fluker*, OT, Alabama
The Colts found their franchise QB this year, but it will take some time for the organization to get back on top. Upgrading the offensive line to help keep Andrew Luck safe would be ideal. 
3. Jacksonville Jaguars: Sam Montgomery*, DE/OLB, LSU 
A powerful defender with an excellent motor, Montgomery jumps off the screen. He'll serve as a solid addition to the Jaguars, a team in need of an improved pass rush. 
4. Minnesota Vikings: Marquess Wilson*, WR, Washington State
Christian Ponder needs better playmakers to work with if the Vikings are ever going to win the tough NFC North. Wilson is going to thrive this upcoming season, proving to everyone he is the real deal. 
5. Miami Dolphins: Robert Woods*, WR, USC
With Barkley graduating, it wouldn't make much sense for Woods to stay in school, especially since the WR class isn't all that elite. Miami gets a major boost by adding the talented wideout. 
6. Arizona Cardinals: Tyler Bray*, QB, Tennessee
An injury last season prevented Bray from shining, but should he stay healthy this season, there's no doubt Bray will be impressive. 
With Justin Hunter and Da'Rick Rogers, Bray's numbers will be very strong. Listed at 6'6", 210 pounds, Bray has a strong arm that will really blow the scouts away, and even if he's exaggerating just a bit on his height, being close to that tall is a big bonus for NFL quarterbacks.  
7. St. Louis Rams: Jake Matthews*, OT, Texas A&M
The Rams have to ensure Sam Bradford has the best possible protection, so using their first pick in the first round to help keep him safe would be ideal. 
8. Oakland Raiders: Tyler Wilson*, QB, Arkansas
Another QB goes in the top 10, as the Raiders get their guy for the future.
Now, Oakland could do something really crazy here or even trade this pick away in the middle of the season, but the Raiders bet is to add a young QB. 
Carson Palmer isn't getting any younger, so the Raiders need to think about his future replacement right away. 
9. St. Louis Rams (via WASH): Marcus Lattimore*, RB, South Carolina
Steven Jackson and the Rams don't have a ton of time left together in my eyes. Plus, it seems as if he gets hurt almost every year. Adding a stud back like Lattimore for insurance for the future would be a brilliant move for St. Louis. 
10. Seattle Seahawks: Jarvis Jones*, DE/OLB, Georgia
Seattle will soon find that reaching on Bruce Irvin was a bad idea, so they'll play it smart in the 2013 draft by picking a beast of a pass rusher in Jone, a guy whom Pete Carroll recruited while at USC. 
11. Tampa Bay Buccaneers: David Amerson*, CB, N.C. State
The Buccaneers missed out on a top-notch corner in this year's draft. When the secondary still has issues this coming season, the Bucs will turn around and use their 2013 pick to get a much-needed upgrade. 
12. Buffalo Bills: Jelani Jenkins, OLB, Florida
Jenkins is a very skilled defender who will be a warm welcome in Buffalo, a team that has to stockpile talent on defense if it's ever going to win the division. 
13. Tennessee Titans: Tyrann Mathieu*, CB, LSU
The Titans secondary is going to need a boost, and Mathieu will be a hot prospect should he leave early. He'll help in coverage and also make a major impact in the return game. 
14. Carolina Panthers: Johnathan Hankins*, DT, Ohio State
The Panthers have to continue to improve their defensive front, and drafting a guy like Hankins to help stop the run and disrupt plays in the backfield would be huge for Carolina.  
15. Denver Broncos: Keenan Allen*, WR, Cal 
The Broncos might consider a QB in the 2013 draft, but that will depend on who is available when they play and how Peyton Manning played in 2012 season. For now, though, selecting a WR here to upgrade the depth on the team would be fantastic.
16. Kansas City Chiefs: Manti Te'o, ILB, Notre Dame
The Chiefs wisely select Te'o to bolster their defense. Kansas City could go a number of ways here, but the safe bet is to go with the best available in Te'o. 
17. Chicago Bears: Barkevious Mingo*, DE/OLB, LSU
The Bears add more youthful depth to their roster by drafting a rising star in Mingo. 
18. Cincinnati Bengals: Brandon Jenkins, DE/OLB, Florida State 
Another strong defensive end jumps off the board here, as the Bengals wisely upgrade their pass rush with Jenkins. 
19. San Francisco 49ers: Barrett Jones, G/C, Alabama
Jones' versatility on the offensive line makes him a very enticing prospect, and he would be a perfect for the 49ers. 
20. Dallas Cowboys: Sharrif Floyd*, DT, Florida
The Cowboys decided to help the secondary in the first round of the 2012 draft, so in the 2013 draft they'll boost the defensive front as they continue to strive for a championship. 
21. New York Jets: Michael Dyer*, RB, Arkansas State
This is certainly a risky pick, but if Dyer leaves for the NFL, he will garner first-round attention. New York can afford to take the risk because the reward definitely outweighs the risk. 
22. Philadelphia Eagles: Ricky Wagner, OT, Wisconsin
The Eagles will have a number of different options here, but adding more protection for Michael Vick is their best bet. 
23. New Orleans Saints: Landry Jones, QB, Oklahoma
Landry Jones will get a chance to really prove himself in his senior season. He won't have the comfort of throwing to Ryan Broyles, which means he'll have to show he can get the job done without him. 
That was something Jones struggled with this past year once Broyles got hurt. In the 2012 season, Jones has to remain at an elite level, or else his draft stock will plummet. 
Since he's had some ups and downs, I have him slipping to the bottom portion of the first round, which works out perfectly for the Saints. Jones needs time to develop into a strong NFL QB, and learning from Drew Brees will really help help his progression. 
24: San Diego Chargers: T.J. McDonald, S, USC
McDonald is sure to be a star at the next level, and it wouldn't surprise me if he ends up being a top-15 pick or so. Different team needs have him in the late first-round here though, but the Chargers will love getting the chance to pair him with Eric Weddle. 
25. Atlanta Falcons: Alex Okafor, DE, Texas
John Abraham isn't getting any younger, which is exactly why the Falcons have to draft a talented pass rusher in the first round. 
26. Baltimore Ravens: Chris Faulk*, OT, LSU
Boosting the offensive line to ensure Joe Flacco has the best possible protection would be the ideal pick here for the Ravens. 
27. New York Giants: Xavier Nixon, OT, Florida 
It is never a bad idea to stockpile talent on the offensive line, which is what the Giants would be doing here, adding quality depth with a stud OT in Nixon. 
28. Pittsburgh Steelers: Kawann Short, DT, Purdue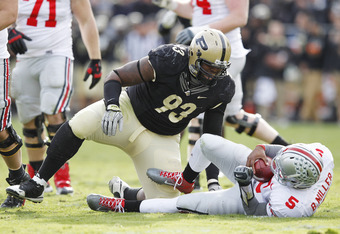 Joe Robbins/Getty Images
Pittsburgh needs to get younger all over the defense, and drafting a powerful run stopper like Short is something the Steelers would quickly do. 
29. Detroit Lions: Xavier Rhodes*, CB, Florida State
The Lions' secondary is the weakest part of their defense, so adding a corner to make sure Detroit is loaded with skilled players in the secondary would be a smart move. 
30. Houston Texans: C.J. Mosley*, ILB, Alabama
Mosley will have the spotlight on him at Alabama this season, and it shouldn't take long for him thrive in the limelight, boosting his draft stock along the way. 
31. New England Patriots: Khaled Holmes, G/C, USC
Holmes is another USC workhorse bound to become a first round draft pick. The Trojans have been cranking out top-notch offensive lineman in recent years, and Holmes is the next best one. Bill Belichick won't pass on the chance to stack his offensive line with immense talent. 
32. Green Bay Packers: Tony Jefferson*, S, Oklahoma
The Packers will have multiple options wherever they end up picking in the 2013 draft. Adding depth to the secondary will be key, though, as the team needs to get younger and stronger in areas on defense.