2012 NFL Draft Predictions: Courtney Upshaw and Other Top Remaining Linebackers
April 27, 2012

Joe Robbins/Getty Images
Teams like the Baltimore Ravens, Philadelphia Eagles and St. Louis Rams could each be looking to take linebackers in the second round of the 2012 NFL Draft, and they have an impressive selection to choose from.
Surprise picks like Seattle taking West Virginia product and projected third-rounder Bruce Irvin and Chicago reaching for Shea McClellin from Boise State left a fair amount of first-round linebacker talent on the board.
Courtney Upshaw, who was a leader on Alabama's defense and was, at one point, thought to disappear within the first fifteen picks is still available. So are Nebraska's Lavonte David, Oklahoma's Ronnell Lewis and California's Mychal Kendricks. Here's a quick ranking of the top remaining linebackers.


1. Courtney Upshaw
This should come as no surprise, as his slipping out of the first round was as unexpected as Melvin Ingram's fall to No. 18. Both may have been held back by their "tweener" status though—that is, their physical measurements run between those of an OLB and a DE. It won't be a problem much longer though, as Upshaw's talent and knowledge of the game will get him off the board quickly enough.


2. Lavonte David
Unlike Upshaw, David was a projected second-round pick, but like Upshaw, he has the talent to be taken in the first. What team wouldn't want that? Expect him to be taken no later than 45th overall. That's where the Eagles stand, and they would be lucky to see him fall that far.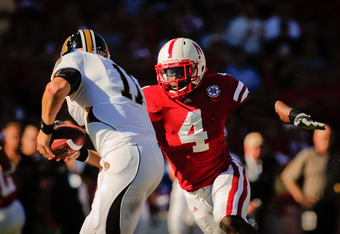 Eric Francis/Getty Images

3. Zach Brown
If David does go before No. 45, expect the Eagles to invest the first of their two second-round picks on Brown. His speed is his main asset; the former North Carolina track star led all outside linebackers at the combine with a 4.5-second 40 time.


4. Mychal Kendricks
The first inside linebacker so far, Kendricks is like Brown in that he is most valuable because of his speed. He led all linebackers with a 4.47-second 40 time, but finished last among inside linebackers in the vertical jump and broad jump. He's above average in just about everything else though, and that includes on-field play. Kendricks had 88 tackles and 2 interceptions for the Cal Golden Bears last year and earned a spot on the All-Pac-12 Conference team in 2011.


5. Vontaze Burfict
The story of Burfict has been well-chronicled, and his fall through the draft will be interesting to watch. Burfict undeniably has first-round physical assets but also has the mental makeup of a two-year-old who hasn't had his nap yet. That has led to a plummeting draft stock. The Arizona State product may find himself taken in Round Two, but it is more likely that he will drop until the third or fourth.
Day 1 of the NFL draft held plenty of surprises and there are surely more in store for Day 2. Expect at least three of these linebackers to be taken, if not all of them. They all have the talent to disappear between picks 32 and 63.