Round 2 NFL Mock Draft 2012: Best Value Picks Remaining on Board
April 27, 2012

Al Bello/Getty Images
Is it just me, or was that the wildest first round in the history of the NFL draft?
Trades left and right (not to mention up and down), surprising selection—all the drama the NFL could've hoped for and the networks never thought they'd actually get.
They can thank the new collective bargaining agreement and, more specifically, the rookie salary scale for that added dose of excitement.
All of that's left plenty of talented players on the board for teams to snap up, many of whom figure to go in the second round. (Best value picks in italics.)
33. St. Louis Rams: Stephen Hill, WR, Georgia Tech
Halle-frickin'-lujah! The Rams finally fill out their receiving corps with the speedy-but-raw Stephen Hill.
34. Indianapolis Colts: Coby Fleener, TE, Stanford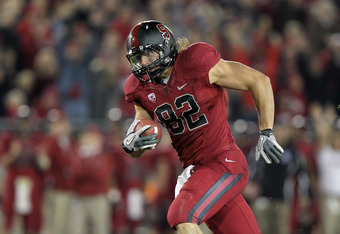 Ezra Shaw/Getty Images
Objective No. 1: Draft Andrew Luck.
Check.
Objective No. 2: Make Andrew Luck comfortable on the field in Indy.
That'll take a bit more time and effort, to say the least. However, picking up Coby Fleener, Luck's Stanford teammate and the top tight end in the draft, would be a solid step in that direction.
35. Baltimore Ravens (via Vikings): Courtney Upshaw, OLB, Alabama
Another lean, mean pass-rusher to add some youth to the Ravens' aging defense.
36. Denver Broncos (via Buccaneers): Jerel Worthy, DT, Michigan State
Jerel Worthy won't be catching any passes from Peyton Manning, though his value along Denver's defensive line should be plenty satisfying for the Broncos.
37. Cleveland Browns: Jonathan Martin, OT, Stanford
Right tackle is still a big area of need for the Browns...but won't be once they snag Jonathan Martin off the board.
38. Jacksonville Jaguars: Vinny Curry, DE, Marshall
The Jags' decision to spring for Justin Blackmon in the first round left them without the young defensive end that they'd sought.
Marshall's Vinny Curry is no Melvin Ingram or Quinton Coples, but the kid's a productive pass-rusher nonetheless, one who will strengthen Jacksonville's defense in the trenches.
39. St. Louis Rams (via Redskins): Cordy Glenn, OG/T, Georgia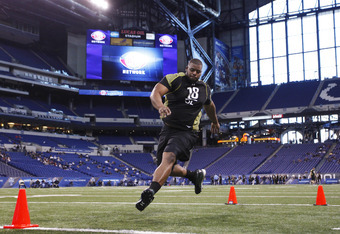 Joe Robbins/Getty Images
This is where St. Louis' trades out of the second spot in the draft begin to pay dividends.
Say what you want about Sam Bradford as a quarterback, but his sophomore performance wasn't helped any by the paltry play of his offensive line in 2011. Not many quarterbacks could reasonably sustain getting sacked once every 10 or 11 plays and live to tell the tale. 
In that regard (and others), Cordy Glenn is a tremendous value. He's versatile enough to play just about anywhere along the line, and though he's currently best suited to play inside, he could be groomed for a full-time switch to left tackle.
The Rams welcomed the Georgia product in for a visit before the draft, so their interest in him is well established.
40. Carolina Panthers: Devon Still, DT, Penn State
Defense is still the name of the game for the Panthers, particularly along the defensive line.
Where Devon Still does his best work.
41. Buffalo Bills: Bobby Massie, T, Ole Miss
Just because the Bills opted for an elite defender at No. 10 doesn't mean they don't still need help at offensive tackle. Bobby Massie should help to keep Ryan Fitzpatrick upright at some point in the near future.
42. Miami Dolphins: Alshon Jeffery, WR, South Carolina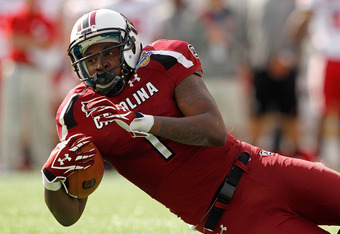 Mike Ehrmann/Getty Images
The Dolphins rolled the dice with Ryan Tannehill at No. 8. Now, they'd better surround him with as many weapons as possible, especially after trading away Brandon Marshall in preparation for the failed pursuit of Peyton Manning.
Alshon Jeffery has the look of a great red-zone target, if not the consistency one would hope to see in a guy with first-round potential. In any case, he could be a solid security blanket for Tannehill before too long.
43. Seattle Seahawks: Rueben Randle, WR, LSU
Here's a sane idea for the Seahawks: find Matt Flynn another dude to throw to.
Like, say, Rueben Randle.
44. Kansas City Chiefs: Amini Silatolu, G, Midwestern State
Scott Pioli continues to build the Chiefs from the inside out, this time by upgrading the offensive line with Amini Silatolu.
45. St. Louis Rams (via Cowboys): Lavonte David, OLB, Nebraska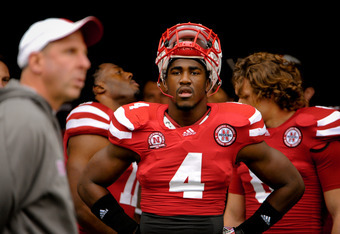 Eric Francis/Getty Images
The Rams continue their reign over the 2012 draft, adding possibly their best pick yet with Lavonte David. The Nebraska product is a bit undersized for the position, but is tremendously productive, nonetheless. He was an absolute tackling beast during his days in Lincoln, with a tenacity and a nose for the ball that cared not for the trappings of his body.
He'll fit in quite well at weak-side linebacker for St. Louis, where he'll have the freedom to wreak havoc from sideline to sideline.
46. Philadelphia Eagles: Mychal Kendricks, LB, Cal
The Eagles' problems against the run will be a thing of the past with Fletcher Cox up front and Mychal Kendricks pairing with DeMeco Ryans at linebacker.
47. New York Jets: Brian Quick, WR, Appalachian State
Like Houston Texans pick Whitney Mercilus, Brian Quick's name matches his game perfectly.
A little too perfectly, if you ask me...
48. New England Patriots (via Raiders): Josh Robinson, CB, Central Florida
Because the Pats can't keep going to Super Bowls with wide receivers at corner...can they?
49. San Diego Chargers: Alameda Ta'amu, NT, Washington
The Bolts would be hard-pressed to pass a 3-4 nose tackle like Alameda Ta'amu.
50. Chicago Bears: Zach Brown, OLB, North Carolina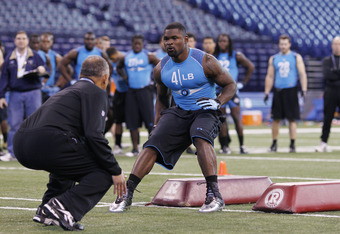 Joe Robbins/Getty Images
Contrary to popular belief, Brian Urlacher and Lance Briggs can't (and won't) play forever.
Which, sadly enough, means that the Bears will have to find a successor or two sooner or later.
Snagging Shea McClellin in the first round was a great start, and adding UNC's Zach Brown would be an even better way to continue that campaign. He's a 4-3 outside 'backer with the speed and athleticism to contribute on the blitz and drop into pass coverage with near-equal effectiveness.
Bottom line: the kid's a playmaker and would do well to take up the mantle for Chicago's legendary lineage of linebackers.
51. Philadelphia Eagles (via Cardinals): Kirk Cousins, QB, Michigan State
Word on the street is the Eagles like Kirk Cousins and would be willing to reach for him a bit as a guy to groom behind Michael Vick.
52. Tennessee Titans: Kendall Reyes, DT, Connecticut
The Titans get a defensive tackle...and Karl Klug sighs in disappointment.
53. Cincinnati Bengals: Ryan Broyles, WR, Oklahoma
No wide receiver in the first round for the Bengals? No problem!
Ryan Broyles is a superb addition to Cincy's offense, assuming his surgically repaired knee is good to go.
54. Detroit Lions: Janoris Jenkins, CB, North Alabama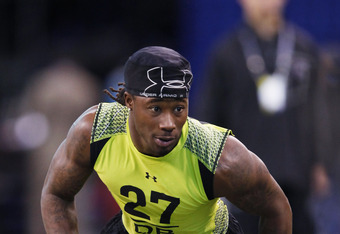 Joe Robbins/Getty Images
 It's not every day that a team has the opportunity to draft a top-10 talent with the 54th pick.
And if the Lions have that chance, they'd do well not to let it pass them by.
Of course, Janoris Jenkins didn't fall this far without reason; his rap sheet of arrests and citations serves as a tidy "Exhibit A."
But there's no denying the dude's ability to play corner, or Detroit's dire need for someone who can. If the Lions can handle Ndamukong Suh's stupidity on the field, then surely they can find a way to cope with Jenkins' off of it.
55. Atlanta Falcons: Andre Branch, DE, Clemson
Do the Falcons a favor and get 'em some help at defensive end...will ya?
56. Pittsburgh Steelers: Ronnell Lewis, OLB/DE, Oklahoma
The Steelers were smart to opt for David DeCastro in the first round, but would be wise to upgrade their aging linebacking corps with Ronnell Lewis ASAP.
57. Denver Broncos: Brock Osweiler, QB, Arizona State
Remember, Peyton Manning's coming off four neck surgeries in a span of less than two years. The Broncos will need a young quarterback like Brock Osweiler who can sit and learn behind Manning if he's healthy and step in at some point if he isn't.
58. Houston Texans: Mike Adams, OT, Ohio State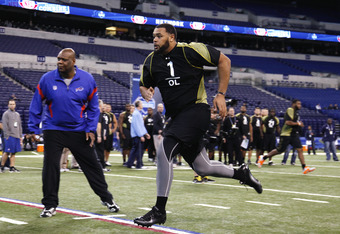 Joe Robbins/Getty Images
Nobody's doubting Mike Adams' innate talent. Mammoth offensive tackles (6'7", 323 pounds) don't just grow on trees, ya know.
Adams, though, has been dogged by concerns about his inconsistent effort, his raw technique and his problems in pass protection since leaving Ohio State.
If the Texans play their cards right, though, they'll have themselves a fine replacement for Eric Winston at right tackle in the long term.
59. Green Bay Packers: Lamar Miller, RB, Miami (FL)
The Packers could use some more young legs in the backfield, and Lamar Miller has some of the best (and the fastest) in this year's draft class.
60. Baltimore Ravens: Derek Wolfe, DT, Cincinnati
Derek Wolfe doesn't fit a need in Baltimore, per se, but he's versatile enough to move around the defensive line and provide some depth behind Haloti Ngata and Terrence Cody.
61. San Francisco 49ers: Kelechi Osemele, G, Iowa State
You know what'll really make that investment in Alex Smith worthwhile? Adding a guard of Kelechi Osemele's mass to shore up the interior of the Niners' offensive line.
62. New England Patriots: Brandon Taylor, S, LSU
Chris Graythen/Getty Images
With a defensive lineman (Chandler Jones), a linebacker (Dont'a Hightower) and presumably a corner (Josh Robinson) already in the bag, all the Patriots need to do now to tighten up their defense is bring in a safety.
Because, you know, Julian Edelman isn't one.
Brandon Taylor certainly fits the bill. The LSU product isn't particularly big for the position (5'11", 190 pounds), but his speed, versatility and nose for the ball make him a great pick to man multiple spots in the secondary, if need be.
63. New York Giants: Mitchell Schwartz, OT, Cal
Eli Manning will be rather disappointed in the Giants if they don't add a tackle at some point...