Milwaukee Brewers: Why the Brewers Will Be Better off with Marco Estrada
April 27, 2012

Mike McGinnis/Getty Images
I like Chris Narveson. Really, I do.
I think, for his part, he has been one of the best fifth starters in baseball over about the past season and a half. Most of his work has been good, and his ERA last year was bloated by a couple of really bad starts, such as an April 25th clunker against the Cincinnati Reds in which he only went 2.1 innings while surrendering seven earned runs on eight hits. Prior to that start, Narveson had spun two real gems, and two more quality starts.
That was the name of the Narv-Dog's game in 2011. Typically solid-to-good starts with some really bad ones thrown in there to make his ERA look worse than his performance actually reflected.
And surprisingly, despite having typically "finesse" pitches (a fastball only clocked around 88-89, and a slow, sweeping curveball), Narveson has been able to make batters swing and miss. He owns a lifetime 7.4 K/9. Unfortunately, he also owns a lifetime BB/9 of 3.4, much higher than you'd like to see from a guy throwing only in the upper-80s. But you take the bad with the good.
That sums up Chris Narveson really well. Taking the bad with the good.
He's a good guy. He's someone you want to see succeed because of all the disappointments he has suffered up to this point in his career, including the injury that this piece is subject to. He cares about his craft, and his brand of pitching has a place in the MLB...and it very well could still have a place in Milwaukee's starting rotation after this season. With Zack Greinke, Shaun Marcum, and Randy Wolf all in the final year of their guaranteed deals, Narveson's presence will certainly be welcomed if one, or two, or all of them leave.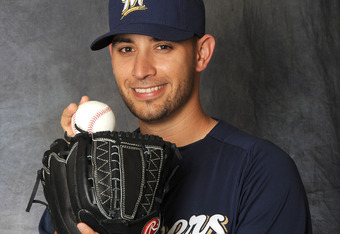 Rich Pilling/Getty Images
But for now, the Brewers might just be better off.
I knew at the beginning of the season that Milwaukee had a real advantage that not many teams had: A fully returning five-starter rotation. I also knew that the talents of Marco Estrada would likely be used out of the bullpen in long-relief situations and in spot starts.
And I also know that Marco is better than that.
Marco has better velocity than three of the five Brewers starters. His low-90s fastball (which, with a little extra sauce, can get up to about 95) has become a real weapon. Most will look at Marco's upper-70s-to-lower-80s fading changeup as his best pitch, and they're probably right. It is an excellent pitch and it leaves many batters scratching their heads, wondering where the ball went. 
But the key to Estrada's success lately has been on the coattails of his improved fastball. It is surprisingly quick, and with his good off-speed pitches (he also owns a strong curveball in the upper-70s), most hitters have to really sit back and think about his slow stuff, allowing Marco to let it rip with a 92 MPH fastball.
The strength of his fastball was on full display in his April 21st start against the Colorado Rockies, his first of the season. Estrada went five innings (a limit imposed on him despite the quality of his start), gave up only one earned run, two hits, no walks, and recorded an impressive nine strikeouts. All of his strikeouts came on the fastball: seven swinging, two looking, and all nine strikeout fastballs measuring at least 92 MPH. What you don't see on the highlight reel, however, is all the good work Estrada did with his off-speed stuff to set up those fastball strikeouts. The Rockies were forced to sit on the changeup, and Marco's fastball did the rest.
So far this season Marco has made six appearances. He has thrown six innings in relief, and five in his one start, for a total of 11 innings. Over the course of those 11 innings, Marco has already managed 16 strikeouts for an impressive K/9 of 13.1. He has always been adept at striking batters out with a career 9.1 K/9, but by the looks of it, things are getting even better for the righty.
The real improvement has been his control. In 2009, Marco had a BB/9 of 4.9 and in 2010 (his first season as a Brewer), it wasn't much better at 4.8. Then something happened—his control problems evaporated and he posted a BB/9 of 2.8, a ratio any pitcher would be proud of. So far this season (admittedly in the very early stages), his BB/9 is sitting at 2.5, and as I mentioned a moment ago, he didn't walk a single batter in his first start of the season.
What I'm saying here is this: Marco Estrada is a starting pitcher. He pitches better as a starter, he has the temperament and the work ethic of a starter, and he has the talent of a starter. His repertoire is made for starting, and he maintains his velocity well into his starts. With his newly acquired sense of control, there's no reason Marco can't succeed in this starting rotation. My guess, after watching his starts, is that he has the ceiling of about a No. 3 starter. Next season, he should be in the rotation right from the start, provided everything goes well for him in 2012.
Finally, there really is something to be said about what the Brewers have done with Marco Estrada. They have taken a guy who, by all measures, was not fit to pitch in the majors, much less start, and they have transformed him into a starter capable of very good things. It's not just Marco, either—they did the same thing with Chris Narveson, and they've done the same thing with their closer John Axford. Guys who were destined for anonymity and then picked from the heap and turned into quality major league pitchers.
You can say what you want about major league talent evaluation and coaching... any informed baseball fan has an opinion. But guys like Estrada, Axford, and Narveson are all proof that sometimes all anyone needs is a chance.