12 Most Ridiculous Moments from the 2012 NFL Draft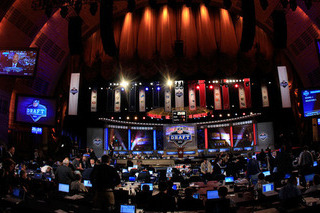 From a fast three-hour first round, to eight trades conducted in the first 32 picks, the 2012 NFL Draft was a wild weekend for all parties involved. There were some new wrinkles included that worked and others that left something to be desired.
The draft had plenty of surprises. It also had moments where the networks covering the event noticeably tried to try to come up with fresh material.
There were some moments that were funny, some that were emotional, and others still that were utterly ridiculous. The latter is what this presentation is going to isolate, the 12 most ridiculous moments of the 2012 NFL Draft weekend.
On to the presentation.
Begin Slideshow

»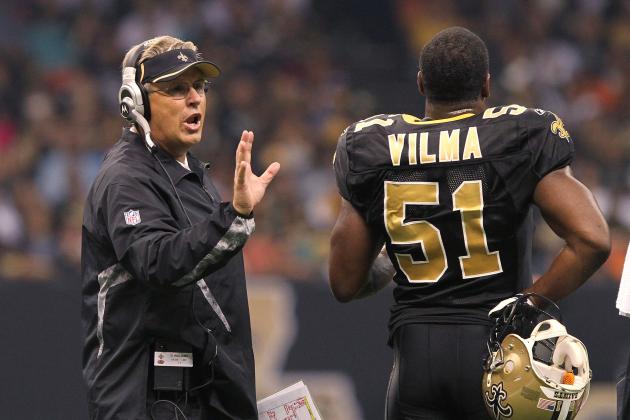 Matthew Sharpe/Getty Images

Let's take a second to be clear on something. I don't condone for a second what Gregg Williams and the New Orleans Saints defense did in their bounty pay program, during Williams' tenure as defensive coordinator. With the loss of their second round draft pick, suspension of head coach Sean Payton, Joe Vitt and Mickey Loomis, the Saints have paid dearly for their transgressions.
But as much as their back is up against the wall, it would have been a nice touch if NFL Commissioner Roger Goodell identified which New Orleans Saints players would be suspended in 2012, and to disclose how many games they would miss.
The latest and greatest word is that the answer to those two big topics will come down sometime later this week. This doesn't really help the Saints much since the draft has come and gone.
The Saints will tell you publicly that they wouldn't be influenced by the suspensions during the draft. But if you knew ahead of time that you were going to lose some of your linebackers for a grand total of 25 games, compared to 10 games for members of your secondary, and you had a LB and a CB equally graded on your draft board, which player would you draft for the 2012 season?
I believe that with all of the penalties and bad press the team has been asked to endure (and rightfully so) that the NFL could have at least finalized the suspensions issue for the players prior to the NFL draft. Not doing that was one of the most ridiculous things of this draft.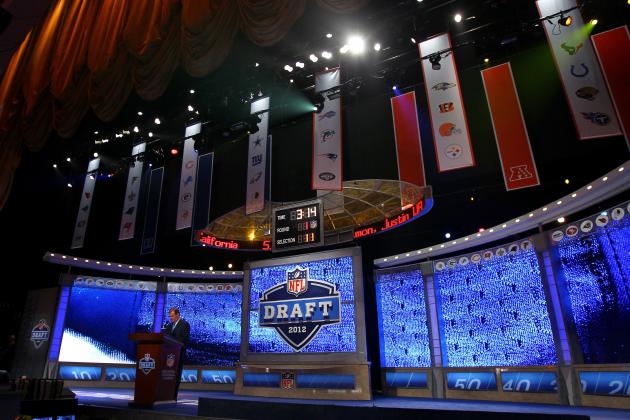 Al Bello/Getty Images

Periodically, the coverage would shift on NFL Network from Radio City Music Hall to get a peek into the various NFL war rooms where cameras had been installed. This was done to let viewers could get a live look at the action.
What we got instead was a collection of scouts and coaches sitting around looking up at the television monitors, while the viewers were watching the coaches live.
Some of the guaranteed most ridiculous time wasted during draft weekend. It would be one thing if the team had just concluded a big trade, or they landed a star player that they didn't think they were going to get. Most of the time, it seemed like the footage was on a loop and repeated every time the network went to the live war room shots.
Maybe it would be better to have live audio feeds with player names being discussed censored. Then the country could listen to scouts and coaches argue over which "xyz" player to draft.
Now that is something that I could get behind.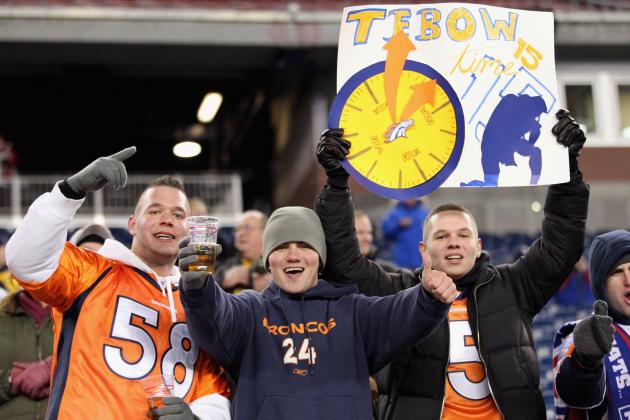 Jim Rogash/Getty Images

Imagine that you are either a Denver Broncos fan or a Baltimore Ravens fan. Yes, your team did happen to win their division in 2011, but they fell short in their quest to win the AFC Championship and go on to the Super Bowl.
You watched players come and go in the offseason, but knew that the NFL draft was the one place for sure where you would have your turn to add some new hope and talent to the team. You know, maybe that one missing piece that would push you over the top.
The fans get decked out in their appropriate gear and head out to the draft party to join hundreds or even thousands of fellow fans anxiously awaiting your team to officially be on the clock.
Then you watch in sheer horror like you are suddenly part of an episode of the Twilight Zone, as your team opts to trade down and out of the first round completely. The first round ends, and you come to the realization that you didn't draft a single player that night.
You probably need to find somebody sober to drive you home.
That wouldn't be as bad however as any Raiders, Falcons or Saints fans that have been in hibernation and wondered why they didn't pick anybody in the first round, but that is another story.

I have to apologize to all Bleacher Report readers here. Knowing that I was assigned to do this article, I should have used some foresight and had an extra tally sheet handy to count how many times the NFL Network raised the topic of Tim Tebow over the three days of the draft.
Clearly, there were at least 15 hours of live coverage to try to fill in the gaps, but there should have been some kind of a moratorium placed on Tebow talk after he was brought up for the hundredth time.
And that was on Day Two.
I don't know what the official Tebow reference count tally turned out to be. I probably don't want to know what it is either.
I do know that Rich Eisen used Tebow to get under the skin of NFL draft analyst Mike Mayock, because apparently Mayock is as sick of hearing about Tebow as I am. Another ridiculous 2012 NFL draft memory I can do without.
Photo courtesy of Who Say.com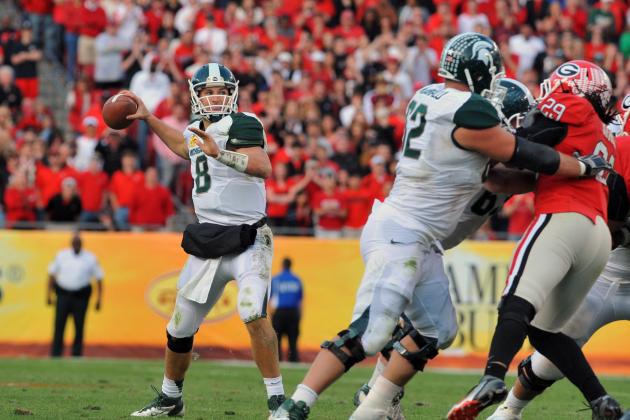 Al Messerschmidt/Getty Images

Another interesting development over the three days of the NFL draft was the reaction and subsequent fall out of the Washington Redskins selection of Michigan St. quarterback Kirk Cousins.
The Redskins already had their franchise quarterback with the big trade they pulled off with the St. Louis Rams to acquire Robert Griffin III. The team had sacrificed a number of key future picks to secure Griffin, so surely they would want to cash in the remaining picks to surround Griffin with as much talent as they possibly could, right?
Well, that plan seemed to go up in smoke when the Redskins drafted Michigan State quarterback Kirk Cousins with the No. 102 overall pick in the fourth round. That pick was followed by outrage.
What were the Redskins thinking with so many other holes on the team that needed to be addressed?
Clearly the Redskins saw that Cousins was a great value pick at 102. How long they keep him, or how quickly they turn around and trade him is anybody's guess.
Shortly after the pick was made, it was announced that veteran quarterback John Beck was released from the team. The Redskins will start Griffin, have Rex Grossman serve as mentor and backup, and the team will slowly but surely develop Cousins to the point that he will serve as the backup to Griffin.
On the other hand, the team can turn around and trade him away for draft picks, much like what Andy Reid does with the Eagles backup quarterbacks that he develops.
Another situation that got out of hand quickly, until cooler heads prevailed.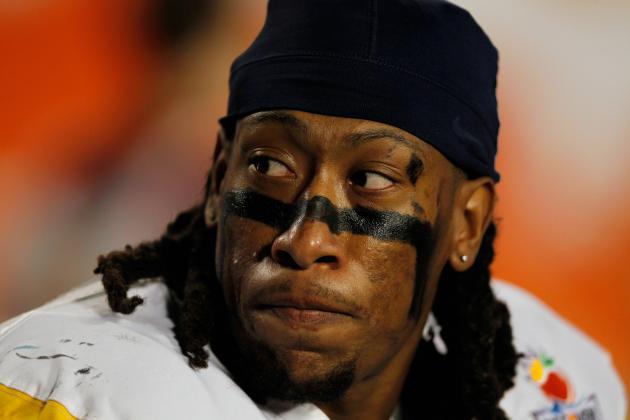 Streeter Lecka/Getty Images

It wasn't very long after the Seattle Seahawks turned in their draft card with the No. 15 overall pick of West Virginia linebacker Bruce Irvin that people started wondering if Pete Carroll had lost it.
Irvin is considered to be one of the more gifted pass rushers in the draft. However, he is viewed as a one-trick pony. Outside of pass rushing he isn't that useful for much else. Surely, the Seahawks could have found other impact players at No. 15 that were capable of playing all three downs without being pulled off the field as often as Irvin would require. Right?
Then as Day Two and Day Three unfolded, word started surfaced that other NFL teams were prepared to take Irvin later in the first round. The player in question was viewed in much higher regard by the professionals whose opinion really mattered, as opposed to the draft analysts who think that their opinion really matters.
It was pretty ridiculous to see the way that the perception had changed so drastically over the following two days.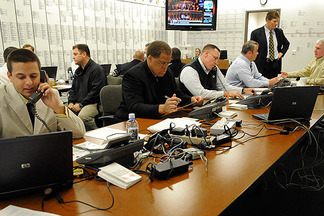 As the first round saw one big trade going down shortly followed by another trade, I was thinking to myself that there are going to be an awful lot of messed up mock drafts.
When the dust finally settled, there were a grand total of eight trades conducted in the first round. Yes, I am also one of those crazed football writers that cranked out my own mock drafts as well, but I was right more often regarding the Bills mock drafts, knowing that Buddy Nix hates to give up any draft picks at all. Okay, Nix did surrender a seventh-round draft pick this past weekend, but that was the extent of his "riverboat gambling" ways.
But for the companies that focus on doing mock drafts, or lead writers that are known for cranking out cutting edge mock drafts (is there such a thing?), they had to feel rather foolish at watching all of the weeks and months of analysis and research getting blown up like an active minefield with one trade being executed after another.
Since the new CBA was negotiated in 2011, it is clear that teams are now treating draft picks like currency or cash tender. You can barter them away since there is no real major penalty to your salary cap for drafting players in the top five or top 10 of a draft class, as had been the case in prior years.
What will this new trend do to the NFL mock draft industry? What is the point of doing three to four months of mock draft analysis, only to know that once the first team is on the clock, deals are going to start flying around the league left and right, and whatever you thought would happen is totally obliterated.
For what it is worth, here is the link to the final scores of the mock draft experts for the 2012 contest that is judged at The Huddle Report. Ben Standing of Fantasy Football Toolbox was the 2012 NFL mock draft champion. He got 12 picks right, and out of over 100 mock drafters, he was the only one that predicted more than 10 picks correctly. Correctly picking 12 out of 32 is like batting .375, so that should make you a starting All-Star, right?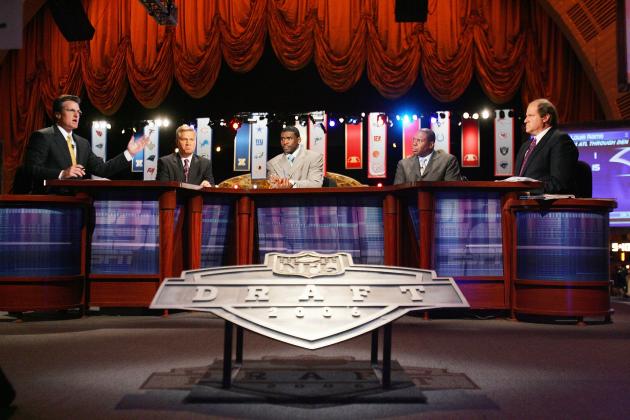 Chris Trotman/Getty Images

Not really sure what the heck was going on with the producers and draft analysts crew at ESPN for the draft, but something seemed to be wrong with the trio they employed for Round One on Thursday night.
On the first night of the draft, ESPN rolled out the trio of Chris Berman, coach Jon Gruden and draft expert Mel Kiper Jr.
Throughout the first round there were long pauses or gaps where none of them would talk as if they were waiting for direction, or there was little chemistry between the three of them to carry on a normal conversation.
I recall sensing that things were getting awkward for them as well at several points during the first round. Since I watched it live, I can't tell you what pick number, or what hour of the the telecast this was going down, but I just remembered thinking that something is ridiculously wrong here.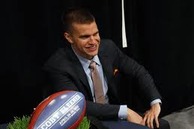 Here is a picture of Coby Fleener early on in the Green Room, during the first round of the 2012 NFL Draft. How do we know that this was taken early on? Because he is still smiling. We doubt he was still smiling around 11:05 pm Thursday night.
There were a total of six players (out of a record total of 26 players), that decided to accept the NFL's invitation to attend the draft live, that weren't drafted in the first round.
The unfortunate six players were Stanford tight end Coby Fleener, Georgia tackle Cordy Glenn, Georgia Tech wide receiver Stephen Hill, LSU wide receiver Rueben Randle, Penn St. defensive tackle Devon Still and Alabama DE/OLB Courtney Upshaw. Of the six players, the one that was the most upset was Cordy Glenn, who felt like he was slighted by not being selected in the first round. Rather than wait it out in New York City, he flew back home on Thursday evening.
Of the six players, every one of them were drafted in the second round, but Rueben Randle was ever-so-close to going in the third round, as he was the final pick of round two. The draft order of the six were: Fleener (34), Upshaw (35), Glenn (41), Hill (43), Still (53) and finally Randle (63).
Well, at least these guys can use the insult to negotiate a new contract sooner than the first-round players, and nobody will blame them for playing with a chip on their shoulder.
Photo courtesy of USA Today.com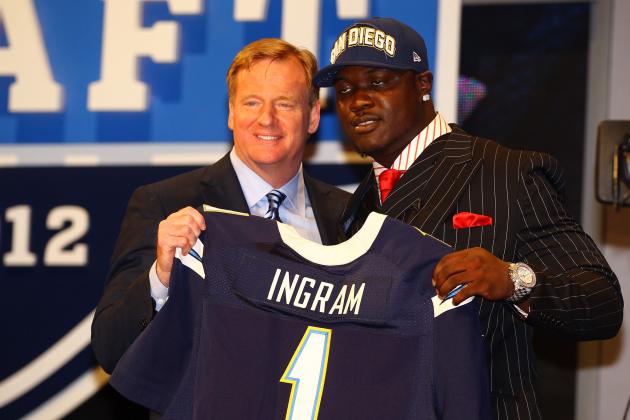 Al Bello/Getty Images

When NFL Commissioner Roger Goodell walked over to congratulate Melvin Ingram on becoming a first-round draft pick in the NFL, the duo stopped and began to go into a five-part hand slap, ala Jose Reyes in his heyday.
The hand slap in and of itself was rather cool for Goodell to do, but the ridiculous part is that the next time these two meet, it will probably be to discuss how large the fine is for a big hit that Ingram made on a defenseless player or how many games he will be suspended.
I suspect that this is the last time that the two of them will greet each other with the prolonged hand slap.
Thanks to Sportress of Blogitude.com, for supplying this video link of the infamous Goodell and Ingram hand slap.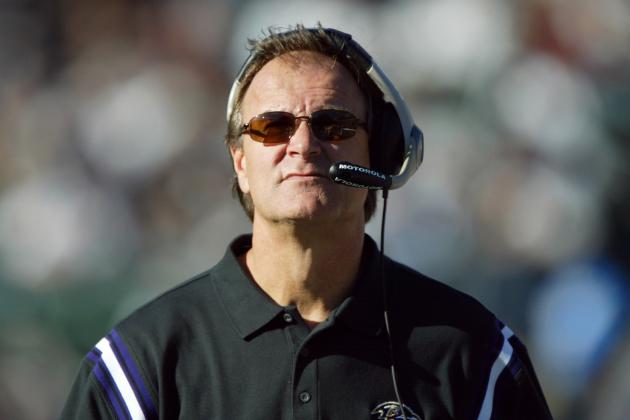 Jed Jacobsohn/Getty Images

I'm not sure what it is about ex-Baltimore Ravens head coach Brian Billick that rubs me the wrong way. Maybe it is the way that he carries himself, being smug and aloof, or how he would look away from whoever was talking at the NFL Network draft panel on Saturday afternoon.
As Day Three wore on towards the latter half, the panel of NFL analysts and experts were asked to weigh in on a specific team as the telecast proceeded to dissect the eight divisions. Even though every other panelist understood that the question was to give feedback about the draft class that was winding down, Billick would talk about everything but the draft picks.
You could tell he was disinterested in the project by the way his gaze would be all over the place, or that he wasn't prepared for whatever team he was supposed to cover. The most ridiculous moment for me was when he was asked to assess the Buffalo Bills draft class. Billick started spewing some mumbo jumbo about the offseason signing of Mario Williams and Mark Anderson, and then proceeded to sum it up by stating that the Bills didn't do enough to close the gap on the New England Patriots.
Within a minute or two, Rich Eisen then asked Michael Lombardi to give his overall draft class grades to every AFC East team. Lombardi gave both the Bills and Patriots an A grade. When it came to the Bills, Lombardi said they made positive strides at closing down the gap between the Patriots and the Bills.
On the follow up All Access show on NFL Network, Lombardi went on to rate the Bills as having come up with the best draft out of all 32 teams. Even former GM Matt Millen went on to state that the Bills had the best offseason of every NFL team. Meanwhile, Billick is starting off in the distance, wondering why nobody wants to hire him to be a head coach again.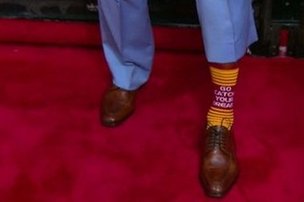 You are Robert Griffin III, and you have just been officially named as the No. 2 overall draft pick in the 2012 NFL Draft. As you finish your photo opp with NFL Commissioner Roger Goodell, you are quickly met by ESPN's Suzy Kolber and NFL Network's Deion Sanders.
We have all heard that the NFL is one of the biggest copycat team sports, as whatever is the latest and greatest fad is quickly incorporated into the playbook of the rest of the league. But how about copycat networks that cover the NFL?
On one of the biggest days of RG3's life, with a limited amount of time to conduct the live interview, what is the duplicate question that both Sanders and Kolber pose to RG3 in front of a national audience? What socks are you wearing today?
Please understand, that I like the uniqueness and individuality of RG3. That is not the point I am making here. As shared in an article on Shut Down Corner.com, I also like the inspirational spirit of the message in "Going For Your Dream". What I have an issue with is that both networks felt that the socks he was wearing was of major import compared to being drafted No. 2 in the entire draft class.
Thanks for checking out the presentation.
Photo courtesy of Shut Down Corner.com