Knicks vs. Heat: TV Schedule, Live Stream, Odds and More for Opening Series
April 27, 2012

Chris Trotman/Getty Images
The Miami Heat have the tough challenge of battling the red hot New York Knicks in the opening round of the 2012 NBA playoffs. 
While the Heat did beat the Knicks all three times during the regular season, New York has won five of its last six games, which is excellent momentum heading into the postseason. 
Both teams have elite star players capable of putting on a big show, and that will definitely make this series more exciting. 
Despite being the No. 2 seed, Miami is no lock to win this series. The No. 7-seeded Knicks can't afford to flop in the first round like they did a year ago. 
New York has the talent to hang with the Heat, but it certainly won't be easy. With that said, let's dig into some specifics of this Eastern Conference Showdown. 
Game 1: Sat, April 28 at 3:30 p.m. ET on ABC in Miami
Game 2: Mon, April 30 at 7:00 p.m. ET on TNT in Miami 
Game 3: Thurs, May 3 at 7:00 p.m. ET on TNT in New York
Game 4: Sun, May 6 at 3:30 p.m. ET on ABC in New York 
Game 5: Wed, May 9, TBA
Game 6: Fri, May 11, TBA
Game 7: Sun, May 13, TBA
Live Steam: NBA League Pass
Odds: Game 1, Miami favored at -8.5, according to Covers.com
Key Injuries 
*According to CBS Sports
Heat—SG Dwyane Wade (finger): Probable for Game 1 
Knicks—PG Jeremy Lin (knee): Out until at least Round 2
What They're Saying 
Brian Windhorst covers the NBA as a whole for ESPN, but he's specifically covered LeBron James for many years. In his most recent column, Windhorst quoted LeBron's take on getting ready to play against Carmelo Anthony and the Knicks:
I absolutely thrive on going against the best and I've had my fair share of battles in the postseason with some of the best. I'm looking forward to this, it's going to be great.

We're [sic] been preparing for the Knicks. I've been studying.
LeBron is fully aware of the challenge that lies ahead, but he also knows that he and his team can squash the Knicks if they play to their full potential. 
Everybody knows LeBron is under a great deal of pressure, having to hear all the negative criticism and haters bashing him night in and night out. Look for him to step it up a notch since he'll be squaring off against Carmelo, and what a show it will be for the fans. 
New York Player to Watch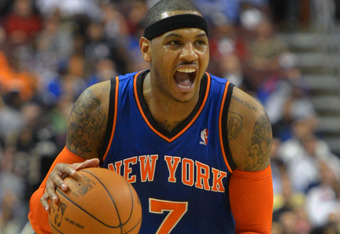 Drew Hallowell/Getty Images
Carmelo Anthony is pretty much all the Knicks have right now. They go as he goes, and he's capable of leading them to the second round. 
Of course, this won't be an easy task, and he'll definitely need his teammates to significantly help. If Carmelo continues to perform at a high level, the Heat could be in big trouble. 
In the month of April, Carmelo has averaged just under 30 points per game, including two games against elite NBA teams (Chicago and Miami) where he scored over 40 points. Carmelo will have to stay on fire, though, if the Knicks are going to pull off the upset. 
Miami Player to Watch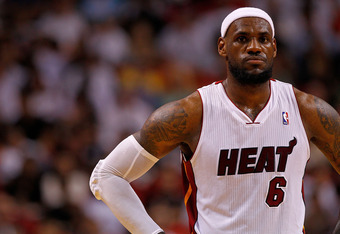 Mike Ehrmann/Getty Images
I'd have to be pretty insane to pick anyone other than LeBron here. With Wade's finger being banged up, LeBron has to take his game to new heights and put the team on his back. 
I think Wade will be able to contribute well, but there's no telling how much his finger will hold him back. 
This means it's up to LeBron to make this his team, so look for him to try to make quick work of the Knicks in the opening round. 
Key Matchup 
Clearly, the battle between Carmelo and LeBron is the best to watch for in this series, but to spare you from repeating myself, let's talk about another great matchup to keep an eye on. 
The battle in the paint between the Knicks and the Heat will be very crucial. Earlier this month, both teams went head-to-head with each other, and Miami not only came out victorious by scoring more points, it also dominated the boards all night long. New York was out-rebounded big time, as the Heat grabbed 47 boards to the Knicks' 33. If the Knicks are going to shock the world and advance in the playoffs, they have to be able to rebound better.
Prediction 
I expect the Knicks to put up a good fight in the early part of the series, but after a couple of tough losses to start, New York will begin to be walked all over by Miami. 
Give me the Heat winning this series in five games, closing it out in style and moving closer to winning another championship. Of course, it would be the first for a few of the Miami players.