2012 NFL Mock Draft: Best Bets to Every Round 2 Team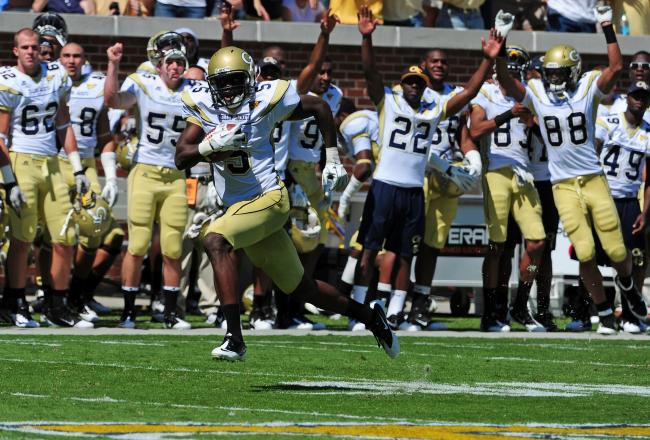 Scott Cunningham/Getty Images
Well, that was an exciting first round to say the least. Aside from the fast pace and flurry of trades, there were probably plenty of other storylines that won't fully emerge until the dust settles at the end of draft weekend.
That's still a couple days away, though. As for now, let's take a look at a complete mock draft of the second round featuring players who will develop into key contributors for their new teams. It's still early enough in the draft for prospects to make an immediate impact.
33. St. Louis Rams: Cordy Glenn, OT, Georgia
It was surprising to see the versatile Glenn fall out of the first round due to the number of teams that need a tackle. The Rams shouldn't pass on him.
34. Indianapolis Colts: Coby Fleener, TE, Stanford
If another team wants to land Fleener, they better start calling the Rams because it's tough to imagine the Colts passing on Andrew Luck's Stanford teammate. The team's tight ends are below average, so he would certainly be a nice fit.
The Colts made a decision early in the offense to start cleaning house to open up cap space for the future. They understand the first season under Luck will probably be a struggle, just like it was with Peyton Manning, but the front office has started to look toward long-term success.
Young quarterbacks love using their tight ends. Luck and Fleener should already be on the same page, giving them a jump start once training camp begins. Both of them have enough talent to believe they will become a dynamic TD combination for years to come.
35. Baltimore Ravens (via Minnesota): Courtney Upshaw, DE, Alabama
Baltimore will have no shortage of options if its looking for another piece to upgrade the team's aging defense. None are better than Upshaw off the edge.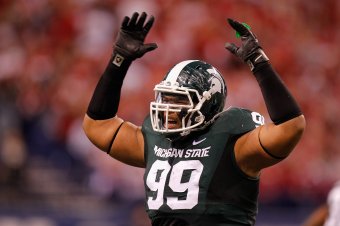 Gregory Shamus/Getty Images
36. Denver Broncos (via Tampa Bay): Jerel Worthy, DT, Michigan State
The Broncos traded out of Round 1 to accumulate more picks. Landing Worthy would make the front office look like geniuses since he was a target anyway.
37. Cleveland Browns: Rueben Randle, WR, LSU
After several seasons of lackluster offensive production, the Browns front office finally got the message and added two key pieces. Randle should be the third.
38. Jacksonville Jaguars: Josh Robinson, CB, UCF
Robinson is an athletic corner who got overlooked because he played college ball at Central Florida. He'd be an instant upgrade for Jacksonville.
Are you surprised Still fell out of Round 1?
39. St. Louis Rams (via Washington): Devon Still, DT, Penn State
It already looks like the Rams are going to walk away from this year's draft as one of the biggest winners. They have made all the right moves.
40. Carolina Panthers: Alfonzo Dennard, CB, Nebraska
Luke Kuechly should have no trouble making plays in his first season with the Panthers, but the team must continue to look for pieces to boost the defense.
41. Buffalo Bills: Stephen Hill, WR, Georgia Tech
Even though Stephon Gilmore wasn't a surprising pick by the Bills, he doesn't fill any of the team's biggest holes. Assuming they went with the best player available in Round 1, the front office must now focus on patching up the roster.
Stevie Johnson has posted two straight 1,000-yard seasons, establishing himself as a reliable top target for Ryan Fitzpatrick. The receiver depth chart behind him is bleak, however. That's why drafting the speedy Hill would be the savvy move here.
He still has a lot of developing to do, but he'll instantly provide the Bills with a deep threat they have lacked. Buffalo's offense struggled when teams starting pressing the line last season. Hill should open up those passing lanes again.
42. Miami Dolphins: Alshon Jeffery, WR, South Carolina
If you asked 10 scouts their opinion of Jeffery's future, you'd likely get 10 unique responses. The Dolphins need somebody to help Ryan Tannehill, so he's worth the risk.
43. Seattle Seahawks: Kendall Reyes, DT, Connecticut
In a different year, Reyes would have made a strong push to get selected on day one. He became a victim of a deep class but can really help the Seahawks.
44. Kansas City Chiefs: Jonathan Martin, OT, Stanford
Unfortunately for Martin, he's a perfect example of how unpredictable the draft can be. He was projected inside the top 15 at one point but has been on a steady decline.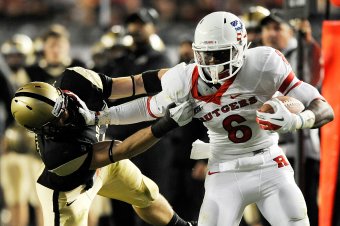 Patrick McDermott/Getty Images
45. St. Louis Rams (via Dallas): Mohamed Sanu, WR, Rutgers
The Rams must figure out a way to get Sam Bradford more weapons, or he'll never have a chance to grow as a QB. Sanu is the best wide receiver available.
46. Philadelphia Eagles: Mike Adams, OT, Ohio State
While Adams doesn't fit Philadelphia's biggest area of need, he presents amazing value, and the Eagles understand the importance of offensive line depth.
47. New York Jets: Amini Silatolu, OG, Midwestern State
Midwestern State might sound like a made-up college from a television show, but it's really where Silatolu developed into a coveted prospect.
48. New England Patriots (via Oakland): Zach Brown, OLB, North Carolina
Based on last season's production and offseason additions, there's really no reason for the Patriots to use an early pick on offense.
What should the Chargers target?
49. San Diego Chargers: Bobby Massie, OT, Mississippi
Massie's stock takes a minor hit because not as many offensive lineman went in the first round as most expected but should find a spot with the Chargers.
50. Chicago Bears: Peter Konz, C, Wisconsin
The Bears could have selected Konz in the first round, and nobody would have been surprised. So getting him in the second would be a gift.
51. Philadelphia Eagles (via Arizona): Lavonte David, OLB, Nebraska
Defensive tackle Fletcher Cox was a really good pick for the Eagles and should instantly improve the team's run defense. They still have a need at linebacker, though. What David lacks in size, he more than makes up for in athletic ability and work rate.
The Eagles will be looking to rebound from a disappointing season, so finding a player that can step in right away is essential. David should have no problem doing that after a solid senior season with Nebraska in which he earned first-team All-Big Ten honors.
Philadelphia's linebackers really struggled at times last season, and it ultimately doomed the Eagles. Adding David to the mix should calm any fears that it would happen again next season. He has a good chance to turn out as the best value pick of Round 2.
52. Tennessee Titans: Brandon Brooks, OG, Miami (Ohio)
Tennessee decided to go with playmaker Kendall Wright in Round 1. That means the Titans have to focus on the trenches with their next pick.
53. Cincinnati Bengals: Lamar Miller, RB, Miami (Fla.)
BenJarvus Green-Ellis won't be able to carry the entire load by himself. Miller would be a nice change-of-pace option with big-play potential.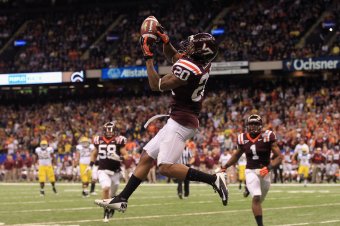 Matthew Stockman/Getty Images
54. Detroit Lions: Jayron Hosley, CB, Virginia Tech
The Lions struck gold when Riley Reiff fell to them, and Hosley would also be a terrific value pick who can help fill a need.
55. Atlanta Falcons: Jeff Allen, OT, Illinois
Since the Falcons only have five picks in the draft, they can't afford to waste any of them. Allen is an underrated tackle with nice upside.
56. Pittsburgh Steelers: Mike Martin, DT, Michigan
When the Steelers took David DeCastro in the first round, the analysts talked about how he fits the team's smash-mouth, hard-working approach. Martin falls in the same category.
57. Denver Broncos: Donald Stephenson, OT, Oklahoma
Landing Peyton Manning put the Broncos on the right path, but he does come with risks. Anybody who can help protect him should be viewed as a smart pick.
Which DT will make a bigger rookie impact?
58. Houston Texans: Alameda Ta'amu, DT, Washington
The Texans defense made huge strides toward becoming an elite unit last season. It could still use another addition or two like Ta'amu.
59. Green Bay Packers: George Iloka, FS, Boise State
Iloka is the only safety left on the board with the potential to help a team's defense right away next season. It's certainly an area of need for Green Bay.
60. Baltimore Ravens: Chris Givens, WR, Wake Forest
Depth at the wide receiver has been an issue for the Ravens for quite some time. Givens should slide in nicely behind starters Anquan Boldin and Torrey Smith.
61. San Francisco 49ers: Kelechi Osemele, OT, Iowa State
While taking A.J. Jenkins near the end of Round 1 was a reach, it fills a need. The same can be said for Osemele at tackle.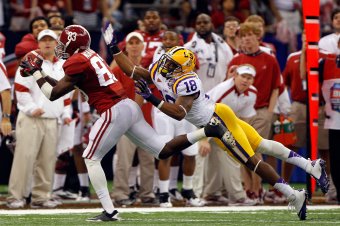 Chris Graythen/Getty Images
62. New England Patriots: Brandon Taylor, SS, LSU
It's amazing how many high drafts picks were playing defensive in the national championship game. Taylor seems like a type of player the Patriots would love.
63. New York Giants: Jamell Fleming, CB, Oklahoma
Wrapping up the second round, the Giants will stick to their plan of taking the most talented player left. Fleming won't blow anybody away with his speed, but he gets the job done.
This article is
What is the duplicate article?
Why is this article offensive?
Where is this article plagiarized from?
Why is this article poorly edited?