Winnipeg Jets: Evaluating Their Crop of Free Agents
April 27, 2012

Marianne Helm/Getty Images
GM Kevin Cheveldayoff is going to be a very busy man this offseason. After his initial focus on the draft in June, he'll need to shift his attention towards another important matter— free agency, which begins July 1.
The Winnipeg Jets enter the offseason with seven unrestricted free agents (UFAs) and four restricted free agents (RFAs).
Restricted Free Agents (RFAs)
The Jets RFAs include Evander Kane, Ondrej Pavelec, Spencer Mahacek and Eric Fehr.
It's usually guaranteed that RFAs are going to be re-signed (especially ones of this nature), as it is rare that a team will send out an offer sheet to try and pry a player away. And for the Jets, there shouldn't be any worrying about this crop of RFAs.
Kane and Pavelec are as untouchable as it gets in the NHL, meaning getting these two players re-signed is probably Cheveldayoff's top priority. Both of these players are centerpieces of this organization and the Jets will waste no time getting their deals done.
Expect Mahacek to get a deal this offseason, and furthermore, get a look with the big club in the beginning of the 2012-13 season. He's one of the Jets' top prospects and he made an impact during his stint with the Jets late in the season.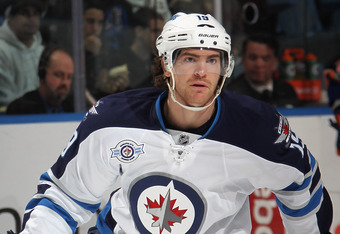 Bruce Bennett/Getty Images
As for Fehr, I would not be surprised to see the Jets let him walk, but if he does get re-signed, it would only be a one-year deal. Fehr had a disappointing season with the Jets, but recovering from an injury might be an excuse for some. However, I don't see much of a future for Fehr in Winnipeg.
Unrestricted Free Agents (UFAs)
UFAs are usually the more difficult to re-sign because it's fair game for all 30 teams.
The Jets UFAs include Jim Slater, Tanner Glass, Kyle Wellwood, Tim Stapleton, Randy Jones, Mark Flood and Chris Mason. As you can see, there aren't many household names. However, I think Cheveldayoff may want to get some of these guys re-signed as soon as possible.
Wellwood is probably the Jets top priority out of this UFA class. His season full of career-highs should set him up for a nice raise. Ideally, you're looking at a short-term contract ranging from anywhere between $2-$3 million per year.
Slater is arguably the Jets' top priority out of all of their UFAs. He is one of the best fourth-line centers in the NHL and his skills are of extreme value to this team. Expect the Jets to re-sign him.
Glass is probably another UFA that Cheveldayoff will consider high on his list. Glass helped to make up the GST line (Glass Slater Thorburn) and is a big part of why that line was successful. Expect him to be re-signed for at least one more season.
Stapleton played well enough to be considered for a new contract with Winnipeg, but I'm not sure how much of a future he has on this team. He's someone I could see the Jets letting walk and replacing with another UFA on the market.
As for both UFA defensemen, Flood and Jones, don't expect either of them to be re-signed. I like to consider them redundant. The Jets have too many defensemen right now and neither Flood nor Jones set themselves apart from anyone on the roster. Besides that, the Jets have young defensemen, such as Paul Postma, Zach Redmond and Arturs Kulda, in St. Johns who may get an opportunity.
As for Mason, the Jets backup to Pavelec, I'd expect to see him re-signed for another short-term, low-money deal. He did his job as a backup goalie and that's really all the Jets need. It'd be pointless to go out and sign some other backup goalie when the team already has a reliable one.
Nonetheless, expect to see many of the same faces in the 2012-13 season, but be prepared to say farewell to some of the redundant players on this team.