2012 NFL Draft Prospects: 3 First-Round Talents That Will Slip Past Round 2
April 27, 2012

Christian Petersen/Getty Images
There's been plenty of surprises in Round 1 of the 2012 NFL draft, from Morris Claiborne going to the Dallas Cowboys after a draft-night trade to Bruce Irvin going to the Seattle Seahawks.
Expect many more surprises in Round 2 tonight.
As the draft leans more toward need and less toward best available, there are a few prospects that won't hear their name called as soon as they once thought. They have the talent, but off-the-field issues and other setbacks have put their talent well past where they should have been drafted.
Mike Adams, OT, Ohio State
At 6'7", 324 lbs, Mike Adams is a load. He is still raw, though, and was suspended for seven games of his collegiate career for separate incidents.
Recently, he tested positive for marijuana at the NFL combine, further questioning his commitment to being an elite tackle in the league.
He has the skills and size to be a good player at the pro level. But the uncertainty surrounding his personal matters will likely dip him down into the third round, where he won't be considered a huge bust if things don't pan out.
Vontaze Burfict, LB, Arizona State
From a potential first-round pick just months ago, Burfict has dropped almost completely off the radar of NFL teams. This is the same guy that held together the Arizona State defense during his three years on campus.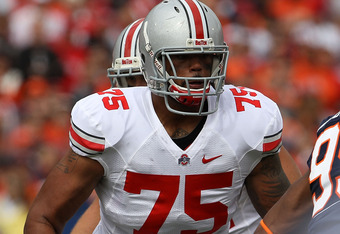 Jonathan Daniel/Getty Images
However, he's known as reckless on the field, and not in the good way. He racked up several unsportsmanlike penalties, and that's not even the worst of it.
He's admitted to smoking marijuana over the past couple days, amidst reports that he had failed a drug test at the NFL combine. Is he worth the trouble? Linebacker is a weak position in the draft, and he clearly can play, but teams might pass to the point that Burfict goes undrafted.
Ladarius Green, TE, Louisiana Lafayette
Playing at a small Division I school can sometimes hurt your draft stock. I think that's exactly what's going on with Ladarius Green.
He's a hybrid tight end, with the ability to play both the natural hand-down position or split out as a receiver. He doesn't have elite strength, but he did run a 4.53 at the combine, and his eight touchdowns at UL-LA suggest he could be a solid red-zone target for the right team.
Think of what the Patriots have done with Aaron Hernandez and Rob Gronkowski. Think of all the hybrid sets that the New Orleans Saints can employ. In the right system, this guy has first-round talent. However, his injury concerns and lack of bulk will hurt him in scouts' eyes. If he goes in the third or fourth round, the right team could be getting a great piece for its offense.