2012 NFL Mock Draft Round 2: 2nd-Round Picks That Will Shock Fans
April 27, 2012

Kevin C. Cox/Getty Images
With the first round out of the way, the 2012 NFL draft continues and there are sure to be more surprises. People take months preparing their mock drafts, only to have them ruined when a team makes a shocking trade.
We have already seen teams like the Cleveland Browns make a deal to move up one spot and the Dallas Cowboys trade up to the sixth spot.
Just as the first round consisted of shocking picks, the second round will as well.
Here is a mock draft for the second round and four picks that will shock you (the shockers will be italics).
Round 2

33. St. Louis Rams: Jonathan Martin, OT
The Rams need to add a wide receiver for Sam Bradford. Therefore, the obvious pick would be Stephen Hill. The Rams are going to shock fans when they pass on Hill for Jonathan Martin. This is a chance for the Rams to improve their offensive line, which is a serious need. The Rams have another pick in the second round and will use it on a wide receiver then.
34. Indianapolis Colts: Coby Fleener, TE
The Colts drafted Andrew Luck as their new franchise quarterback. Now they have to surround him with weapons and they will start with Fleener, who was his tight end in college,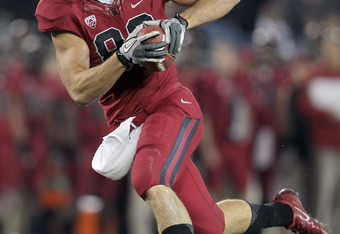 Ezra Shaw/Getty Images
35. Baltimore Ravens: Courtney Upshaw, OLB/DE
The Ravens are ready to win now but they also have to plan for the future. Upshaw with give some youth to the Ravens' aging linebackers.
36. Denver Broncos: Cordy Glenn, OT/OG
The Broncos' two biggest concerns are improving holes in their defense and keeping Peyton Manning on his feet. With this pick, they will take Glenn to help keep Manning upright.
37. Cleveland Browns: Stephen Hill, WR
The Browns are trying to completely revamp their offense and will take a wide receiver with this pick.
38. Jacksonville Jaguars: Janoris Jenkins, CB
The Jaguars need a pass-rusher. The smart pick would be Marshall's Vinny Curry, who would be a solid complement to Jeremy Mincey. The Jaguars are going to make a shocking pick and take Jenkins.
The issue with Jenkins is his character, not his ability. If he stays on the field, he is a shut-down corner that the Jaguars could use. The problem is, there is not a guarantee he will be able to stay on the field. The Jaguars are going to surprise fans with this pick and take a risk on Jenkins.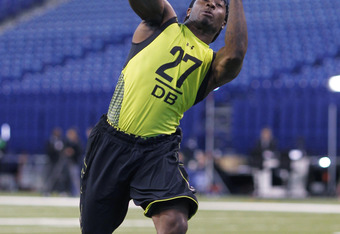 Joe Robbins/Getty Images
39. St. Louis Rams: Alshon Jeffrey, WR
Jeffrey will give the Rams a much-needed wide receiver target for Sam Bradford.
40. Carolina Panthers: Devon Still, DT
The Panthers need a defensive tackle and they will draft Still with this pick.
41. Buffalo Bills: Lavonte David, OLB
Lavonte David will help make the Bills a strong defense in the AFC.
42. Miami Dolphins: Reuben Randle, WR
The Dolphins drafted their quarterback; now they will give him a receiver.
43. Seattle Seahawks: Lamar Miller, RB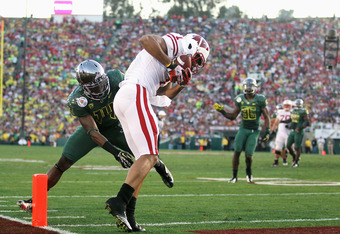 Jeff Gross/Getty Images
The Seahawks will take Miller with this pick to complement Marshawn Lynch.
44. Kansas City Chiefs: Kirk Cousins, QB
Matt Cassel has not panned out the way the Chiefs were hoping and they need to find his replacement. That will come from Kirk Cousins, who was held back from Michigan State's run-heavy offense. The Chiefs will shock fans by taking Cousins with this pick.
45. St. Louis Rams: Zach Brown, OLB
The Rams continue to try and fill the holes on their roster with this pick.
46. Philadelphia Eagles: Josh Robinson, CB
The Eagles are going to have to replace the disgruntled Asante Samuel. They will with this pick.
47. New York Jets: Nick Toon, WR
The Jets have a hole to fill at the wide receiver position. Toon would be a solid second-round pick. Do not be surprised if the Jets trade up.
48. New England Patriots: Jayron Hosley, CB
The Patriots need to improve their defense. They drafted two defenders in the first round and will continue that trend in the second round.
49. San Diego Chargers: Mike Adams, OT
The Chargers had too many turnovers last season and will try to improve on that with an offensive lineman.
50. Chicago Bears: Bobby Massle, OT
The Bears' success rides in the health of Jay Cutler. They can help keep him on his feet with Massle.
51. Philadelphia Eagles: Chris Polk, RB
The Eagles need a decent running back to keep LeSean McCoy fresh.
52. Tennessee Titans: Brandon Thompson, DT
The Titans will address their defensive situation after taking an offensive player in the first round.
53. Cincinnati Bengals: Brian Quick, WR
The Bengals will give Andy Dalton another young weapon to develop with.
54. Detroit Lions: Casey Hayward, CB
The Lions need help in their secondary and Hayward will be the best available at this pick.
55. Atlanta Falcons: Dwayne Allen, TE
The Falcons could try to get the heir to Tony Gonzalez with this pick.
56. Pittsburgh Steelers: Alameda Ta'amu, NT
The Steelers are going to need a defensive tackle in the near future.
57. Denver Broncos: Brock Osweiler, QB
The Broncos made the biggest splash of this offseason by signing Peyton Manning. They are taking a risk on one of the greatest quarterbacks of all time. The Broncos have to prepare for a potential injury to Manning and for their future. They could shockingly grab Osweiler with this pick. He is big and mobile. Osweiler has a strong arm but is also raw. He could benefit from learning behind Manning.
58. Houston Texans: Juron Criner, WR
The Texans need a wide receiver to complement Andre Johnson and fill in if Johnson gets hurt.
59. Green Bay Packers: Kendall Reyes, DT
The Packers could benefit from a space-eater like Kendall Reyes.
60. Baltimore Ravens: Peter Konz, C
Peter Konz could learn from Matt Birk and be ready to be the starting center for the Ravens in the near future.
61. San Francisco 49ers: Mitchell Schwartz, OT
Schwartz could help strengthen the 49ers' offensive line.
62. New England Patriots: Robert Turbin, RB
Bill Belichick likes having a surplus of running backs and they could add an offensive piece with this pick.
63. New York Giants: Ladarius Green, TE
The Giants decided to add a running back instead of a tight end in the first round. They will draft a tight end in the second round.