?The Most Insane Ballpark Food in Sports?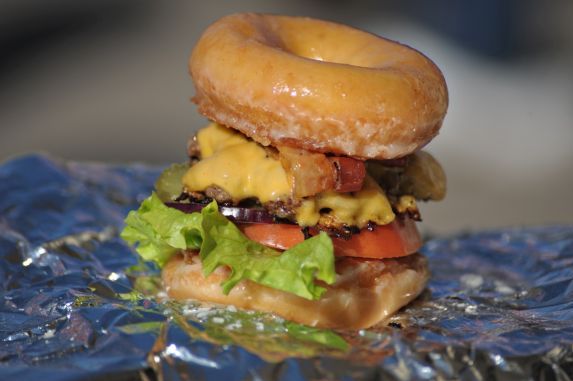 Greasy kielbasas and overpriced burgers have become the routine fare at sports stadiums around North America, but that doesn't mean there isn't a secret collection of artery-threatening delights dripping in the shadows.
As we peruse the continent's ballparks in search of the most unbelievable delicacies, we find quite the array of edible masterpieces.
Let's see which food ideas made the cut for the craziest in all of sports.
Don't forget your Tums.
Begin Slideshow

»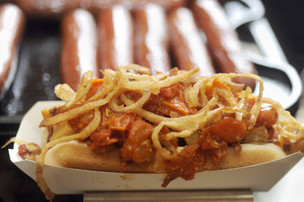 Image via katietothemax.tumblr.com
It may seem like just another routine chili dog dripping in death, but The Birdland has much more going on.
The oozing dog can be found at Camden Yards and is topped with pit beef, pepperoni, potato hash, onion rings and tomato relish.
The post-meal-itis must be instantaneous.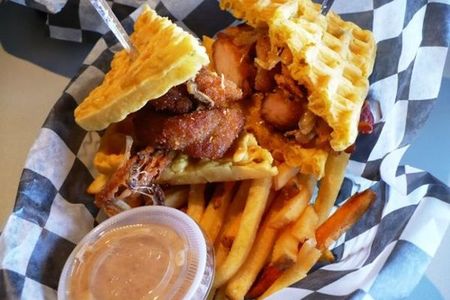 Image via eatdrink2x.wordpress.com
Named after Hank Aaron, of course, Turner Field's "The Hammer" starts off with a bang.
It boasts a Southern-fried chicken breast topped with applewood smoked bacon, onions, pepper jack cheese and pecan maple mayonnaise, a mouth-watering takeoff.
But the capper? Two toasted waffle buns. Whoa.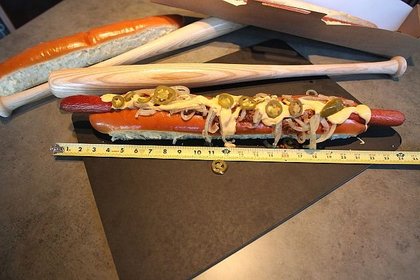 Image via sports.yahoo.com
Unless it's stuffed with a gold watch, the price may be fluffed a bit.
But a Coney Island-style dog topped with shredded cheese, chili and sauteed onions, surrounded by a bun made from "exotic bread flown in from France," sounds intricate enough to flip out the wallet.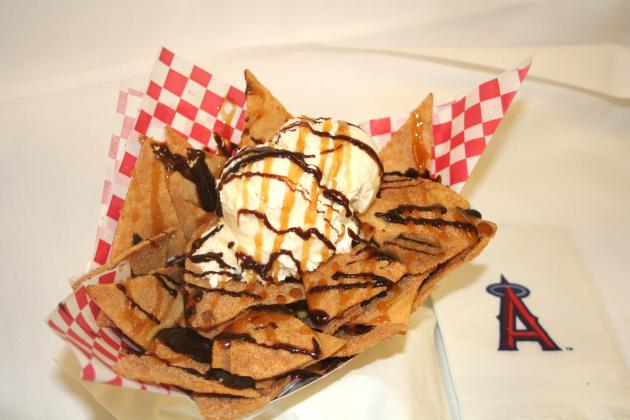 Image via sportsandfood.com
Don't be fooled—this curious Angel Stadium creation has serious potential. But buyer beware.
Tortilla chips topped with cinnamon sugar, vanilla bean ice cream, Hershey's syrup and caramel sauce sounds like a cooling yet questionable finish to a steamy day in the nosebleeds.
Let's hope the chips are the only element used in real nachos.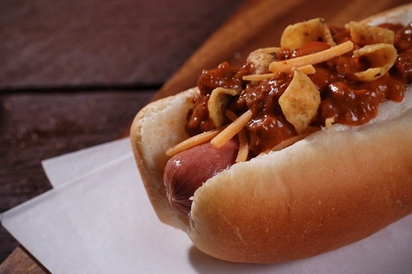 Image via nydailynews.com
The normal workings of a chili dog topped with Fritos—the perfect way to ruin any traditional wiener.
Now we know where Sonic got the idea.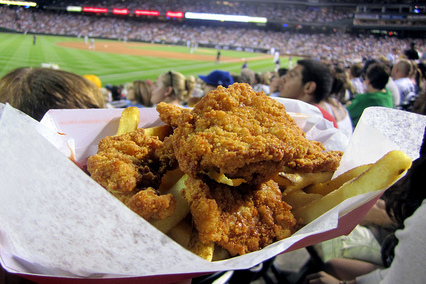 Image via www.flickr.com/photos/wallyg
Don't be fooled by the name. These deep-fried bulls testicles are no routine dish.
Wait, did you say bulls testicles?
Yes, indeed.
Coors Field clearly gives fans an experience like no other.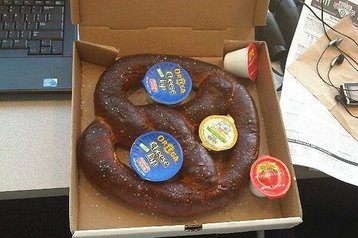 projects.ajc.com
It's been said that everything is bigger in Texas, and based on this monstrous snack, we're beginning to believe it.
Three pounds of soft pretzel, three dipping sauces and the instantaneous hardening of arteries.
Nice, nice and nice.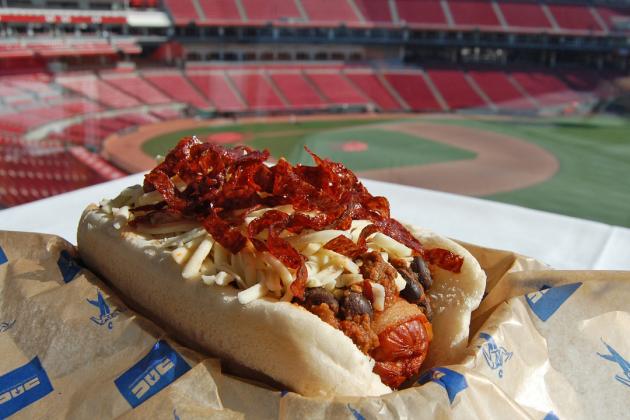 Image via ramsey.mlblogs.com
The Cincinnati Reds give their fans plenty to do during their day at the ballpark, including make an attempt at this gargantuan hot dog construction.
It holds a quarter-pound deep-fried hot dog, topped with heaps of chili, pepper jack cheese and fried salami.
This is not for the average meat enthusiast—this meal requires passion.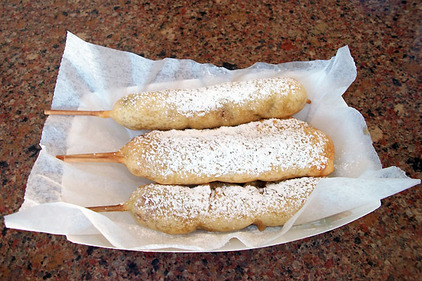 Image via sportsillustrated.cnn.com
Combining hot dogs with fried dough may seem risky, but it's oh so pleasing to the taste buds.
Like an enhanced corn dog, this hybrid delight is sure to get you back to Arvest Ballpark, home of the Northwest Arkansas Naturals.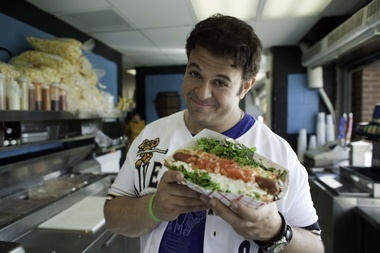 Image via busleagues.wordpress.com
A half-pound all-beef dog with 25 possible toppings sounds like the perfect capper to any day at the ballpark.
It's only natural that the Charleston Riverdogs would serve such a massive dog, but let's not forget that this spectacle found its way onto Man vs. Food, where even the legendary Adam Richman had trouble.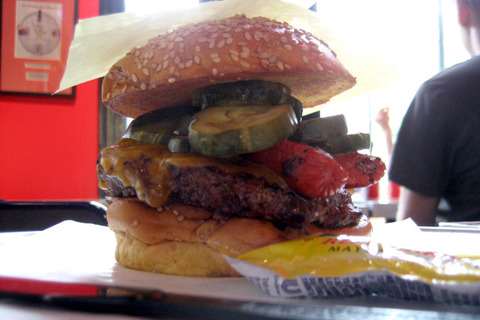 Image via dcist.com
We're all for eating challenges, but Nationals Park's ordinarily-named stacker (after phenom Stephen Strasburg) seems a bit out of control.
Sure, it's got American cheese, shredded lettuce, sliced tomatoes, sliced red onions, pickle chips, fries and an enormous bun, but...oh yeah, it's stacked with eight pounds of ground brisket, chuck and short ribs. Eight pounds!
We've finally solved the food crisis.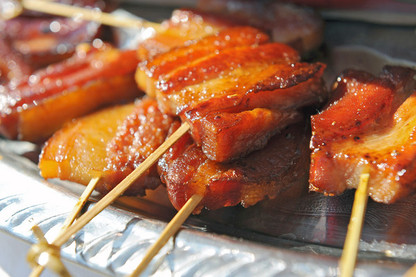 Image via baltimoresun.com
Stuffed in National Bohemian bottles, this tasty delicacy is a dream for any meat lover. And you can bet Camden Yards offers this magical treat.
So simple, yet so effective.
Image via cnbc.com
For those with a weak stomach, the Fifth Third Burger (found at Fifth Third Ballpark, home to the West Michigan Whitecaps) is out of the question.
The masterpiece consists of five hamburger patties topped with a cup of chili, five slices of American cheese, salsa, nacho cheese, Fritos, lettuce, tomato, sour cream and possibly jalapenos.
Clogging the arteries one bite at a time.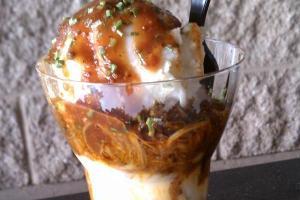 Image via talksy.com
Parfaits routinely consist of fruit and whipped cream, but this Miller Park creation strays far from the norm.
Pulled pork, mashed potatoes and chives combine to form quite the strange dinner...or dessert...or whatever it is.
While the taste is surely phenomenal, the parfait-esque presentation is a turnoff.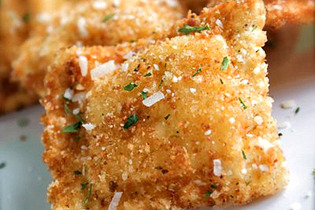 Image via nanato4ts.blogspot.com
The Blues, toasted ravioli, the Cardinals...these are St. Louis passions, in no specific order.
We thank St. Louis fans tremendously for offering such a unique dish. Never was pasta of any kind an option at the ballpark, but frying ravioli and presenting a side of marinara sauce is genius, albeit gutsy.
Well done.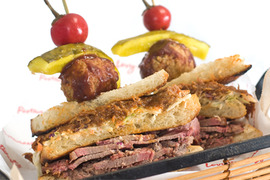 Image via milb.com
Aces Ballpark, home to the Reno Aces, offers one of the most diverse creations we've ever salivated over.
Generous portions of pulled pork and brisket are stuck between three slices of Pullman bread with plenty of coleslaw and then topped with barbecue meatballs, pickles and cherry peppers.
A memorable tailgate simplified into one sandwich.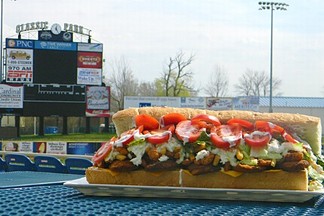 Image via espn.go.com
A 4,000-calorie, 15-inch combination of fried fish, clams, cheese, fries, coleslaw and tartar sauce is sure to keep you doggy-paddling towards the bathroom for months.
Found at Classic Park, home to the Lake County Captains, this "Moby Dick Sandwich" gives seafood lovers an overdose and routine eaters a chance to consider vegetarian lifestyles.
Glamor and gluttony all in one.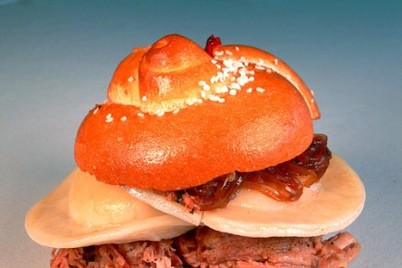 Image via foodandproof.com
Introduced at PNC Park for the Pittsburgh Pirates' 2011 season, this magical creation toes the line between greatness and insanity.
A heaping of pulled pork, two pierogis and a capping of caramelized onions sounds great—until it's surrounded by a thick pretzel roll.
That's just too much salt in this enclosed area.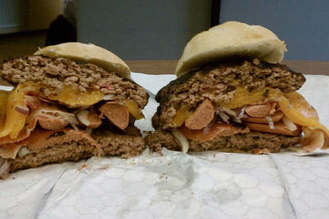 Image via the330.com
The Akron Aeros certainly need to think outside the box in attracting fans, but their most recent creation is bordering on madness.
1.75 pounds of burger meat stuffed with a half pound of hot dog and a quarter pound of bacon, cheese and onions simply doesn't sound plausible.
Let's keep hamburger and hot dog separated from now on, thanks.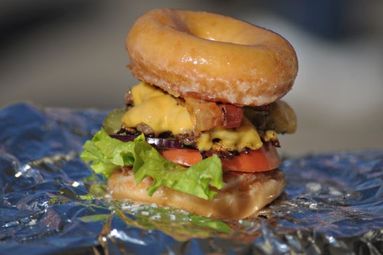 Image via amny.com
Finally, the mecca of insanity.
A juicy cheese- and bacon-covered burger (often topped with an egg) surrounded by two succulent doughnuts sounds almost perfect. It can be found at GCS Ballpark in Illinois (the home of the Gateway Grizzlies).
But too perfect can be misleading, and the eventual trip to the ER should quell all future cravings.
Heaven and hell, all in one.