St. Louis Rams: Players They Should Draft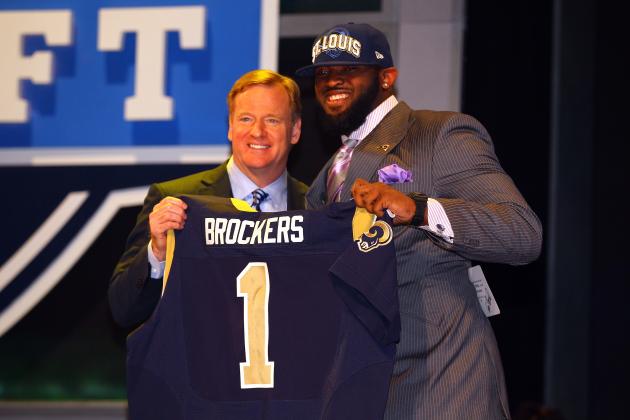 Al Bello/Getty Images
Rams first round pick, Michael Brockers, will shore up the defensive line. Now it is time to focus on helping Sam Bradford
The Rams first round trade from sixth overall to 14th was the best move for the team. It seemed as though the organization was not sold on Blackmon, and once the Jaguars moved up to select him, it made it easier for the team to trade down. If the Rams stayed at No. 6 and Blackmon was available, there would be a ton of pressure from fans to select him.
Luckily, the Rams were able to trade down to 14th and still able to select Michael Brockers, a player they were contemplating with the sixth pick.
This trade with the Cowboys netted the Rams another second-round pick for tonight. That gives the Rams the first, seventh and 13th picks in the second round. Couple that with the second pick in the third round, and this team will be in for a major overhaul.
What should the St. Louis Rams do with these picks?
If you are wondering that, don't bother because I have the answer for you.
Begin Slideshow

»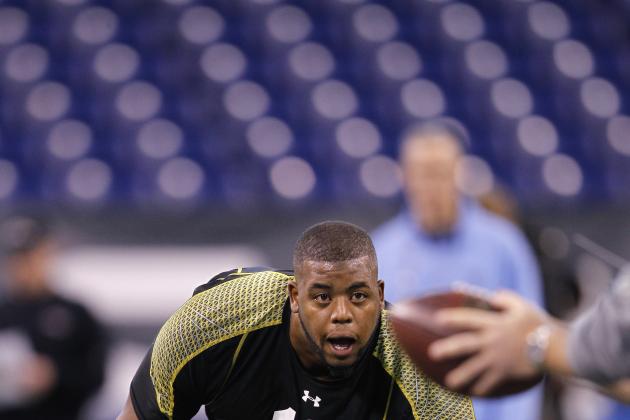 Joe Robbins/Getty Images

This man is one of the best pound for pound athletes in this year's draft. Glenn broke into Georgia's lineup as a freshman and has been a four year starter on a quality football team. He spent time at both the left tackle and right tackle positions for the Bulldogs, playing left exclusively for his final two seasons.
Glenn is not quick enough to man the left side in the NFL, but he is one of the most versatile athletes to enter the league regardless of position. Glenn will step in day one and be a starter for the Rams, the only question is what position.
Glenn could admirably man the right side in the NFL, which would push Jason Smith over to left guard. However, I believe Glenn can be an All-Pro left guard in the league. He is a plug and play guard (to steal a classic Mike Mayock line) and will instantly solidify the blind side of Sam Bradford with Roger Saffold.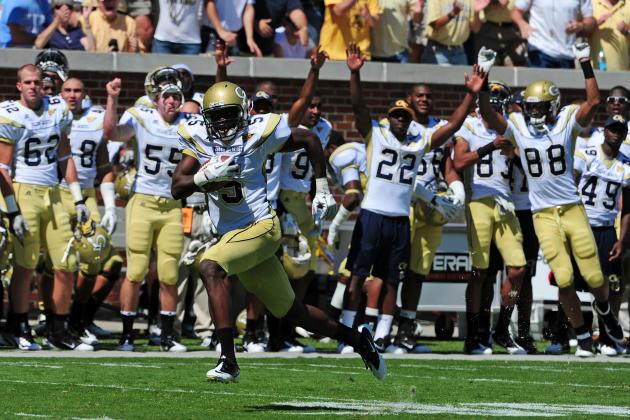 Scott Cunningham/Getty Images
A picture opposing cornerbacks should get use to.
Hill is the classic risk-reward wide receiver who played in an option offense in college. He is one of the rawest prospects in the draft, but he has one of the highest ceilings you will find.
Hill comes in at 6.4/215 and runs a 4.3 40. Those numbers are absolutely amazing. During the combine and Georgia Tech's Pro Day, Hill showed his explosiveness in the broad jump and vertical leap as well.
Despite all of those physical abilities his actual football play is raw. Hill never ran a full route tree in college and would normally just sprint up the field. However, a player can be taught how to run routes, a player can learn a playbook, but you cannot teach physical ability, and Hill has more athleticism than just about anybody on the draft.
Georgia Teach has also produced NFL receivers like Demaryius Thomas and Madden 13 cover boy Calvin Johnson.
The Rams need a big, fast No. 1 receiver ASAP. Hill will immediately open up the Rams passing game and allow Danny Amendola and Steve Smith to work underneath. Easier throws for Bradford mean a more confident Bradford. Although Hill may take a couple seasons to develop fully, there is no doubt that he will at least become a quality starter for the Rams and possibly a Pro-Bowl player.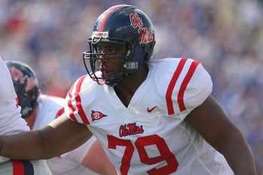 The player who will keep Cordy Glenn at left guard. Massie is the perfect fit for the right tackle position.
Massie started for Ole Miss during his freshman year and started at right tackle during his sophomore and junior years.
Massie is a big strong player who can become a dominant fixture on the Rams line for years to come. He did have problems against Alabama, particularly covering Courtney Upshaw. Massie's pass protection needs work, especially against speed rushers, and so too does his technique.
But once again, Massie is an incredibly athletic player who can do any task you ask him to do physically. All of Massie's problems are in his technique, but, just like Stephen Hill, those problems can be corrected with proper coaching.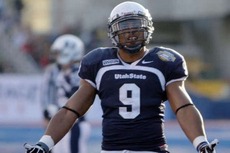 Wagner would fit nicely flanking James Laurinaitis.
Wagner is solely a 4-3 outside linebacker, which is why the Rams are lucky enough to have him fall into the third round.
Wagner racked up 147 tackles, four sacks and two interceptions during his senior year playing for Utah State. He also reportedly ran a 4.46 at his pro day. He is a heady all-around player who can fill up a stat sheet and make the players around him look better.
Wagner has a lack of scheme versatility though. Weighing in at 240 lbs, with what looks like a maxed out frame, teams that run a 3-4 defense will not even have this kid on their board.
The Rams though will get a quality starting will linebacker for the first time this millennium. Pairing him with James Laurinaitis will create an instinctive tackling linebacker corps in St. Louis for years to come.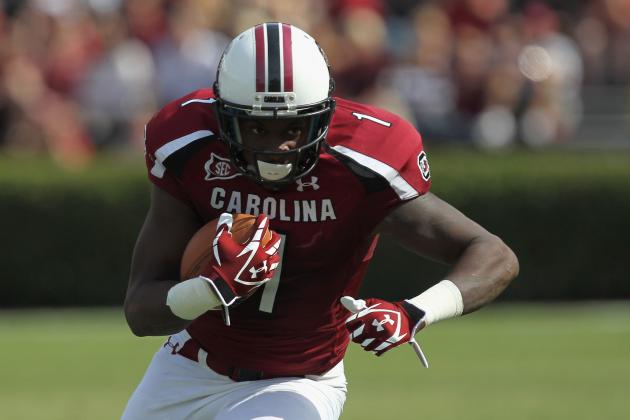 Streeter Lecka/Getty Images

Jonathan Martin, OT (Stanford)
An immediate starter at right tackle no matter where he is drafted. Martin would push Jason Smith out of the starting job as the Rams right tackle and possibly to guard. Reliable, but I don't see greatness in his future.
Rueben Randle, WR (LSU)
Randle is a polished receiver. He is big, he has good hands and he runs good routes. However, he has a very low ceiling and is more than likely a possession receiver at the next level. Although that could get him drafted in round two, I don't think the Rams need a player like that.
Janoris Jenkins, CB (North Alabama)
The troubled cornerback has every skill an elite shutdown player could have. Jenkins even starting on a national championship team with, now Cleveland Brown, Joe Haden. However, since returning for his senior season, he has faced multiple drug-related charges and was dismissed from Florida. If he can get his problem fixed he could be a top-five cornerback in the NFL.
Lamar Miller, RB (Miami)
One player in this draft who could step in day one and be a game-changer. Miller has amazing speed for his 212 lb body. Combine that with his great receiving skills, route running and his durability and you have a stud running back at the next level.
Lavonte David, LB (Nebraska)
Classic case of a player possibly dropping due to size. David is 6'1'' and only 225 lbs, but it is his play on the field that you should watch. He totaled 133 tackles, 5.5 sacks and three forced fumbles. He is a fast and physical player, despite his size, and the Rams would have two potential Pro Bowl linebackers on the roster.
Alshon Jeffery, WR (South Carolina)
This draft's troubled child. Jeffery could very well have been a top-10 pick and likely the first receiver taken had he been able to keep his weight in check. If the Rams think they can motivate Jeffery, they should take him, but it is the biggest risk-reward pick in the entire 2012 NFL draft.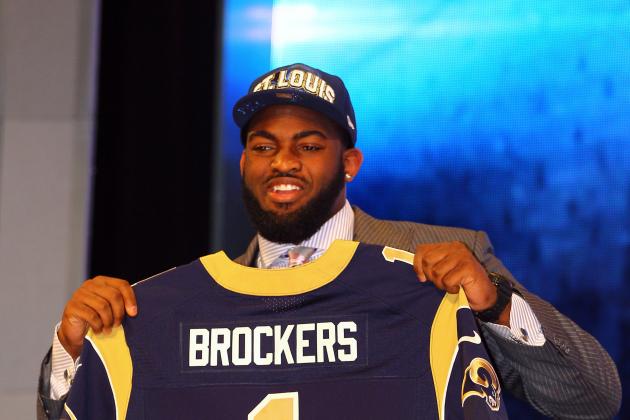 Al Bello/Getty Images

Who will be joining Brockers in St. Louis?
We won't know until the night is over, however if the Rams follow this strategy they will have a solid foundation to build upon. With two first-round picks in the next two seasons, this draft does not have to blow anybody away. This draft needs to make this team better.
What do you think though?
Am I a genius?
Am I an idiot?
Leave a comment below and let me know.
Thanks for reading,
Cheers