2012 NFL Draft Predictions: Smart Moves Round 2 Teams Will Make
April 27, 2012

Chris Graythen/Getty Images
Day 1 and Round 1 of the 2012 NFL draft is in the books, and as teams prepare for tonight's second and third rounds, they'll do so with some first-round talent still available in the early picks.
In a draft that saw Bruce Irvin from West Virginia taken ahead of more touted guys like Dont'a Hightower, Melvin Ingram and Quinton Coples, we now see teams looking to make moves to upgrade their roster from top to bottom.
The strategy becomes less about taking best available and more about taking the best players that can help your football team's needs, unless there is an absolute steal waiting to be selected, of course.
That being said, here are some of the smartest moves that you will see in Round 2 tonight.
Indianapolis Colts, Pick 34: Coby Fleener
Rookie quarterbacks often need a security blanket. Whether they come out and throw five touchdowns or 30, the speed of NFL defenses and the sheer athleticism of NFL players in jumping from the NCAA to the next level is daunting, at first.
I do think Andrew Luck will be a very good quarterback in this league. He's got all the tools, so why not give him someone to mesh with right away? I could also see the Colts taking an interior lineman here, maybe Peter Konz from Wisconsin.
But Fleener graded out well at the combine, and the intangibles with Luck make the tight end hard to pass up if he gets past the St. Louis Rams just one pick prior. Luck and Fleener could lay the groundwork in becoming one of the best QB-TE duos in their first year in the league.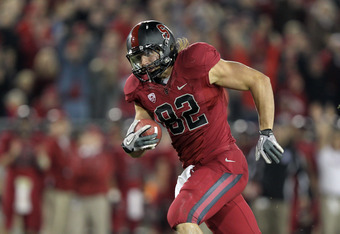 Ezra Shaw/Getty Images
Baltimore Ravens, Picks 35, 60: Elite Defenders
We've all been spoiled watching Ray Lewis and Ed Reed captain this Ravens defense over the past decade. But it's time for the team to look to the future on defense, and they can do so by adding guys that will hopefully help replace those two when the time comes.
As for pick 35, they should take Courtney Upshaw if he falls past the first two picks of the round. He's exactly the kind of athletic, pass-rushing, hybrid player that should thrive under coach John Harbaugh's defense.
Since they traded out the first round, they'll also have another pick to play with. If they see someone like Lavonte David fall to where they think they can nab him, he would be another nice piece to have on the defense in Baltimore.
Cleveland Browns, Pick 37: Down-the-Field Receiver
Cleveland has committed a pick to the run game with Trent Richardson at No. 3, and then to create a real QB competition by drafting Brandon Weeden at No. 22.
Now, they need a receiver for Weeden or Colt McCoy to throw to.
Stephen Hill, Mohamed Sanu or Alshon Jeffery could all be there when Cleveland is on the clock. Any of these guys would be an immediate upgrade over what the Browns have now. If Fleener falls to 37, he could also be the pick here, but I don't think he will.