2012 NFL Draft Grades: First-Round Highlights and Report Card for Each Team
April 27, 2012

Al Bello/Getty Images
The first round of the 2012 NFL draft was filled with tons of trades, terrific draft moves and, of course, mind-boggling picks.
Thursday's biggest story was the eight trades that occurred. Teams were wheelin' and dealin' all over the place, but as usual, a few teams made some bad calls. 
The Denver Broncos and Baltimore Ravens traded out of the first round, which didn't make much sense. Sure, they received more draft picks as a result, but both teams passed on the chance to get some superb talent to help make an immediate impact. 
Teams doing dumb things on draft day happens every year, and for the second year in a row, it's the Seattle Seahawks making the biggest questionable first-round pick. Pete Carroll and his staff drafted Bruce Irvin of West Virginia, a guy who had a second-round grade by most. 
Seattle needed to upgrade its pass rush, but taking a major reach on Irvin at No. 15 was insane, especially considering pass rush specialists like Melvin Ingram, Chandler Jones, Shea McClellin and Nick Perry were all still up for grabs.
Of course, they weren't the only ones who made bad decisions. Tampa Bay traded back two spots, missing out on the chance to draft the talented cornerback Morris Claiborne.
The former LSU standout has All-Pro written all over him, but the Buccaneers dropped back and ended up reaching on former Alabama safety Mark Barron. In addition to that, they also traded back into the first round to draft Doug Martin. 
This wasn't a good move for Tampa Bay, as it could have easily waited until its early second-round pick to draft a quality running back. There's a chance they would have been able to land Martin in Round 2 or a skilled back like Chris Polk or Lamar Miller. 
Cleveland made some interesting picks, trading up one spot to secure its chances of drafting Trent Richardson, but the Browns picked Brandon Weeden with No. 22, which was a major gamble. 
In five years when we look back at this draft, we might be calling the Ryan Tannehill pick to the Dolphins at No. 8 the ugliest selection of Round 1. 
As for the winning teams of Round 1, the New England Patriots, Minnesota Vikings and St. Louis Rams stood out the most, as they all made great trades that significantly helped their roster. 
Bill Belichick and his staff actually traded up for a change, ensuring the Patriots upgrade their defensive front with Dont'a Hightower and Chandler Jones.
The Vikings traded back and still got their guy in Matt Kalil. They also moved back into the first round to address their need for help in the secondary by adding safety Harrison Smith.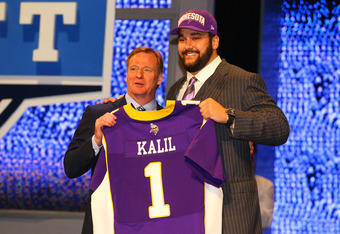 Al Bello/Getty Images
While the Rams only had one first-round pick, they moved back quite a bit to acquire a ton of picks for the rest of the weekend. They picked a stud DT in Michael Brockers and now have three picks in the first 13 choices of the second round. 
Round 1 of the 2012 NFL draft had its ups and downs, and Round 2 is sure to be just as fun. Now that I've shared with you the highs and lows of the first round, read on to see what grades I give each team. 
Grades are based upon the team's pick and not my views on the player. Just because the grade is a C, it doesn't mean I think that player is a bust, but more along the lines of the team had better options at that pick. 
1. Indianapolis Colts: Andrew Luck - Grade: A+
2. Washington Redskins (via St.L): Robert Griffin III - Grade: A+
3. Cleveland Browns (via Min): Trent Richardson - Grade: A 
4. Minnesota Vikings (via Cle): Matt Kalil - Grade: A 
5. Jacksonville Jaguars (via TB): Justin Blackmon - Grade: C+
6. Dallas (from StL via Wash): Morris Claiborne - Grade: A
7. Tampa Bay Buccaneers (Jax): Mark Barron - Grade: B- 
8. Miami Dolphins: Ryan Tannehill - Grade: D- 
9. Carolina Panthers: Luke Kuechly - Grade:  C+ 
10. Buffalo Bills: Stephon Gilmore - Grade: A-
11. Kansas City Chiefs: Dontari Poe - Grade: C+
12. Philadelphia Eagles (via Sea): Fletcher Cox - Grade: B 
13. Arizona Cardinals: Michael Floyd - Grade: A
14. St. Louis Rams (via Dal): Michael Brockers - Grade: A
15. Seattle Seahawks (via Phi): Bruce Irvin - Grade: F 
16. New York Jets: Quentin Coples - Grade: C 
17. Cincinnati Bengals (via Oak): Dre Kirkpatrick - Grade: C+
18. San Diego Chargers: Melvin Ingram - Grade: B+
19. Chicago Bears: Shea McClellin - Grade: C+
20. Tennessee Titans: Kendall Wright - Grade: B+
21. New England Patriots (via Cin): Chandler Jones - Grade: A-
22. Cleveland Browns (via Atl): Brandon Weeden - Grade: D
23. Detroit Lions: Riley Reiff - Grade: A
24. Pittsburgh Steelers: David DeCastro - Grade: A+ 
25. New England Patriots (via Den): Dont'a Hightower - Grade: A
26. Houston Texans: Whitney Mercilus - Grade: C+
27. Cincinnati Bengals (from Cin via NO): Kevin Zeitler - Grade: B-
28. Green Bay Packers: Nick Perry - Grade: A
29. Minnesota Vikings (via Bal): Harrison Smith - Grade: B+
30. San Francisco 49ers: A.J. Jenkins - Grade: C-
31. Tampa Bay Buccaneers (from Den via NE): Doug Martin - Grade: C+ 
32. New York Giants: David Wilson - Grade: C+