2012 NFL Draft: Second-Round Opportunities for the Carolina Panthers
April 27, 2012

Gregory Shamus/Getty Images
After an overly eventful and rather quick first round of the 2012 NFL draft, we now know the Carolina Panthers will be suiting up Boston College linebacker Luke Kuechly this upcoming season.
Carolina passed up on some notable names for Kuechly such as Stephon Gilmore, Michael Floyd, Michael Brockers and the assumed favorite going into the day—Quinton Coples.
Ultimately, I believe the pick was the right one, and for that you must take two factors into account.
For one, drafting need over value in the top 10 isn't the most efficient draft strategy out there. Instead, war rooms must be able to find the highest need-to-value ratio out there. And with Kuechly graded as a top-five prospect amongst quite a few publications, the Panthers did exactly that.
Secondly, Carolina fans cannot doubt their general manager, Marty Hurney. Hurney has arguably seen the highest success rate amongst all NFL executives when it comes to first-round selections.
Hurney has reeled in some exceptional talent in the first in a list which includes Cam Newton, Julius Peppers, Jon Beason, DeAngelo Williams, Jonathan Stewart and Chris Gamble amongst others.
But unlike my fellow Carolina Panthers B/R writers in Jimmy Grappone and Clint Evans, I'm not here to further evaluate the Kuechly pick. (Analysis of the Kuechly selection from Grappone and Evans is much suggested. Click on their respective names for the article link.)
Rather, I'm here to compile the best possible second-round scenarios for the Panthers. And with a lot of gold passed up in the first, it'll be tough for the team not to hit a home run with their second selection.
Jonathan Daniel/Getty Images
Here are the best prospects left for Hurney, Ron Rivera and the rest of the war room:
Jerel Worthy, DT, Michigan State
After passing up the likes of Cox and Brockers, the Panthers may find one of the draft's biggest steals in the second-round if Michigan State's Jerel Worthy is still on the board. 
Worthy stands at 6'3" and 310 lbs., and has tremendous upside. He has a quick first step and can change direction very well. Worthy finished the 2011 season with 3.5 sacks and nine tackles for a loss.
Numerous NFL analysts, most notably Mike Mayock, actually have Worthy as a first-round talent and the third-best defensive tackle prospect in the entire draft. So if he's there, I cannot see the front office passing up on him.
Carolina already grabbed a sure-fire player in Kuechly and can continue their "A" draft is they can grab a hell of a steal in Worthy.
Courtney Upshaw, DE, Alabama
Just like Worthy, the Panthers can find a gem for their defensive line in Alabama's Courtney Upshaw.
Upshaw, 6'2" and 265 lbs, has tremendous versatility in terms of positioning on defense. He has good speed and strength and is very quick off the ball. 
The defender from the BCS national champion racked up 9.5 sacks this past season en route to being classified as one of the nation's top pass-rushers.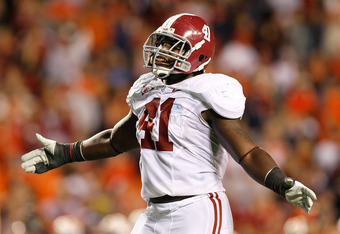 Kevin C. Cox/Getty Images
If this was a week or two ago and you told me Upshaw would not be selected in the first round, I may have committed you to your local psych ward. But with questions regarding his scheme flexibility despite his versatility, most teams in the second half of the first round opted for other pass-rushers.
Given the Panthers' lack of a solid pass rush, I'm sure the team will be looking into the Alabama product if he continues to slip.
Alshon Jeffery, WR, South Carolina
I've been at this second-round possibility for quite some time now.
Although the more popular pick amongst most fans would be Georgia Tech's Stephen Hill, I believe Alshon Jeffery is the best wide receiver in the entire draft. Yeah, you heard me: Alshon Jeffery is the top wideout prospect of the 2012 NFL draft.
Jeffery, at 6'4" and 229 pounds, has an incredibly promising skill set, making him a very desirable player in the upcoming draft. In three seasons at South Carolina, Jeffery hauled in 22 touchdowns and eclipsed the 600-yard receiving mark each year.
There is no doubt the Panthers must improve their defense in order to compete. But with the NFL evolving into a passing league, Jeffery, who could wind up as one of the game's top wideouts, would be quite an investment for an already potent offense.
Jeffery silenced all his doubters during his pro-day, where he showed up in great shape and ran a very nice 4.38 40-time. 
The South Carolina Gamecock would be an incredibly solid No. 2 option and eventual No. 1 for Cam Newton.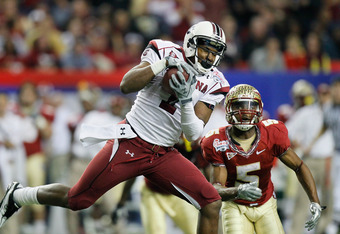 Kevin C. Cox/Getty Images
Janoris Jenkins, CB, North Alabama
Along with Arizona State linebacker Vontaze Burfict, North Alabama's Janoris Jenkins is one of the riskiest prospects in this draft. 
Jenkins, a North Alabama transfer, clearly possesses the right amount of tools to become a shutdown corner in the NFL. He has elite anticipatory skills, great awareness for the ball and is extremely solid in run support. 
In addition, Jenkins has already matched up with some NFL players during his time in the SEC as a Florida Gator. He has seen professional talent such as Cincinnati's A.J. Green, Alabama's Julio Jones and the aforementioned and soon-to-be NFL wideout Alshon Jeffery from South Carolina.
But with the talent comes some red flags. Jenkins' problems with marijuana, at Florida and perhaps even at North Alabama, should certainly raise concerns amongst teams. Add that to the fact that he has fathered four children with three women, and you may have the worst player in this draft in terms of judgment.
If Carolina believes his problems are behind him, Jenkins could pair up with Chris Gamble to make one of the league's best cornerback duos.
Other Second-Round Opportunities
Stephen Hill, WR, Georgia Tech
As I stated earlier, I do have Jeffery ranked ahead of Hill here. Either way, I can't see St. Louis passing on him with the first pick in the second round.
Andre Branch, DE, Clemson
Clemson has a specialty in developing first- and second-round defensive end talent. Andre Branch is no exception.
At 6'5", 260 lbs, Branch has great size and is very versatile. He can either play as a linebacker in a 3-4 scheme or an end in a 4-3. He also has a knack for getting into opposing backfields, as he recorded 10.5 sacks and 14 tackles for loss in 2011.
Devon Still, DT, Penn State
Three months ago, Devon Still was mocked as high as No. 9 to the Panthers. But with this underwhelming combine performance, he has dipped to the second or third tier of defensive tackles in draft class.
Jonathan Martin, OT, Stanford
Just as Still, Martin was mocked as one of the early favorites for Carolina's ninth overall selection. But despite slipping into the second-round, the Panthers can add some much needed depth to their offensive line with a steal in Martin.
Cordy Glenn, G/OT, Georgia
The same goes for Glenn. If the Panthers want to stock up on protection for Newton, Glenn would be an ideal grab. Being that he can be a starter at either guard or tackle, there's no doubting how useful the 6'5", 348-pounder would be.