2012 NBA Playoffs: The Complete Guide to the Western Conference Bracket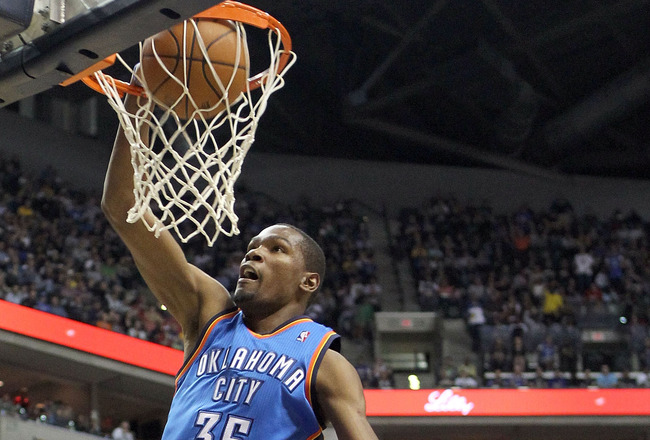 Andy Lyons/Getty Images
The 2012 NBA playoffs commence Saturday, signaling the merciful yet mournful conclusion of a 66-game regular season that looked like a doddering dad trying to shove a broken dining room chair into his kitchen's trash compactor.
Players experienced more "D'oh!" moments than Homer Simpson, while frustrated coaches were often asked to turn expired ground chuck into steakhouse-quality filet mignon. The endurance test a condensed slate created for the league's 30 teams was fascinating, comical and grotesque all at once. The harebrained labor dispute's November resolution did allow for a Christmas Day start, but it necessitated at least one back-to-back-to-back set for every squad.
The challenge of crowding that many contests into a few months meant each franchise consumed an equal portion of the resulting feces sandwich.
Thanks, lockout!
One week, Mark Cuban assailed a frantic schedule that did not include a planned stop in Washington D.C., which would have made a White House visit easier. The next, Gregg Popovich appeared ready to challenge the employees who concocted the 66-date itinerary to a no-holds barred cage match.
"Ridiculous," the Spurs coach said (via Spurs Nation).
The payoff for surviving a bizarre season looms this weekend for 16 teams. The title contenders each harbored the arduous goal of arriving intact to take a shot at securing the Larry O'Brien Trophy. The others in the postseason field just wanted to dance beyond late April. They will hope that opponent missteps lead to upset opportunities.
No team has ever pulled off a stunning postseason overthrow without making the playoffs. Shhhh...don't tell the Houston Rockets. They need silence and space to recuperate from a breathtaking display of choke-artistry.
The 16 qualifiers, by contrast, will spend what breath remains for a whack at golden glory. Each one boasts a fatal flaw that, if exposed by the wrong foe, will cause travel agencies across the country to gain another group of customers.
How's this for a revamp of TNT's playoff coverage slogan: Sack up or go home.
The strongest squads survive. The meager or overmatched ones make early vacation plans.
What advantages and shortcomings does each postseason entrant possess? What are the recipes for success and doom?
Keep reading for a Western Conference primer.
8. Utah Jazz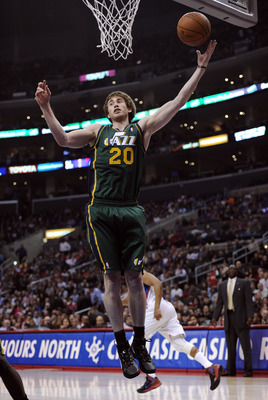 Harry How/Getty Images
Team synopsis
Tyrone Corbin kept many of the offensive and defensive principles his predecessor Jerry Sloan installed in the late 1980s when he moved last offseason from interim coach to Salt Lake City's next potential long-term sideline chief.
Corbin has since enacted his own tweaks.
His bunch tends to play hard and with a purpose, though competitive lapses affect both on-court judgment and the tally on the scoreboard. The Jazz finished on a 5-game winning streak, including a clinching home triumph versus the Suns, to snatch the eighth seed.
Utah, then, enters the fray on a relative roll.
Strengths
* Al Jefferson and Paul Millsap form a difficult-to-guard starting frontcourt that can pepper opponents with mid-range jumpers, calculated hook shots or cuts to the rim. The tandem helped Utah average the association's second-most points in the paint.
* Gordon Hayward is a capable, explosive scoring guard who also busts his butt on defense.
* Devin Harris is a fleet-footed, streaky point maker.
* Young big men Enes Kanter and Derrick Favors provide intriguing invigoration off the bench.
* Leaving C.J. Miles unattended is a regrettable idea.
* Josh Howard, when healthy, can still manage a difference-making performance on both ends. While his knees have betrayed him, his belief he can contribute has not.
* Corbin will demand that his players compete with the same urgency that produced a come-from-behind playoff berth. He'll also devise a plan that best utilizes Millsap and Jefferson as low- and mid-post scorers and facilitators.
* Though not a run-and-gun outfit, there are plenty of gunners on this Utah squad raring to attack in transition. Pay attention to the seamless way Millsap or Jefferson filling a lane creates higher percentage dunks and layups in the open court.
* Energy Solutions Arena crowds deliver ear-splitting noise and create the hostile environment that defines the phrase "home-court advantage." Few fans in any sport get louder or more rambunctious when the outcomes count most.
Shortcomings
* Even Tinkerbell cannot corroborate Jefferson's imaginary man-to-man defense, which does not extend beyond weak-side shot-blocking.
* Millsap can bang, but he struggles to do so without contact worthy of a whistle.
* Utah, as a unit, commits the second-most fouls in the NBA. Manu Ginobili, Tim Duncan and Tony Parker will live at the line for the Spurs. If it breathes, a Jazz player is liable to hack it.
* Millsap and Jefferson are both flat-footed and undersized, which renders Utah susceptible to back cuts, east-to-west drives and precision ball movement that yields wide-open triples. San Antonio will feast on those unmolested looks.
* Favors and Kanter's playing time is sporadic, and so is their production.
* Thus, while the Jazz boast size and bulk up front, the bigs cannot perform sufficiently enough on both ends to have that qualify as a consistent advantage.
* Utah's transition defense is woeful. The team's failure to get back sometimes leads to the other guys tallying fast-break points, even after made Jazz baskets.
* The Jazz shoot 32 percent from the promised land, the fourth-lowest exactitude in the L.
* Hayward must prove he can respond to the pressure of the playoffs, even if his winning stint at Butler suggests he can.
* Harris still takes god-awful shots, and Parker will eat his lunch. Whereas Harris's speed once confounded the Spurs, on the overmatched Jazz, it becomes a moot quality.
* Focused, title-worthy foes have been negating the impact of the crowd's decibel level since the arena was called the Delta Center. A fervent fanbase alone is not enough to topple the big boys. Utah's history is packed with sellouts, but no championships to show for all the caterwauling.
Prognosis
The Jazz will make most of a short series with the Spurs much more competitive than the two regular season games in San Antonio.
Utah, though, is the conference's eighth-best team, and a plethora of deficiencies and suspect depth will yield a prompt postseason exit.
7. Dallas Mavericks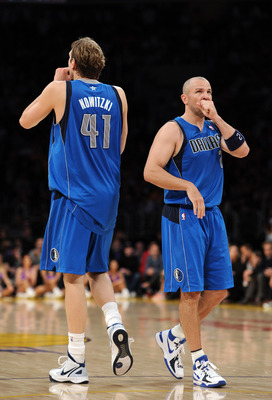 Harry How/Getty Images
Team synopsis
Mark Cuban all but foreclosed on a Dallas repeat when he let Tyson Chandler, J.J. Barea, DeShawn Stevenson and Caron Butler walk in free agency. If Deron Williams agrees to gobble up the resulting cap space this summer, the unreserved owner will know he made the right gamble, regardless of how the current roster fares in the postseason.
While a swift playoff exit for an aging, flawed group would shock no one, there are reasons to believe the Mavs can deliver an earnest defense of their first ever title.
Strengths
* Dirk Nowitzki dropped 40 points—twice—on the Jazz in Salt Lake City. While Oklahoma City plays far better defense than Utah, Kendrick Perkins, Serge Ibaka and Nick Collison will have their hands full trying to check the reigning Finals MVP. Chandler and other key pieces defected elsewhere, but the best player from the NBA's last champion remains as driven and dangerous as ever.
* The presence and impact of a first-ballot Hall of Famer/top 50 all-time player cannot be overstated.
* Never discount or laugh off the cliché. The Mavs remain the defending champs until another team hoists the trophy in June. Dispatching a squad loaded with experience and know-how will not be easy, especially for the Thunder, a franchise with two—count them, two—playoff series wins in its brief history.
* If Kevin Durant thinks neutralizing or overpowering Shawn Marion's defense will prove any easier this time around, he's in for a bummer of a wake-up call. "The Matrix" deserves legitimate Defensive Player of the Year consideration for the way his adhesive coverage kept the Mavs in games when they still couldn't score with money at a brothel.
* Jason Kidd's age shows more than ever, and keeping him healthy was a chief concern for Rick Carlisle. Yet, he still directs the Dallas offense with the same aplomb, if not the same explosiveness, that he exhibited in his prime. Carlisle can also count on Kidd to bag a clutch three-pointer or two in any series.
* Forward Brandan Wright's breakout season has been a bright spot. He will provide some meaningful minutes behind Nowitzki and Brendan Haywood.
* Since Perkins does not shoot or score much, Haywood can roam a bit more and focus much of his attention on snuffing out drives with blocks or physical contests.
* Delonte West's bout with bipolar disorder can affect his on-court demeanor and poise, but other than the moronic wet willy he delivered to Gordon Hayward a week ago, he has been mostly a good soldier and one of the Mavs' best two-way contributors. He can shoot, pass, drive and defend. He will keep someone on the Thunder occupied for the length of the series.
* Carlisle made all the right moves in his first successful march to a title as a sideline chief last spring. This Chuck Daly disciple has been underappreciated since his days at the helm of the mercurial Pacers. He knows his Xs and Os and has proven he belongs in the same tier as the other top tacticians, Popovich included.
* Superb coaching makes a mammoth difference in the playoffs.
* Jason Terry will take most of the fourth-quarter looks not given to Nowitzki. He can still nail anything from anywhere. His stepbacks, pull-ups and dribble drives will prove paramount if the Mavs have any prayer of staying in contact with the meteoric Thunder.
* The Mavs ousted the Thunder in the 2011 Western Conference finals, stealing both contests at Chesapeake Energy Arena, where they'll open this rematch. Dallas finished the campaign 1-3 against Oklahoma City, but a Durant game-winner in overtime decided one of the defeats and the other two were close in the final period.
Shortcomings
* The Dallas offense becomes anemic and a liability when Terry's accuracy suffers from the law of averages. If he misfires on several trips down the floor and Durant and Russell Westbrook get on a roll, the fragile Mavs may fall apart.
* Going from Chandler as the starting center to a full-time dose of Haywood is a steep downgrade.
* Oklahoma City will want to attack a 38-year-old Kidd with switches and isolations as much as possible. He can hang on occasion with a bigger 2-guard, but Westbrook will torch him in most of their confrontations.
* Carlisle can never predict what he will get from Rodrigue Beaubois. The young Frenchman has the talent to convert six layups in a row and the penchant for carelessness to commit six straight turnovers.
* Vince Carter has done more in a Dallas uniform than most thought possible, but the next time he becomes a winning postseason performer will be the first.
* After a strong first month, Ian Mahinmi reverted back to being a foul-prone backup big with a primitive offensive repertoire.
* The Mavs became road warriors en route to closing out the championship series in Miami. The gutted-then-retooled roster tasked with defending the crown finished with a disconcerting 13-20 away mark. They must win for the second straight year in the loudest building this side of Energy Solutions Arena.
* The Thunder will lug around the added motivation of avenging last year's loss. Plus, OKC has improved since that series, while the champs have deteriorated.
* If Nowitzki becomes a one-man show, Dallas' repeat bid might end in a sweep.
* Carlisle managed to mask Terry's occult defense by relying on heaping helpings of Chandler and an effective zone. With no Chandler in the middle, there is no hiding now. Plenty of Thunder players will be driving through and down the Jet's runway.
* Lamar Odom quit in Dallas. Carlisle will miss what the versatile forward should have added to the Mav mix.
* After a stifling start, the squad's defense has regressed to the point the Thunder, if focused, might rip it to embarrassing shreds.
* Too many things must break right for Dallas to emerge on the plus side of 16 playoff affairs.
Prognosis
The consensus from pundits is the Mavs will not remain defending champions for long. This roster, for sure, totes too many warts and faults to win as many as four rounds without home-court advantage. While the Thunder deserve to be favored, perhaps heavily, this 2 vs. 7 pairing could become favorable for Dallas if OKC cannot minimize the impact and appearances of its numerous defects by this weekend.
Of all the first-round possibilities versus higher seeds, a clash with the brassy Thunder represents the Mavs' best chance to advance. If Durant and co. get cocky (a doubtful but plausible proposition), Nowitzki's team is equipped to take advantage.
6. Denver Nuggets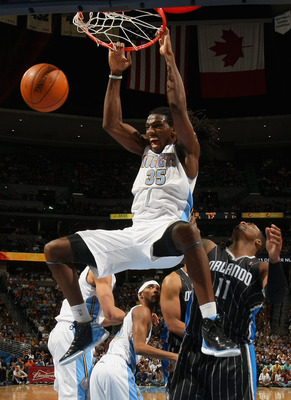 Doug Pensinger/Getty Images
Team synopsis
In the first episode of the series The Association: Denver Nuggets, George Karl explains his volcanic scoring unit's remedy for no superstar: "Why can't a team contend with a lot of really good players and ball movement? Why not us?"
That formula kept the Nuggets in the thick of the postseason chase from the campaign's opening week to its frantic close. Injuries, however, derailed Denver's promising 14-5 start.
Strengths
* Karl is one tough S.O.B. He beat throat cancer in 2010 and then kept his team in the playoff hunt after Carmelo Anthony's departure via trade last February. What a coach. He has collected 1,036 victories, a rare feat, for a reason.
* This team scores more often than Hugh Hefner, and it shares the rock at a league-best rate.
* The Lakers better not count on keeping every game in the 80s. They'll have to score more than usual because no defense can consistently keep the Denver bombers down.
* While the Nuggets lineup lacks a bona fide superstar, Ty Lawson and Danilo Gallinari have played at an All-Star level for most of the year.
* Lawson will make himself an exhausting cover by testing Ramon Sessions' sketchy north-to-south defense. Lawson will unleash his customary variety of pull-up jumpers and acrobatic layups.
* JaVale McGee is an athletic freak that can flush any lob pass thrown in the vicinity of the rim.
* Kenneth Faried is a man-child on the boards, a bully in the paint and one of the 10 best rookies from the 2011 crop. The Lakers must account for his whereabouts at all times.
* Timofey Mozgov sets sturdy screens and can intimidate the occasional shot when healthy. Kosta Koufos has started at center of late.
* Andre Miller still ranks as one of the league's best backup point guards. He would start on numerous squads. He backs down smaller guards in the post for profit and seems to hit timely jumpers from spots where he otherwise converts a paltry percentage.
* Al Harrington provides substantial reserve scoring punch and a reliable downtown stroke that forces other forwards to run to the perimeter instead of patrolling the paint.
* How Pistons GM Joe Dumars ever let the commodious two-way talents of Arron Afflalo escape his grasp for a second-round draft pick remains a mystery. A real head-scratcher, Joe.
* The Nuggets are a terror in transition. They led the league in fast-break points, averaging 19.9 per game.
ShortcomingsA
* A team doesn't have to suffocate Denver for four quarters. It just needs to manufacture stops in the final minutes.
* That becomes exponentially easier with no star to command a double-team. That will make it difficult for Denver—even if it forces L.A. to play at the desired breakneck pace—to hang around in the series long enough to have a shot at a takedown. If Lawson and his teammates lose steam on offense, they will lose contact with the Lakers.
* The Nuggets play invisible defense. After 66 games, I still haven't seen it. Denver's gaudy assist average would mean a lot more if this cast had a prayer of stopping any significant contributor on the Lakers or on any other West title aspirant.
* While Karl is a terrific coach, his peers are also masterful in their own ways.
* McGee is a knucklehead with a basketball IQ low enough to win a round of limbo. He needs a lot more seasoning and discipline for his considerable talents to become a plus in the playoffs. Teams don't win championships with lob passes.
* All the offensive prowess of Afflalo, Gallinari and Lawson does not add up to the full force of one Kobe Bryant. Superstars matter in the playoffs. The Nuggets don't have one.
* Rudy Fernandez's season-terminating injury will hurt, as both his passing and scoring faculties are difficult-to-defend wild cards.
* Not to belabor the point, but the Nuggets defense is more inept than Snooki trying to run a Fortune 500 company.
Prognosis
The Nuggets will turn several first-round games into triple-digit shootouts, but no defense means no chance.
5. L.A. Clippers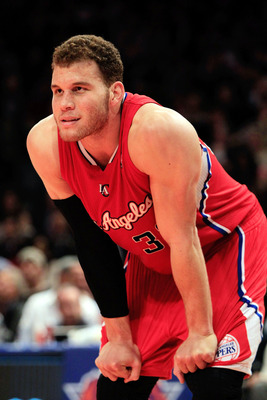 Chris Trotman/Getty Images
Team synopsis
If Mitch Kupchak, Jerry Buss, Daryl Morey and Leslie Alexander still want to strangle David Stern, the NBA's commissioner and the Hornets' former de facto decision maker, Donald Sterling and Neil Olshey ought to send him a nice thank you card and a flower bouquet.
Better yet, Olshey should slice off a chunk from the Executive of the Year plaque sure to end up in his hands and mail it to Stern. While parting with young stud Eric Gordon had to be an agonizing endeavor, the chance to acquire Chris Paul and transform a loser culture into a winning one made that a no-brainer swap.
Strengths
* A team with CP3, Blake Griffin and DeAndre Jordan has lived up to its "Lob City" nickname. Griffin and Jordan have the gravity-defying hops to catch any alley-oop pass thrown within a city block of the rim. OK, that last sentence was hyperbolic, but you get the idea.
Griffin has created more breathtaking posters than a starving artist. His leaping ability is his paintbrush and the poor sap standing between the ball and the rim is the canvas. Kendrick Perkins and Mozgov have been high-profile subjects, or victims, of Griffin's work.
Jordan is a ferocious weak-side shot-blocker and pick-and-roll finisher. He again finished the season with more throwdowns than his more popular teammate, a testament to his willingness to move to get open and sky for the ball.
CP3's court vision is equal parts stunning and devastating for opponents. He picks them apart with precision passes and stealth drives that set up uncontested dunks, layups and open jump shots.
Paul's marvelous, unflappable competitive drive has turned around the projected fortunes of a once-miserable organization. Thanks to Paul, analysts can no longer call them the Toe-Nail Clippers.
The Clippers are sexy again! The team that has discharged the aroma of gas station perfume for decades finally smells like an expensive bottle of Chanel.
Nick Young and Randy Foye can fill it up from beyond the arc, and that mitigates the worry about L.A.'s otherwise abysmal three-point accuracy.
Foye sometimes operates as a go-to scorer. That is not a facetious observation.
While the bench remains unreliable, Vinny Del Negro can count on reserve firepower from Mo Williams. He started at point guard on a pair of 60-win squads in Cleveland and brought the experience of sharing the court with LeBron James to Hollywood. Any foe that gives him an inch of breathing room will instantly have less house money and Mo problems.
The Clippers rank third in the association in fast-break points. L.A. kills opponents by converting turnovers into gimme open-court buckets. If the death is painful, at least the Clips make it quick.
Olshey signed Caron Butler to add perimeter pop and veteran empiricism. Mission accomplished.
Kenyon Martin embraces physicality. He likes to muck it up, a winning trait in short supply before his arrival.
Shortcomings:
Paul remains a streaky shooter and a perfunctory defender. His one-on-one coverage begins and ends with hawking the ball. Any point guard who can cross this thin line of resistance affords his team a chance at a high-percentage look.
For all the talk about how much Paul has altered a franchise's DNA, he has won a single playoff series in eight years as a pro.
His competitive juice sometimes gets the best of him. He tends to respond to in-game conflict with immature outbursts. Simmer down, CP3. Simmer down.
While Paul is this L.A. squad's All-NBA performer and its best player, the Clippers still belong to Griffin. That is bad news for the team's title hopes.
Olshey did not draft Griffin to trade for Paul. He traded for Paul to pair him with Griffin.
An abundance of opprobrious free-throw shooters may sink the Clippers in fourth quarters. Why wouldn't another coach order his players to hack Griffin and send him to the line on purpose? He hits just 52 percent of his foul attempts! Disgraceful. Out of 30 teams, only Orlando connects on a lower percentage of its freebies.
Del Negro is a competent coach, but management and players have not given an emphatic vote of confidence. Can a probable lame-duck sideline chief inspire his troops all the way to June? Did O.J. Simpson do it?
Chauncey Billups would have cemented perhaps the league's deepest backcourt. The loss of his perspicacity and leadership stunted the Clips' growth a bit. He will watch the playoffs in a sports coat.
That said, an upright Billups would not have changed this undeniable fact: Griffin's game is not ready for the rigors of the postseason. He needs to lock himself in a gym this summer and develop the jump shot and refined post moves that would make him a true star. What does he possess beyond raw athleticism?
His knocking down a solitary 20-footer or finesse jump hook will not fool Memphis, either. When challengers dare him to shoot or back down stronger post players, Griffin consistently makes the Clippers pay.
Internalize the following truth and understand its implications: Teams don't win championships with lob passes. Ever.
Defense is optional in Clipperland. It is never optional in the second season.
The only part of Griffin's game worse than his charity stripe incompetence is his defense. It's bad, Blake.
How many more cheap shots against Griffin will it take for Martin or another teammate to carry out a bird-brained retaliation? Can the reigning Rookie of the Year maintain his composure?
It takes substance to win a championship. I don't see enough of it here.
Prognosis:
While the continued veiled attempts to injure Griffin are alarming and inexcusable, the repeat offenses speak volumes about how little adversaries think of his playoff preparedness.
Opponents are also tired of gracing his many posters and racking up phantom fouls. Paul represents the operation's brains, but this team will go as far as Griffin can take it, which is not far.
4. Memphis Grizzlies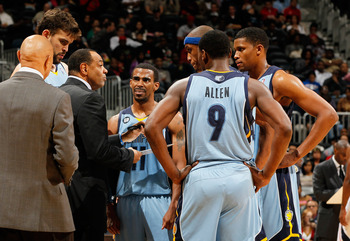 Kevin C. Cox/Getty Images
Team synopsis:
One of the most anticipated action sequels since Terminator 2 lived up to the hype. All Lionel Hollins did in this maniacal campaign was shepherd the upstart Grizzlies to a surprise fourth-place finish, despite losing Darrell Arthur for the season and unguardable anchor Zach Randolph for most of it.
They can trot out size and length, and breaking news: No one wants to face them in the first round.
Strengths:
Rudy Gay's return from a shoulder injury, coupled with the firepower O.J. Mayo delivers off the bench, gives Hollins two perimeter scoring dynamos to aggrandize that imposing frontcourt's effectiveness.
Gay can create his own shot and will keep any defender the Clippers send his way occupied.
No way do the Grizzlies oust the Spurs last spring sans Mayo's assorted collection of contested makes. He can score bucket-for-bucket with Randy Foye and Mo Williams. He'll keep both L.A. guards busy.
Tony Allen plays the grimiest one-on-one defense in the NBA. He forces superstar scorers to help spots and chases them all over the court like a stalker determined to meet Justin Bieber. He'll spend substantial time on Paul, and CP3 will abhor every second of it.
Marreese Speights was a terrific trade pickup and has filled Arthur's vacant role admirably. He prefers to operate from the top of the key, where he can swish jumpers all day and all night, but he will bang, too. He has yet to harness his full athletic potential.
When the Lakers traded Marc Gasol's draft rights to the Grizzlies, he was a pudgy kid with an archaic post game and shoddy lateral quickness. The majority of the credit for Gasol's elevation to stud center status goes to Gasol. Even I did not see his dramatic amelioration coming four years ago.
He can punish pivots unwilling to follow him to the elbows and the free-throw line while also taking them to school at the cup. He is a complete interior intimidator, something DeAndre Jordan should aspire to become. Gasol will change many more shots than he blocks.
Z-Bo and his lethal arsenal are back and prepared to cause more ruthless destruction. Credit him for accepting his new-found reserve role, at least in public.
Mike Conley earned his keep the previous April and May by staying attached to the hips of Tony Parker and Russell Westbrook. At times, he stood toe-to-toe with both. The Ohio State product also developed a respectable jumper that made any former scouting reports on his game useless.
The Grizzlies and Olivia Newton-John like to get physical. The difference: Hollins' bunch does not make love. To use the title of a painstaking Oscar nominee, when Memphis is involved, There Will Be Blood.
Clippers fans should expect to see Blake Griffin's keester on the floor a lot.
The Grizzlies' help defense in the 2011 playoffs improved from above average to extraordinary. Only two or three other teams in the NBA were doing it at that level.
It bears repeating that Allen will make life a living hell for the guy he checks.
When Randolph drains stepback 15-footers with a hand inches away from his forehead, Memphis can hang with and topple any squad.
Shortcomings:
The Spurs are prepared to handle Gay's reintegration to the mix. The second time he faced off with San Antonio rookie Kawhi Leonard, in a Memphis loss at Fed Ex Forum, Gay scored one point with three turnovers in 30 minutes of action.
His presence takes away shots from Randolph and Gasol, a welcome development for the Spurs and all other postseason comers.
The Grizzlies cannot overthrow any title contenders or become one unless Randolph retakes the lead in the team's scoring and shot-attempt departments.
Gay is nice, but Randolph has to be the chief assailant for this multi-pronged, implacable attack to claim any victims.
Shane Battier was an integral supporting cast member. He defected to South Beach.
A 2-2 split with the Spurs last year suggested a takedown of the top seed was possible. All the evidence pointed to Memphis ranking as San Antonio's worst possible first-round opponent. Tiago Splitter, Leonard and a recharged Duncan have changed the dynamic. The Spurs led the Grizzlies by at least 10 points in every contest of a 4-0 sweep, and before you say that Randolph sat out the middle two jousts, so did Manu Ginobili.
Is what Conley does well good enough to upstage Paul or Parker in back-to-back matches?
The Grizzlies have struggled to mesh a healed alpha dog Randolph with a healed alpha dog Gay. The perturbation shows whenever the Memphis offense falters.
While no one was begging to face the Grizz in a conference quarterfinal, the Clippers ought to savor the chance to send the much-ballyhooed bears back into hibernation. You better believe the Spurs will champ at the bit to exact revenge if Lob City cannot do the job.
Prognosis:
Michael Heisley had been vilified and derided as a cheapskate and a lousy owner. He silenced his critics by allowing his front office to turn the cap space from the Pau Gasol trade into Randolph and paying up to keep him, Gasol, Conley and Gay in Memphis long term.
The boss did his part by opening his checkbook. Now the team must reciprocate with the same grit and bombast that defined last year's postseason run.
It says here that chemistry concerns and the absence of a shock factor will bar the Grizzlies from true contention, but pushing around and knocking out the questionable Clippers in the next two weeks is a credible goal.
3. L.A. Lakers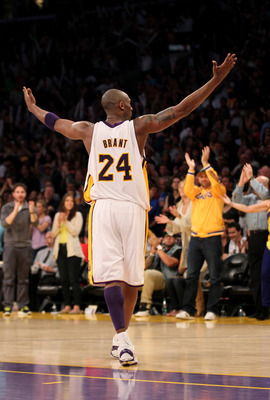 Stephen Dunn/Getty Images
Team synopsis:
Phil Jackson walked into more of an inferno than a sunset, but he retired from coaching nonetheless. The worst possible outcome for the Lakers came to fruition months after Dallas swept L.A. out of the second round: The labor parties approved a collective bargaining agreement with a more punitive tariff designed to make the biggest spenders think twice before crossing the luxury tax threshold. The small-market hounds could have called it the Jerry Buss Provision.
Lamar Odom became despondent and disgruntled after Stern rescinded the three-way transaction that would have shipped him to New Orleans. He should have known he was gone anyway. Kupchak's unenviable challenge: upgrade the roster around Kobe Bryant while simultaneously slashing payroll to lessen the tax Buss will owe—or perhaps eliminate it altogether—when the more stringent regulations take affect.
Jackson's departure coincided with a power shift in the organization's management structure. Jim Buss has become the Lakers' power broker, and that makes some wonder how much longer Kupchak will stick around.
Buss raised eyebrows by hiring Mike Brown as Jackson's predecessor without first consulting Bryant. The former Cavs coach stripped away most of the triangle offense and installed a stout defense.
L.A. merits its own category in honor of a puzzling stretch that typified its topsy-turvy season. How does a team suffocate the Heat at home then lose back-to-back road games in Detroit and Washington?
Strengths:
Kobe Bryant never dials down his desire to dominate or win at the highest level.
Nothing No. 24 does from now until retirement will propel him past Michael Jordan, but second place on the all-time shooting guards list is no slap in the face. He should also crack any list of the 10 or 15 greatest players at any position alongside contemporaries Shaquille O'Neal and Tim Duncan.
Mess with a Black Mamba at your own peril.
His dedication to staying in peak shape has allowed him to hang with Kevin Durant in the race for the league's scoring title. The man is in his 16th season, with more mileage than a Nova driven across the United States 10 times. Wow.
Bryant, Pau Gasol and Andrew Bynum comprise a proven championship trio.
Gasol remains a skilled forward-center with sans-pareil court vision at his position and more moves than Michael Jackson in the "Smooth Criminal" video.
Bynum shows more frequent flashes of interior ascendancy than ever before. On many nights, he looks like he could be the best player on a title contender. He hauled down 30 rebounds against the Spurs three weeks ago.
The acquisition of Ramon Sessions added quickness, an uptempo gear and unpredictability to a point guard rotation about as effective at slowing the opposing floor generals as a pair of garden statues. Derek Fisher lumbered and hoisted too many bricks for his desultory clutch shots to assist the Lakers.
Steve Blake limits his mistakes and does not often embarrass himself, which I promise is a compliment.
Matt Barnes relishes his role as a peppy defensive menace.
Criticize Brown for chaperoning an offense that does not often utilize the strongest facets of several key cogs' games if you must, but respect what he can do for a defense. The Lakers, in the first two months, allowed an average of just 41 percent shooting, a striking figure indeed.
It takes substance to win a championship. I see plenty of it here.
Shortcomings:
Bryant should never take more than 20 shots with Gasol and Bynum as available focal points, but he does anyway.
After 16 seasons of wear and tear, the Black Mamba has a bit less venom in his stroke. No one can argue that a player shooting as much and as poorly (42 percent) is having a great season.
All of those postseason runs add more tread to Bryant's tires. He has been a durable gamer since Jerry West drafted him, but a recent shin injury that sidelined him for almost two weeks reminds that he is human. L.A. can ill afford another significant Bryant affliction.
Brown's offense does not offer Gasol a satisfactory role in the post. It is hard to shake the sense that the Spaniard could do more than stretch defenses with jumpers and drive for layups and slams. Why not put him on the low block more often?
Then there are the games where Bynum carries himself like the antithesis of a franchise player. He must avoid boneheaded ejections and outbursts.
He grabbed 30 boards in that game against San Antonio because, by his own admission, he "shot the ball like s***." He pulled down nine total rebounds in the second and third dates versus the Spurs.
The Lakers employ a front line that pundits say no one can guard, so why hasn't this team won more tilts?
A pallid bench is one reason. The purple and gold pine ranks dead last in scoring.
Barnes seems to swing from making the basket look wider than Michael Moore's waistline to missing the broad side of a barn. He also will open the playoffs on the injured list.
Sessions is not a panacea. He makes the Lakers better at the point, but by how much? In his first meeting with the Thunder, the tally after the final buzzer: Russell Westbrook 36, Sessions 7.
Can the Lakers find a way to choke off pick-and-rolls, given that a road to the Finals likely includes two of the best pick-and-roll squads in recent memory?
It fits that Kupchak jettisoned Lamar Odom, because the Lakers often appear to have less depth than Khloe Kardashian.
Some late defensive slippage was bound to occur in a compacted schedule, but can the Lakers regroup for a postseason charge?
WTF:
Metta World Peace's seven-game suspension belongs in this precarious space, since no one can project which version of him will show on a given night. His inconsistency and frequent disengagement render him neither strength nor shortcoming.
If George Karl knew the World Peace once shooting 29 percent from distance would surface for even three of the seven jousts, he'd beg Stern to let the guy play. When Ron Artest is awful these days, he's really awful. His defense in his worst performances ranges from dicey to deplorable.
However, when he locks in and eschews flippancy in favor of focus, he becomes L.A.'s toughest player besides Bryant and its most valuable stopper.
His powerhouse defense can stonewall everyone from Paul Pierce to LeBron James, but his propensity for dolorous shooting would give even the Charlotte Bobcats a chance to stay in a game. (OK, maybe not.)
Prognosis:
Put away those shovels until someone in the West puts away the Lakers. The high-powered but defenseless Nuggets won't be that team. With Bryant, Gasol, Bynum and (cough) World Peace in the fold, the Lakers can look to four players with championship adroitness as an advantage. The days off between postseason games will also help the veterans' legs.
I would rather enter a playoff fracas with a battle-tested Lakers' core as opposed to the more alluring but far less pedigreed Clippers roll call. Yet, once L.A. rolls past Denver, it must then navigate a Western Conference minefield that might include opening consecutive series at Oklahoma City and San Antonio.
Good luck with that.
2. Oklahoma City Thunder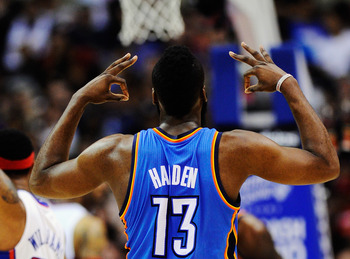 Kevork Djansezian/Getty Images
Team synopsis:
When President Barack Obama took the oath of office in January 2009, fans outside of Oklahoma still repudiated the idea of a professional basketball team docking there at Seattle's expense. The arena formerly known as the Ford Center rocked even during blowout losses, but the lopsided scores kept coming.
In the span of one presidency, the Thunder have matured from a talent-laden lottery loser to the favorites to own the Western Conference for the next decade. That is a fabulous ontogenesis for a league often misdiagnosed as lacking parity.
With three stars and a dynamite fanbase, OKC proves that a smaller media market's hoops squad can become part of a compelling NBA narrative.
Strengths:
James Harden has evolved into a superstar performer. I said it, and I mean it. The presumed runaway winner of the Sixth Man of the Year award is also the Thunder's best crunch-time playmaker. Put the ball in his hands, and he can make something happen, either by breaking down the defense with a drive or pulling up to sink a deflating jumper.
OKC would own as many as eight more losses if not for Harden's frequent fourth-quarter heroics. He looks like Mr. T and bowls his way to the basket like an aerodynamic Tyrannosaurus Rex. Roar!
Kevin Durant may not snatch this season's MVP from anticipated three-time victor LeBron James, but he does not need that empty validation. A Thunder squad that began its OKC tenure with a 3-29 start owes its remarkable turnaround to Durantula's determination to lead by example. That he does.
The soft-spoken Durant is anything but when the lead official tosses the opening tip. He posted career highs in rebounds and assists. Whereas two years ago he sprinkled in defense to accompany his scoring barrages, he offers much more resistance on that end, using his quickness and long arms to disrupt passing lanes and eliminate the space between him and the ball.
Need I say more about Durant's scoring virtuosity?
Handing an $80 million extension and the keys to the offense to Russell Westbrook for at least five more years was a no-brainer move for GM Sam Presti. The idea that this kid has somehow not earned his job security in OKC is preposterous.
When Westbrook gets on a roll from the perimeter, his man should just tuck his head between his legs and kiss his lunch money goodbye.
The Thunder turn miscues into scintillating fast-break flushes and acrobatic layups in a matter of seconds. Take care of the ball or pay for it.
No single number can quantify or explain Nick Collison's importance as a hustle hound and a help defender. He boasted one of the top plus/minus scores in the association for a reason.
Serge Ibaka led the league in blocks per game, and he's coming to erase your shot and perhaps send the ball in the direction of the guy selling cotton candy.
Kendrick Perkins epitomizes toughness. He will bump and grind with the best post players until they scream "Uncle." He became the Eastern Conference's closest thing to a Dwight Howard stopper.
Scott Brooks pushes the right buttons and gets the right reactions from his players.
Shortcomings:
The Thunder led the league in giveaways for most of the year. That flaw speaks for itself.

Durant still needs to add the framework of a post game to abuse smaller defenders in the low post. He's almost 6'10", for crying out loud. When he pitches a tent beyond the arc, he bails out the opposing defense.

OKC needs to manufacture something in the endgame besides 30-foot Westbrook or Durant heaves. That standstill, clear-out offense is the primary defect that will cause the Thunder's title aspirations to malfunction. Move the ball. Run another play. Do something else every once in a while.

This team blew a 17-point fourth quarter lead against the Lakers last Sunday for the above reason. Durant's height and wingspan are neutralized when he parks himself on the perimeter.

Harden should initiate more of the offense in the clutch.

Ibaka excels at sendbacks, but he has not mastered the intricacies of consistent paint protection. Speedy guards and face-up forwards can still get by him with fakes or by putting the ball on the floor and attacking him at an angle.

Perkins is built to box and bang with power centers like Howard. He is not the ideal Dirk stopper.

Turnovers, turnovers, turnovers.

Did I mention turnovers?

The Thunder's overall defense shows marked improvement, but not enough to deter the Spurs from carving it up in a potential conference finals duel.

One reason: The guards and forwards checking shooters tend to overhelp, which either creates a driving lane or frees a three-point assassin.

Casual fans seem to regard the Okies as likable and wholehearted, yet they ranked fourth in technical fouls, thanks to Perkins and Westbrook's volatility.

Thabo Sefolosha's season has been riddled with frustration and misfortune. Will he make a difference?

Can OKC score enough to support Durant, Westbrook and Harden?

Will surrendering the top seed after threatening to win it by a double-figure margin ruin the squad's confidence when it counts most?

Signing Derek Fisher was a genius move only if a few monster makes compensate for his zapped defense and deficiencies. Remember that another squad seeking a title dumped him.

Brooks was outcoached and outclassed by Carlisle. How will he fare against Popovich?

How will a team with two playoff series wins in its history respond to the pressure of mammoth expectations? The talking heads and oddsmakers have favored the Thunder to emerge from the West since the lockout ground the NBA to a halt.
Prognosis:
If they plan to throw away the ball, they might as well toddle off to Tahiti and save themselves the effort. The Mavericks and Spurs are equipped to expose the Thunder's aforementioned imperfections in the clutch.
OKC, given its top-heavy athleticism, depth and drive, can handle Dallas, even if it takes six or seven games to dispatch the defending champs. San Antonio, on the other hand, is this team's worst nightmare.
Given that, OKC can win it all or lose in the first round.
1. San Antonio Spurs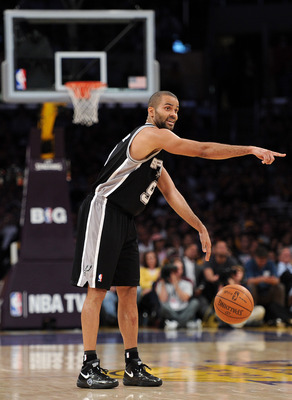 Harry How/Getty Images
Team synopsis:
The Spurs responded to the humiliation of a first-round exit with a vengeance. A team praised for not rocking the boat much made it sway violently when Gregg Popovich, coach and president of basketball operations, and GM R.C. Buford dealt George Hill to Indiana for the draft rights to rookie Kawhi Leonard.
A steady infusion of youth and deft minutes management have kept a proud franchise in the hunt for its fifth championship long after pundits delivered scores of eulogies.
Strengths:
The San Antonio offense depends on spacing and precision ball movement. Memphis managed to disturb those two things enough to force the most accurate three-point shooting team in the regular season to shoot the worst percentage of the 16 playoff entrants. The Grizzlies, by contrast, shot the second-worst percentage in the regular season and the second-best percentage of any team in the postseason. What are the odds any opponent can make that stunning flip-flop happen again?
The Spurs consistently pass up good looks to get great looks. Call them the kings of the hockey assist. No other squad shares the rock with more purpose or verity. They rank in the top five in assists and scoring for this reason.
Like a pair of Exacto Knives, Tony Parker and Manu Ginobili slice up defenses by whizzing to the rim with devastating speed and either dishing to an open teammate or finishing in traffic. Parker recorded his career-best assist average, while Ginobili, in limited action, performed some of the most efficient work of his career.
Beating the Spurs means stopping them. Utah has no chance.
Boring? Please. Watch five seconds of Parker or Ginobili then repeat that remark with a straight face.
Tim Duncan relinquished a few things over the years, but per 36 minutes, he attempts more shots now than he did in 2005, a season that ended with a third title. The Spurs are using the "Big Fundamental" more than last season, and the results portend an extended playoff stay.
The way he gets his points has changed, but his ability to drop 20 and 10 on any big fella has not. He lit up the Grizzlies for 28 points in the final regular season meeting between the two teams. San Antonio swept that series, 4-0.
In fact, the Lakers and Grizzlies teams people thought would overwhelm the Spurs with size finished 1-6 against the silver and black.
Everything about 6'11" Tiago Splitter's game is better than in his rookie sojourn—his confidence, his defense, free-throw accuracy and his field-goal percentage. Parker and Ginobili know how and where to get him the ball. He will average double-figure scoring in the postseason, too. Bank on it.
Leonard and Danny Green provide defensive length and young legs. So much for Leonard's inept long-distance shooting. He hits a healthy 37 percent of his treys. Green has been a pleasant surprise as a two-way contributor.
Al Pacino's character in Any Given Sunday would love Matt Bonner. "The Red Rocket" does not give an inch and keeps defenses honest with his three-point marksmanship.
Stephen Jackson tends to rise in the moments where Richard Jefferson shrunk.
Eight players average at least 20 minutes, proof of the Spurs' depth. No other squad features as many ballers logging that much daylight.
Don't believe the hype or the comparisons to the seven-seconds-or-less Suns. Defense still matters to Popovich, just not as much. San Antonio's coverage is primed for significant improvement starting this weekend.
For starters, Pop will have time to game-plan and build an intricate strategy. The Spurs commit the third-fewest fouls in the NBA and allow the second-fewest offensive rebounds. Those are critical components of a title-worthy defense.
The Grizzlies went berserk like a rabid animal running loose on the Riverwalk. San Antonio's perceived problems against size are overstated, and some pundits tend to assume that any foe with two big guys can replicate Memphis's success. Uh-uh.
Popovich is masterful when it comes to designing end-game plays, one area where Scott Brooks needs some tutoring. A down screen, staggered screen, pick and roll, a switch or a simple misdirection can get the coach's Spur of choice a high-percentage look.
Gary Neal is Roger Mason Jr. with a floater, a clutch gear that extends beyond the regular season and playmaking facility. He transformed himself into a passable backup point guard in Ginobili's absence.
Parker nudged his way into the MVP and first-team All-NBA conversations.
The only shooting guards I would rather have in a big game than Ginobili are Kobe Bryant and Dwyane Wade.
The Spurs have been a selective running team since Ginobili's rookie year in 2003. They have not been an exclusive halfcourt club since the Argentine and a Frenchman teamed with Duncan to form an all-time great Big 3.
Shortcomings:
The Spurs push the pace more than ever, which creates more shots for opponents. The defense must produce the expected improvements for San Antonio to go all the way.
Neal's defense cannot match his effort. Bless his heart for trying.
If 6'7" (closer to 6'5") defensive liability DeJuan Blair does not start next to Duncan, can he play at all?
Bonner can hustle all he wants, but that will not stop challengers from going at him every trip down the floor.
The Spurs fortunes still rest on Ginobili's health. He has suffered a notable injury in the five seasons since the 2007 championship.
Jackson is still shooting a paltry percentage from beyond the arc, despite getting many more open looks.
Is there such a thing as too much depth? Did the condensed final weeks give Popovich enough time to assemble a satisfactory rotation?
Are Danny Green and Leonard ready for the postseason spotlight? Even Pop cannot know until he sees for himself.
The youngsters' inexperience may encumber the Spurs more than climbing age of Duncan and Ginobili
Prognosis:
Duncan turned 36 on Wednesday. His team's gift to him: a chance to reach the NBA's Mt. Everest for a fifth time in the final year of his current contract. Whether the Spurs can deliver championship results with this oddball recipe remains unknown.
It says here San Antonio has the ingredients, the depth and wherewithal to win four playoff rounds, but there are no guarantees. Enjoy the ride.
Keep Reading