NHL Playoffs 2012: Expect Long, Challenging Series for Coyotes and Predators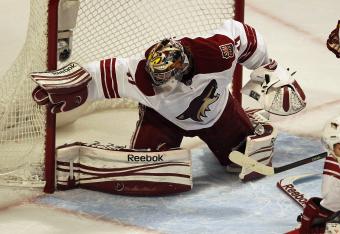 For the Coyotes to win, Mike Smith needs to continue his stellar play.
Jonathan Daniel/Getty Images
This series has all the trappings of a long, protracted engagement.
Given defensive tendencies and execution of the Nashville Predators and the Phoenix Coyotes, this Western Conference semi-final matchup could likely be decided by the slightest of margins.
The teams could be excused for any defensive lapses because the goal keepers, Pekka Rinne of Nashville and Mike Smith of Phoenix, have played beyond reasonable expectations. Both carried their teams into this Stanley Cup second round, and if the Coyotes or Predators advance to the conference finals, that team will likely ride their goalies' coattails.
If there is an edge to either team at the start of this round, Nashville may have it because of its iron-clad defense.
Anchored by Shea Weber, whose shot is among the hardest in the NHL, the Predators' defense prides itself on taking out bodies and letting Rinne see the first shot. In that vein, Rinne stopped 160 of 169 shots in the five-game victory over Detroit in the conference quarter-final round, and is one of three finalists for the Vezina Trophy.
In the Detroit series, Weber averaged 27 minutes, 44 seconds of ice time, and is complemented by the emergence of Kevin Klein and Ryan Suter on the blue line.
"You watch the Nashville games and they were all very close games," said Phoenix coach Dave Tippett in audio made available by the Coyotes after Thursday's practice. "Rinne played very well for Nashville. There's a couple games that I thought could have went either way and Nashville found a way to get on top. Both are really good teams, and Nashville found a way to win games."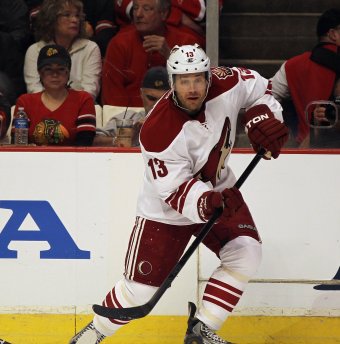 Jonathan Daniel/Getty Images
If the Predators are considered strong at the blue line and in net, trades at the deadline in late February help increase firepower. Two deals in particular are regarded as key acquisitions.
First, the Preds picked up Andrei Kostitsyn from Montreal for Nashville's second-round pick in the 2013 draft. Because of his ability to strike with deadly force, Kostitsyn, who joined his brother Sergei in Music City, has been nicknamed AK48. The 48 represents Kostitsyn's sweater number.
Plus, the Preds burned a first-round pick in the upcoming NHL draft to acquire forward Paul Gaustad from Buffalo at the trading deadline. Earlier in the season, Nashville also acquired defenseman Hal Gill from Montreal, but Gill played sporadically against Detroit before of an upper-body injury.
At the trade deadline, as well, Phoenix picked up forward Antoine Vermette from Columbus. Stepping up in the postseason, Vermette picked up three goals in the five-game win over Chicago, and together with Gilbert Brule and Taylor Pyatt, form an important scoring threat.
For the Coyotes to be successful in this series, captain Shane Doan, in an interview with a Phoenix radio station, challenged players "to step up" and contribute.
Where Ray Whitney had a near-career year in scoring and Radim Vrbata emerged as a 30-goal scorer, both were essentially silent in the Chicago series. Plus, center Martin Hanzal has been on and off the trainer's table in recent weeks, representing a fine line between playing injured and exhilaration of the Stanley Cup playoffs.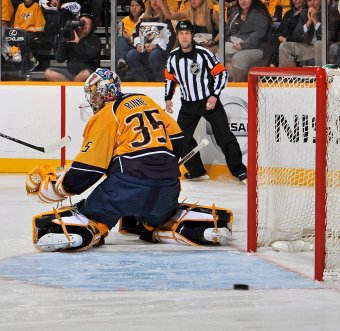 Frederick Breedon/Getty Images
Vrbata also has played hurt over the past few weeks and is fully aware of the hour at hand.
"Not just the two of us, but I think everybody," he said in reference to Hanzal. "You don't talk about injuries during the playoffs, but I'm sure there's lots of guys in this room who are dealing with something and I'm sure that Nashville has got guys that are dealing with something. So, after a long season like this, after 82 games, I'm sure everybody in the league has something. So, you have to put it aside and try the best you can and hopefully it'll be enough."
Overall, the key to the series is Smith.
As NHL Player of the Month in February, in which he was 11-0, Smith's hot hand continued down the stretch and through the first round. His 4-0 shutout in Game 5 against Chicago was the first post-season shutout by a Winnipeg/Phoenix goalie in the history of the franchise, and he finished the regular season with a career-high 38 wins and 2.21 goal against average.
The Coyotes' defense needs to continue to let Smith make the initial save and keep opportunistic Nashville forwards from creating scoring chances. The Predators' most productive line against Detroit, David Legwand, Alexander Radulov and Gabriel Bourque, was a plus-15 in the Red Wings series.
The Preds main line of Sergei Kostitsyn, Mike Fisher and Martin Erat scored one goal among them in the Detroit series.
Plus, the coaches may figure in the series' outcome.
Tippett seems to get the most out of his players and demands his team plays a tight-checking and patient game. Barry Trotz, Nashville's only coach since its inception in the league in the 1998-99 season, is defensive-oriented and has the tools—with Rinne between the pipes and Weber as leader at the blue line—to win this series and go far in the Stanley Cup playoffs.
For Phoenix to win, scorers and "character" players, like Doan, Whitney, Vrbata, defenseman Keith Yandle and Smith, need to raise the collective level of their play.
From all indications, this will be a competitive and engaging series. In the end, don't expect the red goal light to flash with any kind of frequency or regularity.
This article is
What is the duplicate article?
Why is this article offensive?
Where is this article plagiarized from?
Why is this article poorly edited?

Phoenix Coyotes: Like this team?