2012 NFL Draft: Best and Worst of Day 1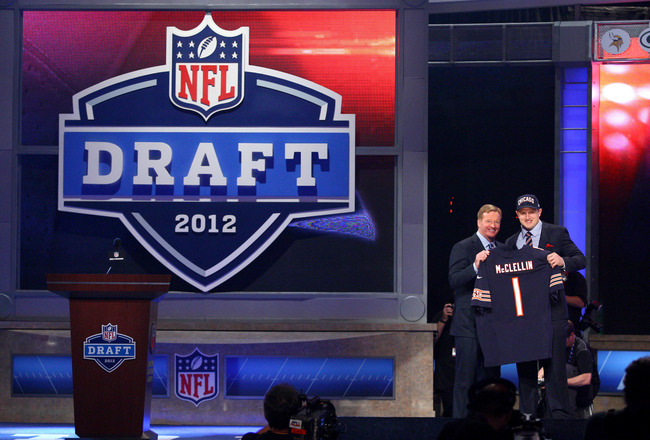 McClellin to the Bears as a DE? Really?
Chris Chambers/Getty Images
The first round of the draft commenced last night, but there's already a ton to review. With seven trades happening on Thursday alone, the new cap rules have already taken effect as teams are now more willing to trade up to select premier talents.
While there were a few surprises, it appears that there weren't too many reaches on Day 1. Still, there were plenty of great steals and a few questionable decisions from NFL general managers.
Best First Days (Teams)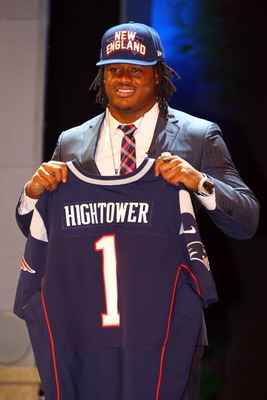 Meet the latest addition to the AFC Defending Champs
Al Bello/Getty Images
While they had to trade up for both picks, they landed two studs that will quickly improve their old, slow defense. DE/OLB Chandler Jones could be a huge steal, and ILB Dont'a Hightower will play immediately. Great draft for Belichick and Co.
Jerry Jones claims that CB Morris Claiborne was the highest prospect at his position since Deion—let's hope that's the case. They still had to give up this year's second-rounder to make the eight-spot exchange, but Claiborne can quickly help their depleted secondary and add some youth to Rob Ryan's defense.
The Bucs made two different trades, one to move down two spots (picking up an additional fourth) to land S Mark Barron, who becomes their starting safety upon taking the field. Later in the first, the Bucs traded back up with Denver to draft RB Doug Martin, who will be a great compliment to Lagarette Blount.
Even though they always had Hightower as their top choice, the Steelers called an audible once G David DeCastro fell to No. 24. He'll instantly become a building block for that line next to C Pouncey.
The Iggles lucked out that DT Fletcher Cox slipped past Carolina, but they made the wise decision to trade up with the Seahawks to grab their top-rated DT.
Worst First Days (Teams)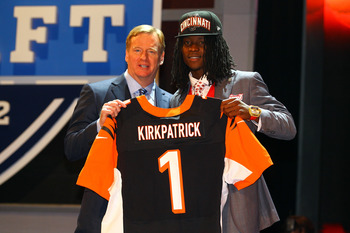 While Kirkpatrick is a great prospect, there are questions already about this Bengals draft
Al Bello/Getty Images
1. New Orleans/Oakland/Atlanta
None of these teams had first round picks, and only Atlanta will pick in the second.
After trading down with the Eagles, the Seahawks questionably gambled on DE Bruce Irvin. While Irvin will compliment Red Bryant as a bookend, he's too small to play on run downs and he's a bit of a reach at No. 15.
While I actually like Kendall Wright, I don't like the pick for the Titans. The Titans really needed to improve both sides of their lines, and Wright joins a crowded receiver crew that already features Kenny Britt, Nate Washington, Damian Williams and Lavelle Hawkins.
While Mike Brown addressed the needs of the team by supplying Marvin Lewis with a corner and guard, I don't like their selections. At No. 17, I think they should have gone with DeCastro and then waited to see if Kirkpatrick would fall to No. 21 (wouldn't have traded with New England then) or they could have grabbed a corner like Janoris Jenkins at No. 27.
It's not that I don't like the guys they drafted, I just don't like where they were drafted.
If the Bears really wanted a stud defensive end, why did they go with DE Shea McClellin? Sure, he was productive while at Boise St, but there were better prospects out there, such as Whitney Mercilus. Why not trade up to be in position to draft Coples or Ingram?
I thought McClellin profiled better as an outside linebacker in a 3-4, not a DE in a 4-3.
Best Picks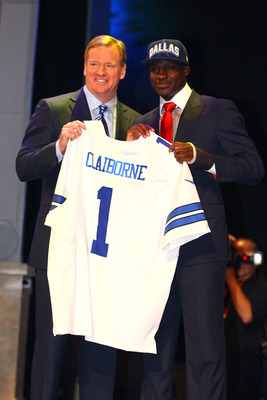 Jerry Jones strikes again
Al Bello/Getty Images
Best picks (disregarding the top two picks):
1. Dallas Cowboys, No. 6, CB Morris Claiborne LSU
Great job by Jerry Jones to trade up to get the best prospect in a draft. Huge need for the Cowboys too. Allows them to cut struggling Mike Jenkins.
2. Pittsburgh Steelers, No. 24, G David DeCastro Stanford
As previously explained, this pick will immediately keep Big Ben upright and bring stability to that position for the next seven to 10 years. He has the chance to become the elite guard in the NFL and was one of the safest prospects in the entire draft.
3. San Diego Chargers, No. 18, DE/OLB Melvin Ingram South Carolina
Tremendous value and a position of need, Ingram is a Swiss-army knife of a player who can line up at any position on the d-line or linebacker crew. He reminds me of Adalius Thomas.
4. New England Patriots. No. 21, DE/OLB Chandler Jones Syracuse
Great value and a huge position of need, Jones should impact this slow Patriot defense immediately as a versatile pass-rusher.
5. Cleveland Browns, No. 3, RB Trent Richardson Alabama
No. 3, what am I, crazy? While I don't believe in drafting running backs high due to similar value you can get in later rounds, the Browns desperately needed a running back and Richardson can quickly establish himself as a top-10 back in the league.
Worst Picks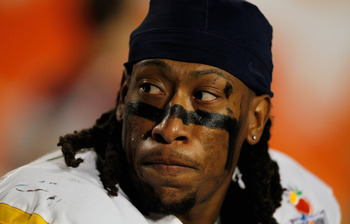 I question the Seattle Front Office after the Irvin selection
Streeter Lecka/Getty Images
1. Seattle Seahawks, No. 15, DE Bruce Irvin West Virginia
This was an absolute reach by Carroll & Co.. While Irvin was one of the elite pass-rushers, he's not a three-down end for the 'Hawks. Also, better prospects were available—why wouldn't you go with Melvin Ingram? At worst, you could trade down to the later tweens or early 20s and still select Irvin.
2. Cleveland Browns, No. 22, QB Brandon Weeden Oklahoma St
It's not that I don't like Weeden—I thought he was the third best QB prospect in this year's draft—but I question where he was taken. While the Browns had been targeting WR Kendall Wright (who was taken by the Titans), I still think Weeden would have been available in the later rounds or perhaps at their second-round pick.
3. New York Giants, No. 32, RB David Wilson Virginia Tech
I understand the desire to replace the departed Brandon Jacobs, but Wilson profiles closer to running backs already on their roster. I think they could have traded down and still gotten him. Maybe the Giants got a bit jumpy and were worried that a team in the early second (perhaps the Rams) would draft Wilson.
4. Tennessee Titans, No. 20, WR Kendall Wright Baylor
I like Wright as a prospect; I just don't like the team that selected him. They had bigger needs with value still on the board, but passed in favor of another young WR for Jake Locker.
5. St. Louis Rams, No. 14, DT Michael Brockers LSU
The Rams claim that they would have taken Brockers at sixth and were able to get an additional second to trade back with the Cowboys, but I'm not in love with Brockers. He has questionable conditioning, and his weaknesses were hidden by the deep LSU rotation.
Biggest Boom-or-Bust Picks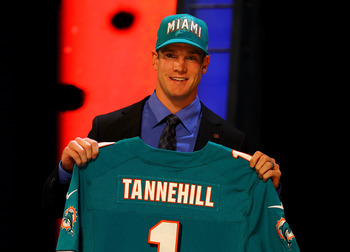 Tannehill is the prime example of this year's crop of Boom or Bust pics
Al Bello/Getty Images
1. Miami Dolphins, No. 8, QB Ryan Tannehill Texas A&M
While Tannehill will be comfortable under his former head coach Mike Sherman (now Miami's offensive coordinator), the 'Fins lack talent. It'll take awhile for Tannehill to develop, but he could become a top-10 QB in the league. Or he could be out of the league in five years.
2. Cincinnati Bengals, No. 17, CB Dre Kirkpatrick Alabama
While Kirkpatrick was an All-American this past season for the Crimson Tide, he only had three picks in college. The jury is out to whether he can be a lockdown corner for the Bengals, but I can easily see him flaming out at the next level.
3. Houston Texans, No. 26, OLB Whitney Mercilus Illinois
A one-year wonder at Illinois (led the NCAA in sacks in 2011), Mercilus will now play in a rotation with Connor Barwin and Brooks Reed. I wasn't sold on him, but this is a great landing spot in Wade Philips' defense.
4. Arizona Cardinals, No. 13, WR Michael Floyd Notre Dame
Floyd has all the talent in the world, and a great mentor in Fitzgerald, but I question his maturity. Let's see if he can keep his head on straight. He can be the next Randy Moss, or the next Charles Rogers.
5. Jacksonville Jaguars, No. 5, WR Justin Blackmon Oklahoma St
Blackmon was the superior WR prospect in this year's draft, but he's not quite in the same level as previous top 10 wideouts in Calvin Johnson, Fitzgerald, Andre Johnson, AJ Green and countless others.
I think he'll be a good receiver, perhaps a Pro-Bowler, but will he be able to justify his draft position with shaky, young QB Blaine Gabbert throwing him the ball?
Best Prospects Available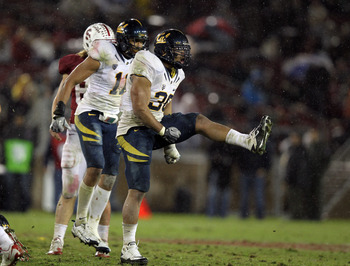 Cal's Mychal Kendricks will be the next ILB off the board and should go early in the 2nd
Ezra Shaw/Getty Images
1. OLB/DE Courtney Upshaw Alabama
I thought he would go somewhere between No. 20 and the end of the first. He has a questionable motor but was still able to be highly productive while playing in the loaded SEC and specifically on that Tide defense.
2. TE Coby Fleener Stanford
Had an phenomenal pro day. I'm surprised he didn't go at the tail end of the first. If the first few teams don't have interest (i can see him going to Indy, Cleveland, Buffalo, Miami), expect a contender to trade up to build a great two-TE set.
3. OT/OG Cordy Glenn Georgia
A 50-game starter in the SEC who was an absolute mauler, Glenn began the 2011 college season as a potential top-10 pick but now finds himself battling to be one of the first off the board in Round 2. O-line is always a need—he'll go soon in the early part of the second.
4. WR Stephen Hill Georgia Tech
An intriguing prospect because of being severely limited in the triple-option offense at Georgia Tech, Hill displayed amazing speed at the combine and quickly shot up draft boards. However, it wasn't enough to land him in the first round. Though he's extremely raw, Hill should find himself going no later than the end of the second.
5. C Peter Konz Wisconsin
By far the best center in this draft. I was surprised that his linemate Zeitler was drafted before him. Some team that's looking to upgrade the position will trade up for him. I see him going no later than the mid-second.
6. ILB Mychal Kendricks Cal
Whatever team drafts him will get an absolute steal as this speeders has the natural instincts, the high football IQ and the physical attributes to become one of the best ILB for a 3-4 team.
7. DT Jerel Worthy Michigan St
I expect him or DT Devon Still to be the first defensive lineman taken. After seeing the mini-run of DT's fly off the board in the early teens, there'll be another run in the second with Worthy leading the way.
8. CB Janoris Jenkins North Alabama
Perhaps the second or third best prospect at his position, Jenkins is a troubled prospect who had multiple failed drug tests and fathered four children in his limited time at North Alabama. The former Florida Gator has a lot of potential if he keeps his head on straight.
9. OG Amini Silatolu Midwestern St
I liked his potential more than Zeitler (though the former Badger is the safer selection), but Silatolu can be an absolute force in run blocking due to his superior strength. I just hope he goes to a team with a good o-line coach and veterans to further his teachings.
10. OLB Lavonte David Nebraska
The best outside linebacker left. Plenty of 4-3 teams will be drooling over the prospect of being able to select him Friday. Should come off before the middle of the second, but could slip all the way to the end of the third.
Conclusion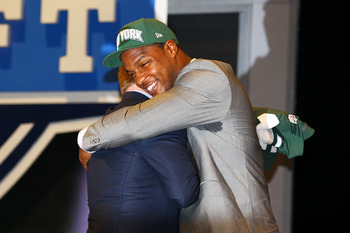 Al Bello/Getty Images
It was an exciting first day for the NFL, and I expect more reaches and more steals in the second and third rounds. It'll be interesting to see who wins and loses Friday and Saturday and how that affects their 2012 seasons.
Thanks for reading!
Follow me on twitter @metta_colin
Keep Reading