2012 NFL Mock Draft: Projecting the Second and Third Rounds
April 27, 2012

Kevin C. Cox/Getty Images
The first round of the 2012 NFL draft is over, and that means one thing.
It's time for Rounds 2 and 3.
Teams will be wheeling and dealing, addressing the needs they failed to fix in the first round. There will be shockers and there will be obvious picks.
It's the NFL draft, and we wouldn't have it any other way.
33. St. Louis Rams: Rueben Randle, WR, LSU
The Rams didn't get Justin Blackmon in Round 1, and Randle is a great fit with quarterback Sam Bradford.
34. Indianapolis Colts: Courtney Upshaw, OLB, Alabama
Dwight Freeny's time in Indianapolis seems to be limited, and Upshaw is perfect for the Colts as they transition to a 3-4 defense.
35. Baltimore Ravens (from Minnesota): Cordy Glenn, OG, Georgia
After losing Ben Grubbs, the Ravens are without a left guard. Glenn could feasibly play tackle, as well.
36. Denver Broncos (from Tampa Bay): Peter Konz, C, Wisconsin
Peyton Manning needs an intelligent center to run his offense, and Konz is reportedly a genius at the whiteboard.
37. Cleveland Browns: Stephen Hill, WR, Georgia Tech
Cleveland continues to retool its offense by adding a legitimate deep threat in Hill.
38. Jacksonville Jaguars: Vinny Curry, DE, Marshall
The Jaguars' pass rush is awful, and they haven't done much to improve it. Curry is a classic Gene Smith pick.
39. St. Louis Rams (from Washington): Bobby Massie, OT, Ole Miss
St. Louis struggled to protect Bradford in 2011, and Massie would be an upgrade at right or left tackle.
40. Carolina Panthers: Josh Robinson, CB, Central Florida
While Carolina's secondary is awful, Robinson is good.
41. Buffalo Bills: Jonathan Martin, OT, Stanford
The Bills are searching for a left tackle after losing Demetress Bell. Surprisingly, Martin is available. 
42. Miami Dolphins: Andre Branch, DE, Clemson
As they transition to a 4-3 defense, the Dolphins need a defensive end opposite Cameron Wake.
43. Seattle Seahawks: Mychal Kendricks, LB, California
Despite already adding a linebacker in Bruce Irvin, the Seahawks need more help at the position.
44. Kansas City Chiefs: Amini Silatolu, OG, Midwestern State
The Chiefs are looking to replace the struggling Ryan Lilja, and Silatolu is a potential steal.
45. St. Louis Rams (from Dallas): Coby Fleener, TE, Stanford
Ezra Shaw/Getty Images
St. Louis continues to build around Bradford by adding a star tight end with wide receiver-like athleticism.
46. Philadelphia Eagles: Zach Brown, LB, North Carolina
Even after trading for DeMeco Ryans, the Eagles need linebacker help.
47. New York Jets: Alshon Jeffery, WR, South Carolina
Mark Sanchez needs a big, physical target to throw to.
48. New England Patriots (from Oakland): Trumaine Johnson, CB, Montana
Johnson can play safety or cornerback, addressing two needs for the Patriots.
49. San Diego Chargers: Jerel Worthy, DT, Michigan State
In the Chargers' 1-gap 3-4, Worthy could start alongside Corey Liuget at defensive end.
50. Chicago Bears: Jeff Allen, OT, Illinois
Allen could play guard or tackle for the Bears depending on where they need him.
51. Philadelphia Eagles (from Arizona): Kirk Cousins, QB, Michigan State
The Eagles need another backup quarterback to ransom off for an absurdly high price.
52. Tennessee Titans: Dwight Bentley, CB, Louisiana-Lafayette
Cortland Finnegan bolted in free agency, and the Titans are left thin at cornerback.
53. Cincinnati Bengals: Lamar Miller, RB, Miami (FL)

Cincinnati really doesn't have a single good option at running back. Miller is a potential star.
54. Detroit Lions: Brandon Boykin, CB, Georgia
Boykin may not be more than a nickelback, but he will be an excellent one.
55. Atlanta Falcons: Dwayne Allen, TE, Clemson
With Tony Gonzalez nearing retirement, the Falcons need to find his replacement.
56. Pittsburgh Steelers: Isaiah Pead, RB, Cincinnati
The Steelers are believed to love Pead, and he may not be available in the third.
57. Denver Broncos: Kendall Reyes, DT, Connecticut
Brodrick Bunkley left in free agency, leaving the cupboard bare at defensive tackle.
58. Houston Texans: Brandon Thompson, DT, Clemson
In Wade Phillips' defense, Thompson could play nose tackle or defensive end.
59. Green Bay Packers: Devon Still, DT, Penn State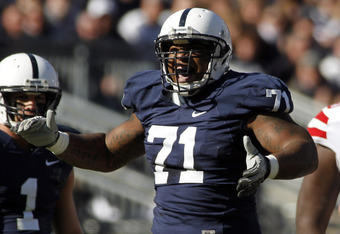 Justin K. Aller/Getty Images
The Packers are still struggling to replace Cullen Jenkins. Still is athletic enough to help.
60. Baltimore Ravens: Ronnell Lewis, LB, Oklahoma
Ray Lewis won't be around forever, and Ronnell Lewis is a terrific athlete with sideline-to-sideline speed.
61. San Francisco 49ers: Janoris Jenkins, CB, North Alabama
The 49ers can't pass up on a potential star here.
62. New England Patriots: Ryan Broyles, WR, Oklahoma
Don't expect the Patriots to be scared off from Wes Walker's replacement by a past knee injury.
63. New York Giants: Mitchell Schwartz, OT, California
 William Beatty and David Diehl is a weak offensive tackle combo. Schwartz could fill in on either side.
64. Indianapolis Colts: Alameda Ta'amu, DT, Washington
The Colts need a nose tackle for their new scheme.
65. St. Louis Rams: Casey Hayward, CB, Vanderbilt
Cortland Finnegan is just one cornerback. The Rams need three.
66. Minnesota Vikings: Brian Quick, WR, Appalachian State
Percy Harvin should play in the slot, and the Vikings don't have a legitimate option on the outside.
67. Cleveland Browns: Mike Adams, OT, Ohio State
Adams falls this far only because of character issues, and Cleveland desperately needs a right tackle.
68. Tampa Bay Buccaneers: Jamell Fleming, CB, Oklahoma
The Buccaneers passed on Morris Claiborne. They need a cornerback at some point.
69. Washington Redskins: Kelechi Osemele, OT, Iowa State
Osemele will help protect Washington's three-first-round-pick investment.
70. Jacksonville Jaguars: Josh Norman, CB, Coastal Carolina
Gene Smith drafts small-school players, and he drafts cornerbacks.
71. Buffalo Bills: Mohamed Sanu, WR, Rutgers
Buffalo needs a legitimate wide receiver opposite Stevie Johnson.
72. Miami Dolphins: Marvin Jones, WR, California
The Dolphins need someone for Ryan Tannehill to throw to.
73. Miami Dolphins (from Carolina): Brandon Brooks, OG, Miami (FL)
Miami's offensive guard situation is far from perfect.
74. Kansas City Chiefs: Derek Wolfe, DT, Cincinnati
Tyson Jackson and Glenn Dorsey are both nearing the ends of their contracts.
75. Seattle Seahawks: Chris Givens, WR, Wake Forest
Seattle's wide receivers are nothing special, and Givens is an explosive talent.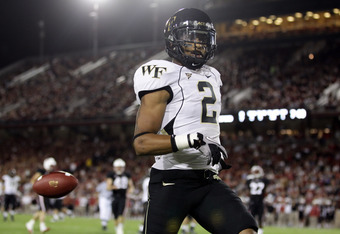 Ezra Shaw/Getty Images
76. Houston Texans (from Chicago): Joe Adams, WR, Arkansas
Adams can make some plays vertically in Houston's dynamic offense.
77. New York Jets: Cam Johnson, OLB, Virginia
The Jets passed on Melvin Ingram, but they still need a pass-rusher.
78. San Diego Chargers: Donald Stephenson, OT, Oklahoma
Marcus McNeill is gone, and Jeromey Clary is awful.
79. Chicago Bears: George Iloka, S, Boise State
Iloka offers the Bears a physical safety in middle of their Cover-2 scheme.
80. Arizona Cardinals: Senio Kelemete, OG, Washington
With no offensive linemen thus far, the Cardinals need to do something.
81. Dallas Cowboys: Mike Martin, DT, Michigan
Martin could presumably play defensive end or nose tackle for the Cowboys.
82. Tennessee Titans: Olivier Vernon, DE, Miami (FL)

Tennessee's defensive end situation is, at best, unexciting. 
83. Cincinnati Bengals: Marvin McNutt, WR, Iowa
With A.J. Green and Jordan Shipley on the roster, the Bengals don't need a superstar, just a solid player.
84. Atlanta Falcons: Bobby Wagner, LB, Utah State
Thomas Dimitroff emphasizes urgent athleticism. Wagner provides it and fills a need at the same time.
85. Detroit Lions: Ben Jones, C, Georgia
Detroit's center situation may be better off without Dominic Raiola, but it's still not good.
86. Pittsburgh Steelers: Josh Chapman, DT, Alabama
Casey Hampton is aging, and Chapman could replace him in 2013.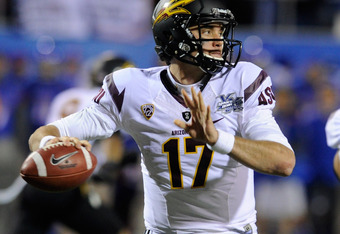 Ethan Miller/Getty Images
87. Denver Broncos: Brock Osweiler, QB, Arizona State
John Elway loves the big-armed quarterback.
88. Philadelphia Eagles (from Houston): Jayron Hosley, CB, Virginia Tech
After trading Asante Samuel, the Eagles need to find his replacement.
89. New Orleans Saints: Tommy Streeter, WR, Miami (FL)

Streeter offers the Saints the deep threat they lost in Robert Meachem.
90. Green Bay Packers: Brandon Taylor, S, LSU
Nick Collins was recently released, and Taylor is well-liked throughout the league.
91. Baltimore Ravens: Jaye Howard, DT, Florida

Baltimore's defensive line depth is awful, and Howard is a potential star.
92. San Francisco 49ers: Brandon Washington, OG, Miami (FL)

Adam Snyder was the 49ers' worst starting offensive lineman in 2011, but he's better than anyone they have now.
93. Cincinnati Bengals (from New England): Keenan Robinson, LB, Texas
Robinson replaces the recently traded Keith Rivers.
94. New York Giants: Orson Charles, TE, Georgia
The Giants don't have much game-breaking talent at defensive end, and Charles is a steal.
95. Oakland Raiders: Jake Bequette, DE, Arkansas
Now running a 3-4 defense, the Raiders need to find some viable pass-rushers.