Miami Dolphins 2012 Draft: Why Ryan Tannehill Is Trouble for the Joe Philbin Era
April 27, 2012

Bob Levey/Getty Images
The Miami Dolphins made a decision yesterday to draft a project player in Ryan Tannehill in hopes of one day turning him into a franchise quarterback.  Well, if the past five coaching eras are any indication, Joe Philbin's got about three years to make this conversion happen and get a winning team out of it. 
At best, Philbin can hope for the same patience afforded to Dave Wannstedt and get five years, but more than likely it'll be a Tony Sparano situation where he gets three (officially Sparano coached four, but that fourth year was a farce).  
That puts a clock on Tannehill's development, and when you listen to Todd McShay and Mel Kiper Jr. talk about him, it sounds like most of his value is wrapped up in potential.  
Well, potential is only as good as the time and tools you get to develop it with.  
Mike McCarthy and Philbin had four years to turn Aaron Rodgers into the quarterback he is today, and Rodgers actually was a full-time quarterback in college. Philbin's getting less time to convert someone with less experience with an overrated offensive coordinator.  
That's right, Mike Sherman is being called out here.  Sherman gets the benefit of the doubt all the time, but when you subtract out the Favre years in Green Bay, what are his accolades? 
He's only had one winning season in the last seven years (this includes the two years as offensive coordinator with the Houston Texans), he's never developed a Pro Bowl-caliber quarterback, and, in 2011, he couldn't produce a winning offense in a conference that, overall, didn't play well defensively.   Last season, Sherman was so bad with Tannehill that he lost his job because of how poor the Aggies played.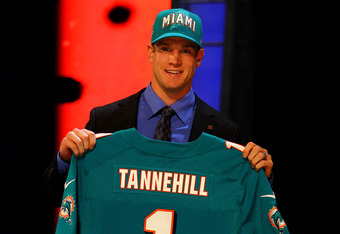 Al Bello/Getty Images
Essentially, the Dolphins have willingly adopted two individuals that failed at the college level and are now betting everything on those two at the NFL level.
Meanwhile, the rest of the AFC East is actually getting better.  
Buffalo has a solid defensive line and just added significant depth to their defensive backfield.  
New England is always a threat offensively and just improved their pass-rushing by committing two first-rounders to defense.  
The New York Jets have consistently been a great defense under Rex Ryan and, if they solve their problems on offense, they could easily get back to the AFC championship game.
With six games per year against these three teams, that doesn't bode well for a young quarterback,  who's not actually a quarterback, and an offensive coordinator, who hasn't coached a winning offense in the NFL since 2004.  
If that didn't sting enough, it gets worse.  The Dolphins essentially have no experienced, primary weapons in their passing game.  
Yes, the Dolphins will draft someone, but great wide receivers take a year or two to develop so it has to be expected a good one (assuming Miami gets a good one) will take longer.  That means this team will be marching into next season with two to three slot receivers and a bunch of inexperience at the position.  
The worst-case scenario for Miami puts Philbin and Sherman out of a job in three years,Tannehill's development in limbo and another high first-round draft pick is wasted.  
All the experts think this fit is great because Tannehill can play Sherman's system.  Well, that's only good if the system stays in place.  If Sherman is fired or leaves for a better job (which we all know he's prone to doing), Tannehill suddenly stops resembling Josh Freeman and starts looking a lot like Jason Campbell.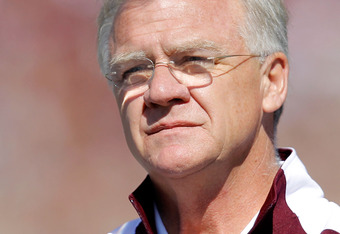 Sarah Glenn/Getty Images
Tannehill could always start right away, and let the development happen on the fly.  This would be the best move for the coaching staff and front office because it would appease the fans that wanted Tannehill and justify losing for the short term.  
However, it could easily stunt his growth as a quarterback and hurt his confidence moving forward.  One or two bad seasons could put him in a bad place with the fans and front office, which similarly happened to Blain Gabbert and Colt McCoy.  
Both were quarterbacks deemed premature for the NFL level and both were quickly thrown into starting roles.  Now, McCoy just witnessed his potential replacement get drafted last night, and Gabbert will be competing for his job next season.
The next three to four years should make for an entertaining tug of war match.  Philbin will want to play Tannehill for the sake of his job and reputation, but putting Tannehill out there too early could hurt the Dolphins in the long run.  
The biggest question moving forward is will the fans ultimately give them the time they need to work out these kinks and bring NFL success back to Miami.