NBA Playoffs 2012: Breaking Down the 1st Round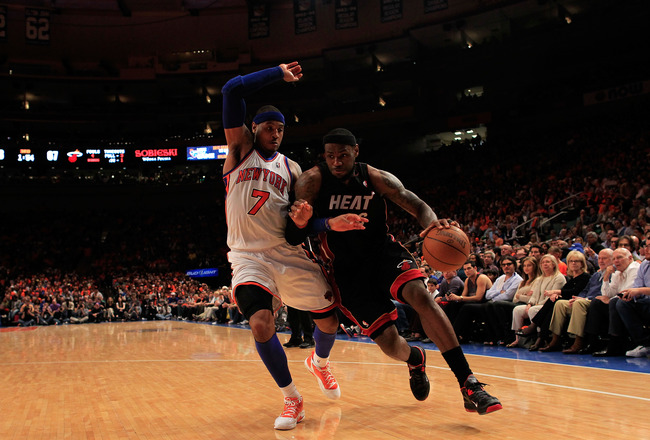 Chris Trotman/Getty Images
The first round of the NFL Draft is officially over, so now all the attention can shift to that little thing called the NBA Playoffs.
After suffering through the shortened NBA season, the playoffs are finally here and it looks like these upcoming weeks will make up for the insufferable regular season.
With all the first-round matchups set, here is a preview of what should be a thrilling first round of the NBA playoffs.
Eastern Conference: 1. Chicago Bulls vs. 8. Philadelphia 76ers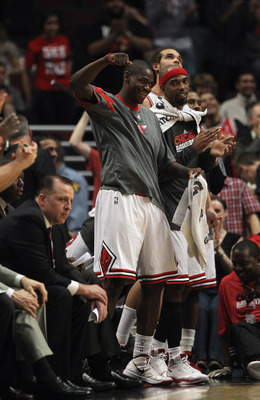 Jonathan Daniel/Getty Images
Has there been a more impressive team this year than the Chicago Bulls?
They played a good portion of the season without the reigning MVP Derrick Rose and were still great, as they managed to clinch the No. 1 seed overall in the NBA. They are, however, going to need Rose to be MVP-like this postseason if they want to be crowned NBA champions.
The Philadelphia 76ers started out white hot, but have done a face plant since mid-February. At one point they were 18-7, then finished at 35-31. They made their mark this season by destroying bad teams with their defense, but they only had 13 wins against teams above .500 this year.
Not good.
Evan Turner actually came out and said that the Sixers would prefer playing the Bulls over the Miami Heat in the first round, as they would be the better matchup for them. Well Mr. Turner that may be true, but that still doesn't make it a good one.
The Bulls should roll here. They might lose a game as they get adjusted to having Rose back into the lineup, but they are on a fast track to the Eastern Conference Finals.
Prediction: Bulls win series 4-1
Eastern Conference: 2. Miami Heat vs. 7. New York Knicks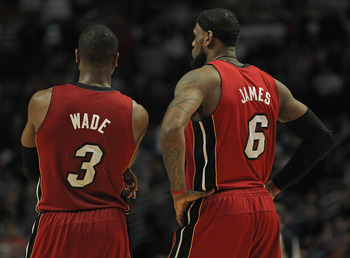 Jonathan Daniel/Getty Images
Can you remember a more exciting first-round matchup than this one? Or can you imagine a worse possible first-round matchup for the Miami Heat than the New York Knicks?
The Heat pretty much coasted all regular season, which included another ho-hum MVP season for LeBron James.
However, there are still questions surrounding the Heat. How healthy is Dwayne Wade? How well will Lebron James play in the fourth quarters of each postseason game? Which Chris Bosh will show up?
Then there is the big question.
Other than the Big Three, who, if any, will show up to help this postseason?
All those questions and the Heat are still the favorites to win the title. They can be that good.
The New York Knicks have had a roller-coaster season to say the least. First, they amnesty Chauncey Billups and steal Tyson Chandler at the last minute. Then, they pick up Jeremy Lin off waivers, which led to Linsanity.
Then, the Knicks are better without Carmelo Anthony and then they can't win without him. Then their coach gets fired. Now they have to deal with getting Amar'e Stoudemire back into the rotation, not to mention facing the most polarizing team in the NBA in the first round of the playoffs.
This Knicks actually have the tools to beat the Heat. They have Tyson Chandler, who was the best defensive player in the NBA playoffs last year in the Mavericks title run. He also knows a thing or two about how to beat the Heat in the postseason.
They have an elite scorer in Anthony, an All-Star power forward in Stoudemire and Chandler to form a Big Three of their own in New York. Iman Shumpert is an outstanding perimeter defender and Steve Novak and J.R. Smith are two of the biggest wild cards in the NBA. Those two can hit 16 threes between them on any given night, and we haven't even talked about how much Baron Davis gets when the spotlight is on him.
We could have a 12-page slideshow just on this series alone. Even though New York has a chance, I'll end it here by saying Miami will win.
Prediction: Miami win series 4-2
Eastern Conference: 3. Indiana Pacers vs. 6. Orlando Magic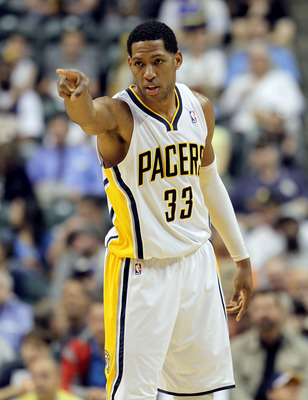 Andy Lyons/Getty Images
I haven't checked yet, but has it been announced that all the games in this series will be shown exclusively on NBA TV?
This would have been a terrific series had Dwight Howard not gotten hurt and if he didn't annoy everyone all season with his trade and coaching demands.
The Orlando Magic always had a chance to make a run with Dwight Howard and their three-point shooters. Now that he is out, there is no one to put back all the misses from downtown, and they really have no post presence to speak of.
The Indiana Pacers have a nice first-round matchup here, as the Magic should have all kinds of trouble defending Roy Hibbert, Paul George and Danny Granger. The Pacers should get by easily, but this definitely won't get them ready for whomever they have to face in the second round.
Prediction: Pacers win series 4-1
Eastern Conference: 4. Atlanta Hawks vs. 5. Boston Celtics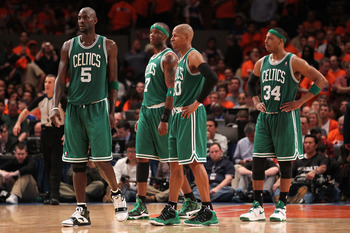 Nick Laham/Getty Images
This series is going to be won by whatever team doesn't score the least amount of points each game.
The Boston Celtics playoff run is going to go one of two ways.
They are either well-rested after lagging through the regular season and they make a run to the Eastern Conference Finals with strong defensive play and timely shooting.
That, or the Big Three just completely breaks down.
The Atlanta Hawks deserve credit, they beat the teams that they are supposed, but they don't win against anyone else. They got by most of the season without one of their best players, and now that Al Horford is officially out for the first round.
They won't beat the Celtics.
Prediction: Celtics win series 4-2
Western Conference: 1. San Antonio Spurs vs. 8. Utah Jazz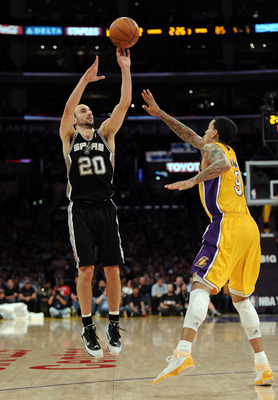 Harry How/Getty Images
Talk about old versus young. Teacher versus student.
The Spurs won't be taking this matchup lightly, as they can't wait to get the taste of last year's first-round exit out of their mouth.
Last year's Memphis Grizzles were much better than this year's Utah Jazz and Manu Ginobili won't have a broken elbow, so the Spurs should be ready to roll.
Experience definitely helped the San Antonio Spurs win the title in the last shortened season, and they are now well-rested with the No. 1 seed.
A little more than a year ago, the Utah Jazz traded their best player and opted for younger players. They were expected to be years away from contending. However, now they find themselves in the postseason, which will be valuable experience for all of their younger players.
The Jazz could be setting themselves up to be the next-generation Spurs, but right now they have to play the Spurs of this generation and anything other than being swept has to be a successful postseason.
Prediction: Spurs win series 4-1
(Have to think the Jazz win one home game with that crowd or that Gregg Popovich finds it beneficial to lose one game here.)
Western Conference: 2. Oklahoma City Thunder vs. 7. Dallas Mavericks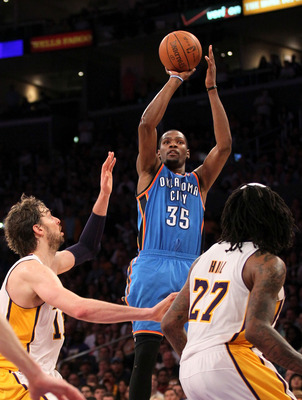 Stephen Dunn/Getty Images
The Thunder have had a terrific season. They are primed for a title run and the big key now heading into the postseason is the health of James Harden. If he is right, anything short of title is going to be a disappointment.
If he is not, they are in big trouble and Metta World Peace better not be making any trips near Oklahoma any time soon. Though, how much fun would an Oklahoma City-Los Angeles Lakers round two series be?
The Dallas Mavericks probably can't wait for this season to be over, and who can blame them? They won the title last year, their owner set everything up to make a big splash for next season and their key acquisition last summer is on paid leave. How they were this good was surprising itself.
If the Mavericks were to upset the Thunder here it would be a much bigger upset than defeating the Heat in last year's NBA Finals.
Prediction: Thunder win the series 4-1
Western Conference: 3. Los Angeles Lakers vs. 6. Denver Nuggets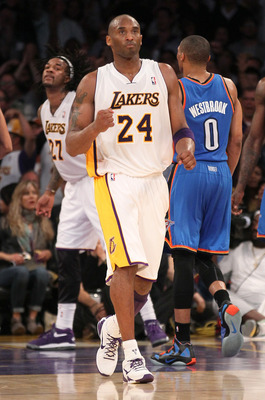 Stephen Dunn/Getty Images
The Los Angeles Lakers should win this series, but it wouldn't be shocking if they didn't.
The Denver Nuggets can really get up and down the floor, which could be a big problem for the older, slower, bench-less Lakers. The Nuggets are going to struggle in the half court facing Andrew Bynum and Pau Gasol, but if they can control the tempo, they can wreck havoc here.
If the Lakers hadn't made the moves they did at the trade deadline to get Ramon Sessions, the Nuggets could be favored here, but the Lakers are coming together and they do have some guy named Kobe Bryant on their team.
The Lakers should win here although don't you have the feeling that they are one bad playoff loss from Kobe exploding at coach Mike Brown?
Bryant just doesn't let them lose here, so they will go on to face the Thunder in round two.
Prediction Lakers win series 4-2
Western Conference: 4. Memphis Grizzlies vs. 5. Los Angeles Clippers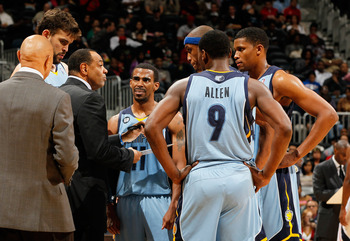 Kevin C. Cox/Getty Images
Two young, up-and-coming teams face each other in what should be the most competitive series in the Western Conference first round. The Los Angeles Clippers have the best player in Chris Paul and the most exciting one in Blake Griffin, but the Memphis Grizzlies have the better team.
If Chris Paul raises his game to another level for the playoffs, the Clippers will get past the most surprising team in last year's NBA playoffs.
It just doesn't look like that will be enough.
The Grizzlies have one of the most well-rounded rosters in the league and might be the most dangerous team in the playoffs. Really, who would want to play this team? They can compete with anyone in the NBA, and you know the Spurs are already hearing the knocking on the round-two door.
With Marc Gasol and Zach Randolph down low, Rudy Gay, an underrated Mike Conley and one of the best perimeter defenders in the league in Tony Allen, the Grizzlies are going to be a very tough out for anyone.
This should be an exciting series and could very well go the distance with Memphis coming out on top.
Prediction: Grizzlies win the series 4-3
Keep Reading