WWE Blast from the Past: Looking Back at Old-School WWE Merchandise Part II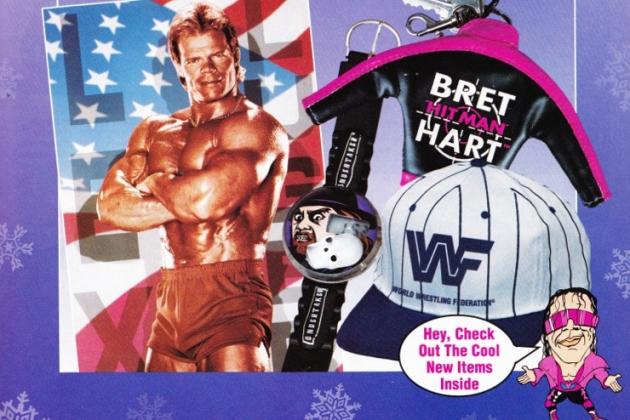 You want it? You got it!
Back again, with another look at classic WWF merchandise.
As I went through some of my old WWF catalogs, I saw a lot of items that I thought would make for another good slideshow.
So take another trip down memory lane, and enjoy a look back at some of the best, and worst the World Wrestling Federation catalogs had to offer.
Please leave comments and let us know about your favorite WWF collectibles from back in the day.
Enjoy!
Begin Slideshow

»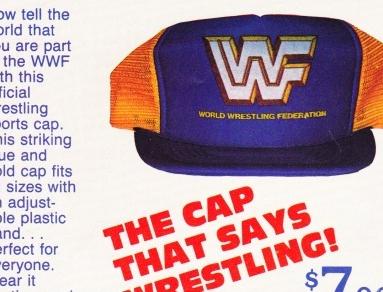 THE CAP THAT SAYS WRESTLING...among other things
Item Description:
"Now tell the world you are part of the WWF with this official wrestling sports cap.
This striking blue and gold cap fits all sizes with an adjustable plastic band, perfect for everyone.
Wear it anytime and anyplace, and of course at the wrestling matches.
Ideal for gifts, too."
I guess there was no such thing as fitted hats back then.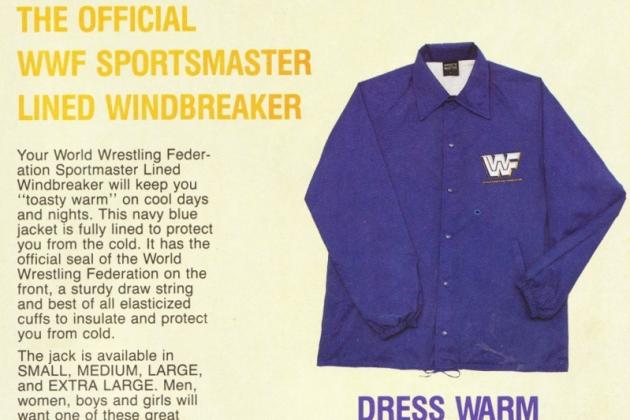 DRESS WARM LIKE A WINNER
Item Description:
"Your World Wrestling Federation Sportsmaster Lined Windbreaker will keep you 'toasty warm' on cool days and nights."
The WWF obviously put a lot of creative effort into this jacket.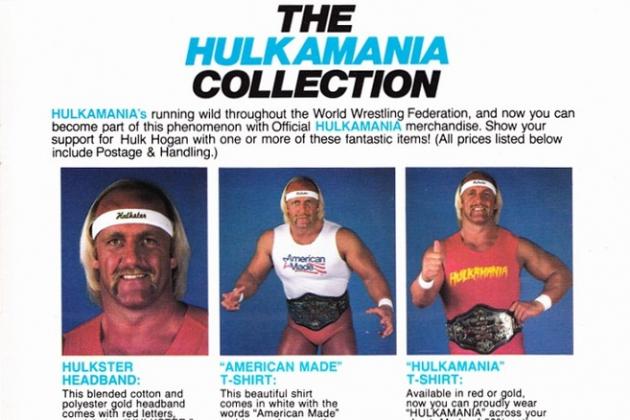 This looks to be the first batch of T-shirts that the WWF marketed for Hulk Hogan.
Item Description:
"Hulkamania's running wild throughout the World Wrestling Federation, and now you can become part of this phenomenon with the Official HULKAMANIA merchandise."
HOW DO YOU GET A WRESTLER IN A MAILBOX? (feel free to insert your own joke)
Item Description:
"They bend. They twist. They even come with their own poster. It's not everyday you get a chance to hold wrestlers like these in the palm of your hand."
WWE action figures have come a long way. But this was the first batch of WWF figures ever released. In my opinion, out of all the different wrestling figures released, these were the most fun to play with.
I remember I took an old Rowdy Piper figure, and tried to paint it, to make it into a Jake "The Snake" Roberts figure, and it looked awful!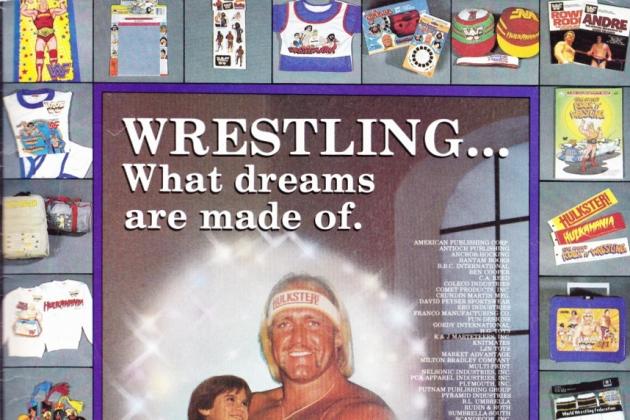 WRESTLING...What dreams are made of.
A whole bunch of WWF merchandise is featured here.
Slippers, pajamas, socks, sheets...they had a ton of great merchandise to choose from.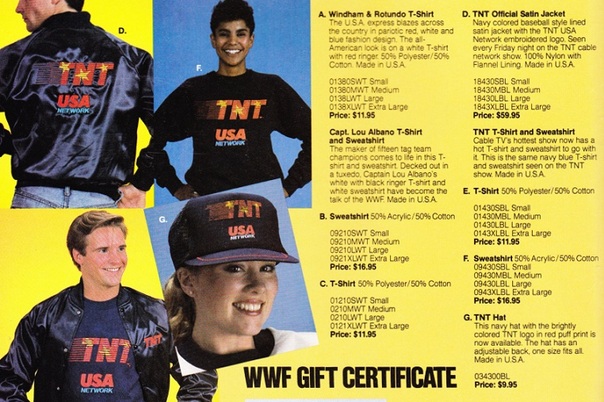 I find it interesting that they actually made so much TNT merchandise. I can see maybe a T-shirt, but they went all out with the merchandise for this show.
For those that don't know, Tuesday Night Titans, was a unique show to say the least. Originally hosted by Vince McMahon and Lord Alfred Hayes, it featured, WWF wrestlers and personalities, as guests, in a talk show like format.
In typical WWF fashion, they would have bizarre skits and segments on the show.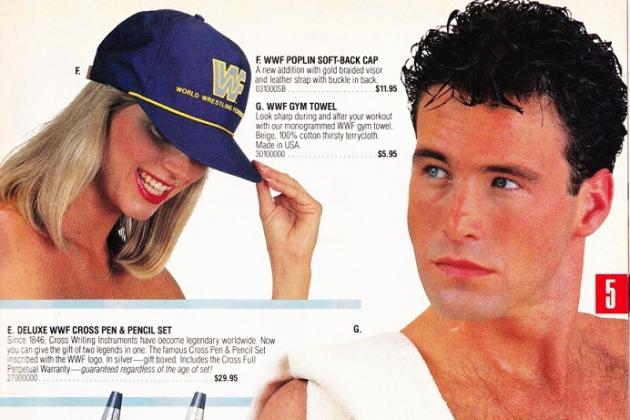 Here we have a young Pierce Brosnan, or at least someone who looks like him, showing off his awesome WWF gym towel.
Item Description:
"Look sharp during and after your workout with our monogrammed WWF gym towel."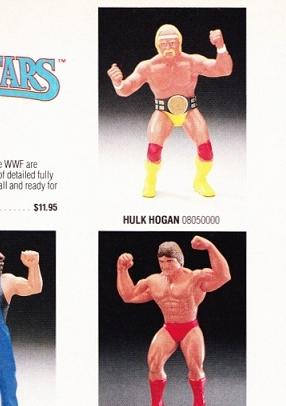 Here we have some of the later WWF action figures released.
That King Kong Bundy figure probably weighed like five pounds, it was solid and heavy, much like all the LJN figures, but the Bundy figure was probably the heaviest of them all.
The tag teams were always hard to find in stores.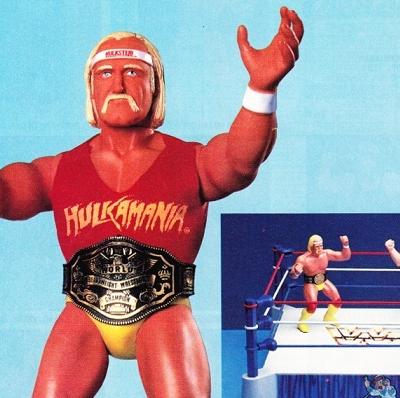 A very large and very orange Hulk Hogan figure.
Also, the classic WWF wrestling toy ring. I went through two of these, from having so much action take place in mine.
Later, they released the awesome, big blue steel cage to place around the ring.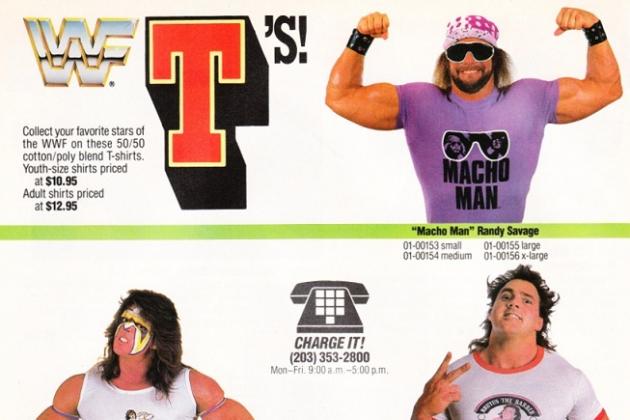 Some classic T-shirts featuring:
Macho Man Randy Savage
The Ultimate Warrior
Brutus "The Barber" Beefcake
Demolition
Jake "The Snake" Roberts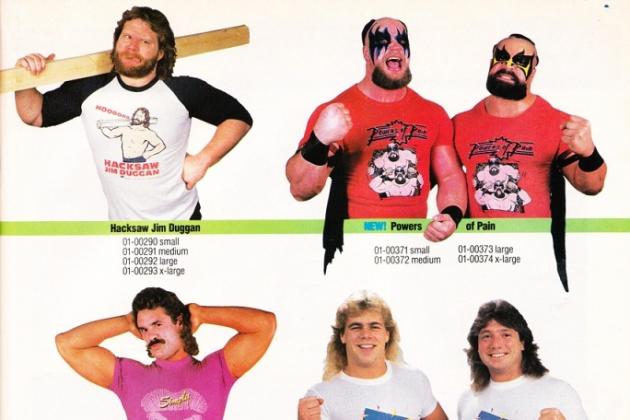 This batch features:
"Hacksaw" Jim Duggan
The Powers of Pain
"Ravishing" Rick Rude
The Rockers
Andre The Giant
Jesse "The Body" Ventura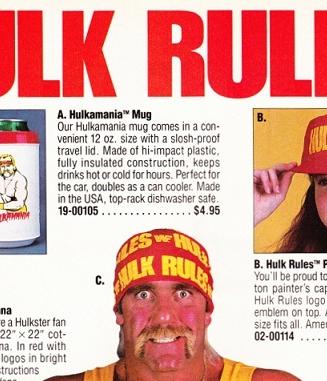 Stephanie McMahon makes her return to the pages of the World Wrestling Federation Magazine, this time modeling a Hulk Rules hat.
Item Description:
"You'll be proud to wear this painters cap in red with a bold Hulk Rules logo in yellow and the WWF emblem on top."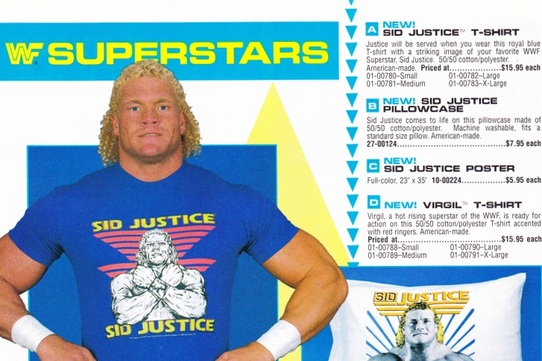 Some rare Sid Justice merchandise!
Item Description:
"Justice will be served when you wear this royal blue T-shirt with a striking image of your favorite WWF Superstar, Sid Justice"
How many of you had the Sid Justice pillowcase?
I had WCW sheets back in the day.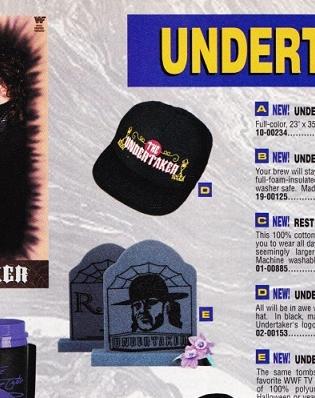 Old-School Undertaker
It's amazing when you think about how many years The Undertaker has been with WWE.
Here he is featured in the late 1992 WWF catalog.
Undertaker merchandise has always been a big seller for the WWE.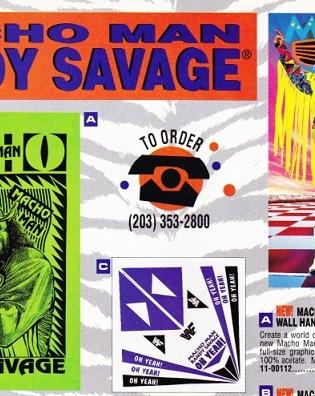 Macho Madness is running wild!
Randy was certainly one of the most marketable WWF Superstars the company ever had.
Here, we have a whole bunch of Macho merchandise to choose from.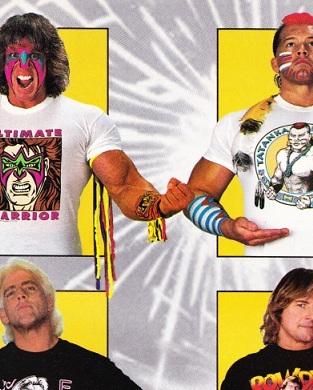 Featuring
The Ultimate Warrior
Tatanka
Ric Flair
Rowdy Roddy Piper
The Big Bossman
Bret "The Hitman" Hart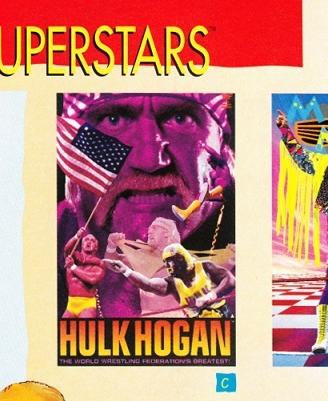 The Mega Powers are back again!
I think this was the last time Hulk Hogan was featured in a WWF Catalog before departing the company.
This was around mid-1993, when the WWF was putting more and more focus on their next generation of Superstars.
Hulk Hogan had been with the company for nearly 10 years at this point, and the WWF certainly got their money's worth, by marketing all the Hulkamania merchandise over the years.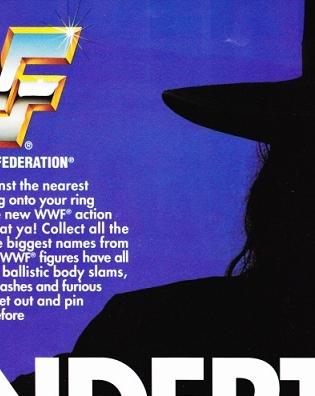 In the early 90's, the WWF action figures got a extreme makeover.
WWF now partnered with Hasbro to make their action figures, and the figures design changed dramatically from the very large, heavy, rubber like LJN figures, to a much smaller, plastic figure.
To be honest, I never really got into the Hasbros. I was so accustomed to the LJN figures, that when I first saw the Hasbro figures on the shelf, I was really disappointed.
Eventually I just gave in and enjoyed them for what they were, but I still never enjoyed them as much as the much bigger LJN figures.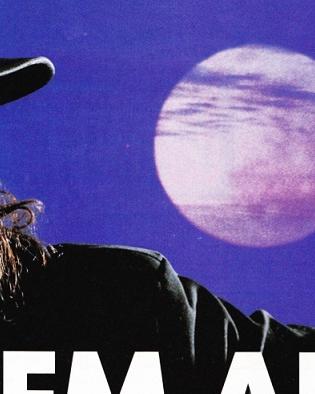 Here's the other half of the display, which features a large cast of the WWF Superstars, including Razor Ramon, Papa Shango, and Shawn Michaels.
Everyone remember how rare that Dusty Rhodes figure was?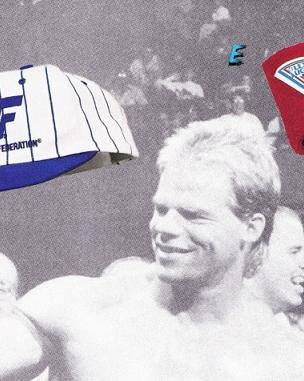 Lex Express
When Hulk Hogan left the WWF in 1993, Vince McMahon was out to create a new Superstar.
The summer '93 featured the Lex Express, which was led by Lex Luger decked out in red, white and blue.
Luger toured a good portion of the U.S. aboard his "Lex Express" tour bus, as he geared up for battle against the mammoth Yokozuna, at Summerslam.
To this day, I still wish the WWE would produce a toy-replica Lex Express bus.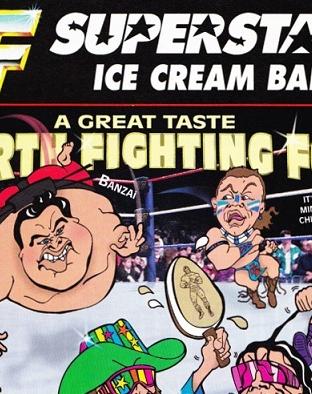 Finally, we have the very famous WWF Ice Cream bars!
The bars were most popular in the '80's, but were still being produced years after that.
Here is a batch from 1993, featuring such stars as Lex Luger, Bret Hart, Yokozuna and Razor Ramon.
I hope you all enjoyed yet another look back at classic WWF merchandise!
Your comments are welcomed and encouraged.