NFL Draft 2012 Results: Unpopular Picks That Will End Up Being Stars
April 27, 2012

Al Bello/Getty Images
The outrage of a fanbase when they don't agree with their first-round pick in the NFL draft is classic.
After months of buildup dreaming of how your favorite team is going to improve, the team slaps you in the face with a head-scratching pick that either is an extreme reach or a bad fit.
Well guess what?
Sometimes those guys end up being great picks. Sometimes those guys turn into All-Pros.
Remember the outrage of Giants fans when they selected Jason Pierre-Paul at No. 15 in 2010? It looked like a complete reach at the time, but ended up being a key component for a Super Bowl winner.
Or how about all of the experts that were drooling over Tyson Jackson when he was selected with the No. 3 overall pick in 2009?
My point is that it's way too early to get angry about your team's draft and here are three picks that may not tickle your fancy now, but can end up being some of the best picks of Round 1 in due time.
No. 8 Miami Dolphins- Ryan Tannehill, QB, Texas A&M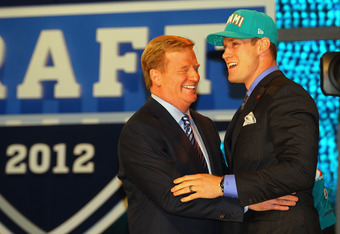 Al Bello/Getty Images
Tannehill is a borderline first-round pick…not a top-10 pick. Or so that's the popular belief right now.
But the Dolphins had to make this pick to ensure fans don't start a mutiny. He has all of the physical tools to be a star. Mentally he is as tough as it gets…something that will be extremely important for a team that has a very inpatient fanbase right now.
The fact of the matter is that any QB that starts for Miami in 2012 is going to have an incredibly difficult task ahead of him. You might as well go for the guy that has plenty of upside and can handle the beating he'll take early on from fans and the press.
With his former coach Mike Sherman now the Dolphins offensive coordinator, he enters a system that is very familiar to him.
This pick could look like a steal in two years, especially if Andrew Luck or Robert Griffin III end up being a bust.
No. 11 Kansas City Chiefs, Dontari Poe, DT, Memphis
The combine king is a freak athlete for his size and has blazing fast speed to boot (well, at least for a DT).
The big concern is his lack of production in college. When you don't put up eye-popping numbers in Conference USA, there are question marks.
The good news is that Poe is exactly what the Chiefs need. The defense was getting gashed up the middle, and bringing in a 350-pound beast that eats up space solves that problem in a jiffy. With outstanding agility and lateral quickness, he can be a stopgap in the 3-4 scheme Kansas City works with.
While his inconsistencies on film scare teams, there is no doubt he has the potential to make Kansas City one of the best run defenses in the league.
He'll be compared to No. 12 overall pick Fletcher Cox his entire career, but there is a great shot he ends up being the better pro.
No. 15 Seattle Seahawks, Bruce Irvin, OLB, West Virginia
The majority of experts believe Irvin is the biggest reach of the first round, but don't bash him before you understand his strengths.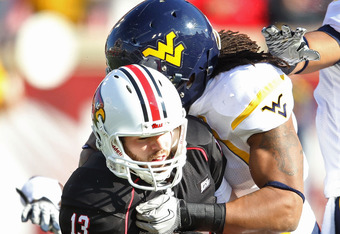 Andy Lyons/Getty Images
Sure he needs to improve against the run, but he's arguably the most explosive pass-rusher in the entire draft. He has the speed to run circles around offensive tackles and reach the QB in the blink of an eye.
The Seahawks only had 33 sacks in 2011, and 11 of those came from one guy (Chris Clemons).
With the ability to also line up as a defensive end, Pete Carroll can get incredibly creative with Irvin and place him in prime positions to register double-digit sacks his rookie season.
While character issues and only two years of collegiate experience are the reasons everyone is concerned, Seattle fans shouldn't call for the firing of the scouting department just yet.
Irvin is oozing with potential.